Theoretically, moving home should be an exciting experience but, in practice, can also be irksome and tedious in equal measure. This can be especially true if you're faced with a seemingly endless checklist, on which items such as setting up gas and electricity in a new home are just two among a whole series of others. However, thoughtful forward planning can ease the stress, physical and mental, of moving home.
Removal Costs
Property is, obviously, a major purchase and you'll inevitably be faced with a whole host of fees and taxes, including mortgage fees, stamp duty, gas and electricity and many more. However, you may not realise that, by the time you factor in vehicle hire, insurance and fuel, it may be more economical to hire a removal company than to move your belongings yourself. To help you in this respect, we've put together the following tables of approximate removal costs, whether you're moving locally or further afield.
Removal Costs per Hour
| Number of Movers | Cost Per Hour (2 Hour Minimum) | Packing Cost (Per Hour & Per Packer) |
| --- | --- | --- |
| 1 | £50 - 80 | £20 |
| 2 | £80 - 90 | £20 |
| 3 | £100 - 130 | £20 |
Removal Costs per Day
| Number of Bedrooms | Average Removal Cost | Extra Packing Fees |
| --- | --- | --- |
| 1 | £150 - 350 | £80 - 150 |
| 2 | £400 - 550 | £150 - 200 |
| 3 | £650 - 750 | £200 - 300 |
| 4 | £850 - 950 | £250 -350 |
Why Hire a Removal Company?
Obtaining various quotes from professional, experienced removal companies allows you to delegate the often awkward logistics of transferring your worldly goods, safely, to your new home to someone else. Of course, by comparing quotes you can make sure that you receive exactly the services you require at a competitive price. Furthermore, in so doing, you can also create a breathing space in your busy schedule, in which to contact your energy supplier(s), old and new, take meter readings and negotiate the best deal for your gas and electricity.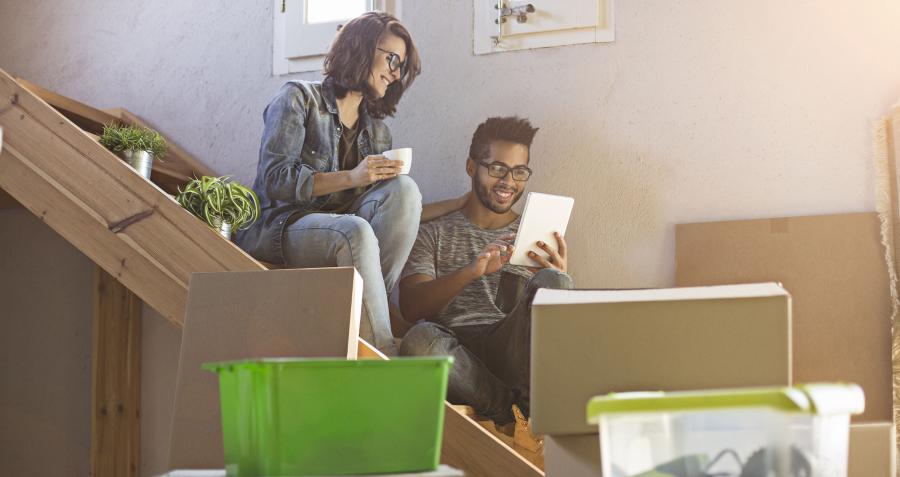 When to Start Taking Care of the Utilities When Moving?
Conventional wisdom dictates that you should contact your current energy supplier(s) at least 48 hours, but not more than 14 days, before your relocation. Consult your latest gas and electricity bills for contact details of your current energy supplier(s) or, failing that, for gas, contact the Meter Point Administration Service and, for electricity, contact your local electricity distribution company.
Inform your supplier(s) of your moving date and a forwarding address, to which they will send your final bill(s). Your supplier(s), in turn, will either ask you to take meter readings on your moving day, or arrange meter readings to be taken.
What's the Process of Ending the Utilities Contract in the Old House?
Take meter readings at your current property on moving day, keep a note of the readings and the date on which you took them and, if possible, take a photograph of your meters as a record. Pass your meter readings on to your energy supplier(s), who will close your account and send you a final statement to settle your account once your move is complete.
Typically, you will have 28 days to settle your account but, if you do not agree with your final statement, keeping a record of your meter readings should help to resolve any dispute with your energy supplier(s).
How to Set Up Gas and Electricity in a New Home?
The process of setting up gas and electricity in a new home is similar to that of ending the utility contract in your previous property, only in reverse. Take gas and electricity meter readings as soon as is practicable when you move into your new home, contact the existing energy supplier(s) and provide your details, the meter readings and the date you moved in.
What is a Deemed Contract?
Note that in the absence of specific contractual terms most suppliers will automatically place you on so-called 'deemed contract' rates – or, in other words, one of the most expensive tariffs – when you first move in. Switching energy suppliers, which you can only do once you are responsible for your new home, typically takes about 21 days, but it is in your best interest to negotiate a better deal with your existing supplier(s), or find a new one, at the earliest opportunity.
Tips
If you an on a fixed-term contract for gas or electricity, or both, with your existing supplier(s), it may be more economical, if possible, to transfer the contract to your new home, rather than pay a cancellation or exit fee. However, if you are in the last 49 days of any such contract, you can legally switch energy suppliers free of charge.
Gas and Electricity Prepayment
If your new home has a prepayment, or prepaid, gas or electricity meter – the type that allows you to pay for energy in advance, by charging a key or card – contact the current energy supplier immediately. Request that the supplier remove any outstanding debt from the meter, so you are not liable for any money owed by the previous occupants of the property and arrange the delivery of a new prepayment key or card.
Gas and Electricity Standard Meter
Thereafter, your course of action really depends on whether you want to keep a prepayment meter or replace it with a standard meter. Prepayment meters are useful for managing gas and electricity costs but require effort to top them up, plus the risk of running out of fuel in you fail to do so regularly.
Can I Change my Gas and Electricity Payment Mode?
Also, while prepayment, or pay-as-you-go, tariffs are capped by the government regulator, Ofgem, even the cheapest of them is still more expensive than paying for your fuel, in arrears, by direct debit. Energy suppliers will typically replace a prepayment meter with a standard meter, free of charge, on request, provided you are not in debt to them. Even if you are in debt, they are legally obliged to replace your prepayment meter, free of charge, if you are disabled or chronically ill.
Book Early to Avoid Disappointment
Reputable removal companies often have a substantially full order book, so it is usually advisable to book your chosen company with plenty of notice and, ideally, as soon as you know your moving date. Complete our straightforward quote request form to receive 6 free, no obligation quotes calculated on the basis of loading, unloading and travelling times. Once you are happy with a quote, confirm your booking as soon as possible.