Thinking about joining our expert company and becoming a member? What if we told you that by signing up, our affiliates double their online presence, undoubtedly? We know that as removal specialists, it can be challenging to make a difference and outstrip competitors. For this reason, we'd like to offer you a complete guide to create your own outstanding Getamover profile and make a difference. Keep on reading to learn more!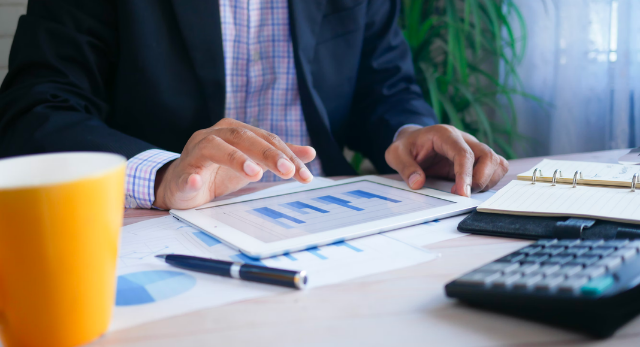 Easy ways to increase the online presence of your moving company
You've made the first step and added your company to our directory, hooray! Yet, signing up is not enough to secure your spot as an undisputed moving company. In order to get noticed by clients and overtake the market, you need to show how good your company is and why it is the best at operating removals.
Your account dashboard gives you access to your company profile. There, you'll be able to add, modify and remove sections. Here are some of the fields we recommend you to fill in to get the attention your moving company needs: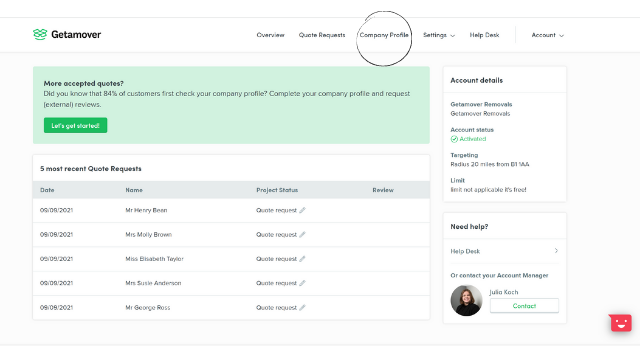 1. Add a description to your Getamover profile
As obvious as this request seems, most moving company's owners chose not to add a description of their businesses. This action can have a nefarious effect on how the company is seen by customers as it can show a lack of communication.
Making a descriptive text of your removal company shouldn't be too long nor complexe. They key is into adding keywords that will ring a bell to your customers needs, for example: "special removals", "house removal" or "relocation". Here is a bullet point list of details you should add:
Types of services (special moves, house or business removals, etc.)
Operating areas
Years in business
Destinations (domestic or international)
2. Upload valuable images
At Getamover, we give you the opportunity to upload as many pictures as possible to your online moving profile. By doing this, we aim to offer all our customers the option to add visible proof depicting their business and services. Why not take advantage of this? We encourage you to transfer images of your different types of trucks, certificates, a move and logo. Make sure the images fit the size requirements to help the navigation be as smooth and quick as possible.
3. Fill in the Q&A section
If you scroll all the way down your profile, you'll find a Q&A field. This category was specially designed for you to include valuable information your clients are searching about your moving company. Answers don't need to be long, however we want to emphasize the importance of filling in all the fields and making sure to be as precise as possible.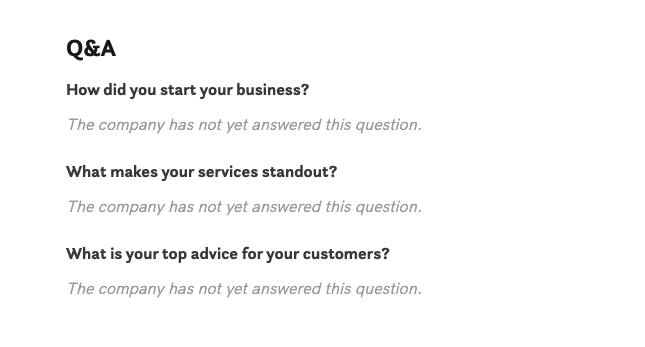 4. Ask for reviews on your Getamover profile
Whenever possible, ask your clients to submit a review on your Getamover profile. By doing this, you'll increase your chances of being picked for new projects depending on your final score. If you feel customers are unhappy about the service given, check with them if there is a way to make up for the dissatisfaction and note down learning for future jobs.
5. Check your reviews and take time to answer
Bad or good reviews need to be answered. Taking the time to go over your reviews will reward you in long term and this is why:
In case of biased bad reviews, you can check the veracity of events with your team and answer with what you know from your side. This can help new customers rethink about the bad review and help them make their decision.
Bad reviews resulting from unpredictable events (ex: traffic or vehicle damage) can be easily explained in an answer. This will also help new customers understand that other factors enter into the equation during a move. If you offered a vehicle replacement, it will prove that your company is reliable and ready to go the extra mile for them.
Good reviews also need appreciation. A short thank you message is enough to make your customers know that you are grateful for their trust. This also proves your are often online and ready to answer any doubt.

Take a further step: Grow your moving company using visibility strategies
Aside from your online profile at Getamover, there are other steps you can take to increase your visibility. Next, we list a few strategies to grow your moving company and generate more leads:
Create a Google Business Account
If you have a physical address, nothing stops you from creating a Google business profile! This free tool helps you increase your presence on the top search engine by adding your location on maps and giving you the opportunity to add a link to your website (or your Getamover profile).
Email your previous contacts at strategic dates
Christmas, New Year, Easter, beginning of the scholar year… There are numerous events throughout the year that incite people to move. Why not create a special email with all your services and send them to your previous contacts? Here, the strategy is about targeting people that have moved apartments at least 2 years ago. Why? There is a big chance they want to move again soon! And if it's not the case, they will probably recommend you to family and friends!
Brand your moving trucks
Take your moving trucks as another way to increase your presence in your area. Think about bright colors and slogans that are catchy for passers-by to remember. This is one of the best off-line strategies to make new customers and make sure you leave a good impression on people.