Organising a house removal to another country can be a difficult process. Using an experienced international house removal company will make the adventure of moving to a new country as smooth and stress-free as possible. To help you plan, we've compiled some useful information that will give you some insight into what moving to Ireland entails.
How Much Does Moving to Ireland Cost?
The cost of moving to Ireland from the UK is estimated c.a. £1000. Whether you're off to Dublin or Cork or are planning to relocate to the rugged west coast, choosing the right removal firm to get your belongings there safely is essential.
How Estimate the Cost of Moving to Ireland from the UK?
The cost of moving house to another country can be difficult to estimate as there are so many variables involved, for example:
a house removal by air is quicker but is more expensive than a ferry crossing and driving
if your final destination in Ireland is in the west of the country, this will mean additional costs and time in transit
the number of possessions you are moving with will affect the overall cost, as will the level of insurance you require
Cost of Moving to Ireland from London
However, the table below gives you a rough idea of the prices you can expect to pay on the basis of moving from London to Dublin when using road and sea transport:
| House size | Time in transit | Estimated Cost |
| --- | --- | --- |
| 1-bedroom apartment | 2 - 4 days | £1000 - £1500 |
| 3-bedroom house | 2 - 4 days | £1600 - £2300 |
| 5-bedroom house | 2 - 4 days | £2600 - £3750 |
Save Now up to 40% for Your Move from the UK to Ireland!
When you are looking for a house removal firm to take care of your move to Ireland, it is really important to compare quotes. It can be hard to choose from the numerous offers available online but when you fill in our quotation request form with your requirements, you will receive quotes from six reputable local removal firms experienced in international removals so that you can be sure you are getting the best deal.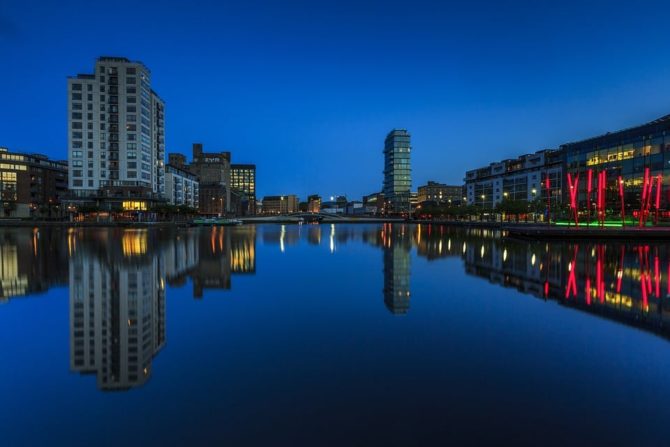 Planning Your Move to Ireland
With its lush green countryside, rich culture and friendly people, Ireland is a popular destination for expats. You may have enjoyed holidays in the Emerald Isle but living there permanently is bound to be a different experience.
How to Prepare Your Move to Ireland?
If you don't already know the country well, consider renting a property for a few months to get the feel for an area and see whether you would be happy to live there before buying a house. People in Ireland are usually happy to chat to visitors, especially in smaller towns and villages, and dropping into the local pub is a great way to find out more about life in a community.
Other Points to Consider include:
Visas:
UK residents do not need a passport or visa to enter Ireland for whatever reason and can stay for as long as they like but it is recommended that you bring a passport with you for ID purposes. You will also need to show your passport for security if you are travelling by air.
Healthcare:
Ireland is a member of the EU so visitors need a European Health Insurance Card (EHIC) to receive emergency treatment. After you have registered as a resident, you can access the free public health system or you can opt for private health insurance.
Pets:
If you have any family pets, you are going to want to bring them with you when you're moving to Ireland and luckily, there are few restrictions on transporting pets from the UK. A pet passport issued by a vet will show that your dog has been vaccinated against rabies and that dogs and cats have been recently treated for tapeworm. Make sure that your pet is microchipped and that all other vaccinations are up to date.
Accommodation:
Short-term rentals can be expensive in Ireland, especially in Dublin, so it is worth arranging your housing in plenty of time. A deposit plus month's rental in advance is usually required.
Driving in Ireland:
Your car can be imported duty-free as long as it is more than 6 months old. You will need a valid UK driving licence, a UK sticker (unless you have an EU plate) and a motor insurance certificate. Drink driving laws apply and you will incur severe penalties if you are found to be driving over the legal limit and also if you are using a mobile phone when driving.
A few Facts and Figures about Ireland
The population of Ireland is 4.75 million, 1 million of whom live in the capital, Dublin.
Just under 14000 expats from the UK have made Ireland their home.
The average salary is around €43000
The official languages are English and Irish, although you are unlikely to hear much Irish spoken except in the west of the country.
The Emerald Isle
Ireland's weather is generally mild all year, with June, July and August being the warmest months with average temperatures of about 16°C. January is the coldest time of year, with lows of about 5°C. Thanks to the plentiful rainfall, the countryside is always fresh and green but when the sun does shine, the Emerald Isle really sparkles.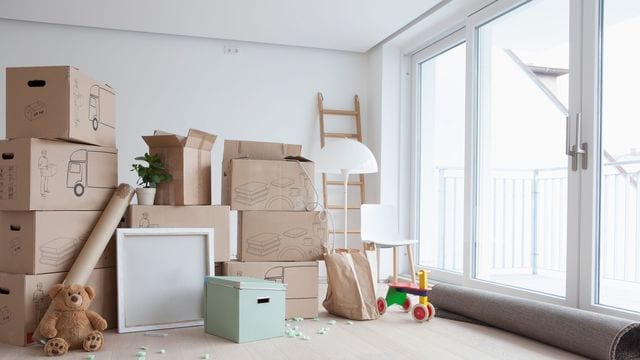 Packing Tips When Moving to Ireland
Well before your moving date, sort through your possessions to decide what you are going to take and the things you can dispose of – either by selling, recycling or donating to a charity.
How to Organise a Cheap Removal to Ireland?
Living costs in Ireland can be slightly more expensive than in the UK so the cost of buying new often outweighs the costs of shipping over your clothing and furniture. Packing for yourself is the most cost-effective but using the packing/unpacking services of a removal firm will ensure that the process is as stress-free as possible.
Storage Service
When packing, label the boxes by room so that the removal firm knows where to take them on arrival. If you are moving into furnished accommodation, your removal firm will be able to arrange storage for you. When packing for storage, ensure that clothing, bedding and soft furnishings are clean and dry, otherwise, they may become stained or mildewed over time.
Keeping Down the Costs of Moving to Ireland
When looking for a removal company to take care of your move to Ireland, it's essential to compare quotes from several firms to get the best price, as well as making sure that you choose one that can fulfil all your requirements. Complete the online form below to receive 6 no-obligation estimates completely free of charge from reputable local removal firms experienced in moving to Ireland.