Getamover connects you with moving companies that match your move specifications.
Welcome to our area dedicated to FAQs about moving and our company. We understand that finding the right moving company can be challenging, leaving you with a couple of questions. That is why we have collected some of the most common questions we receive daily and sat with our moving experts to answer each question thoroughly.
Whether you are looking for information on how our service works, the movers listed, or the different moving options available, you will find the answers to your questions here.
---
Simply explore our FAQs by selecting the category that interests you the most:
About Your Move
About Our Services
Other Questions
---
Make Moving House Simple
Get connected to top-rated movers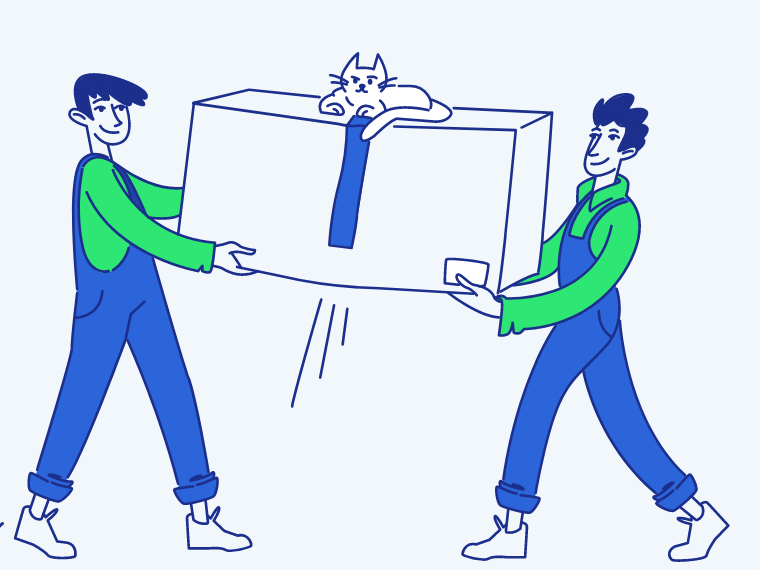 About Your Move
What Is the Price of a Move and What Does It Include Exactly?
On average, a local move can cost between £700 to £1200, while a long-distance move can cost upwards of £1500 to £4000. These rates include packing, moving and delivering your valuables to your destination. At Getamover, we recommend obtaining quotes from qualified moving companies to obtain an accurate estimate of the cost of your move, which may include other services such as dismantling and reassembly. For more information on moving costs, read more here.
How Can I Guarantee the Safety of My Belongings During the Move?
The best way to ensure that all of your belongings are safe during a move is to use external insurance in addition to that offered by your mover. However, if you wish to opt for a less expensive method, it is possible to guarantee the safety of your belongings by carefully packing your fragile objects and marking them as such, without forgetting to create a detailed inventory of all your belongings, take photos before and after the move and to supervise the unloading.
Why Is It Important to Obtain a Removal Quote?
Obtaining a removal quote is important as it helps to provide a cost estimate of the move, which helps you plan your budget and make informed decisions. It also provides a clear breakdown of the services included in the move. Obtaining multiple removal quotes allows you to compare services and costs, helping you choose the best fit for your needs and budget.
What Is the Most Important Question to Ask a Mover?
All questions are important when it comes to choosing the best moving company. However, a crucial question to ask would be: "Are you insured for any damages during the move?" This question is important because it lets you know if the company is prepared to cover the costs in the event of loss or damage to your belongings during the move. It's important to make sure your move is safe and stress-free, and insurance is a crucial way to do that. Want to know more questions on what to ask the mover? Read our dedicated article here.
How to Manage the Administrative Formalities Related to the Move?
It is important to inform certain authorities immediately after your move. The first step is to change your information with social security and taxes. Do not forget to register with your municipality to be taken into account in the offer of local services. Finally, make sure to update your mailing address with your bank, insurer, employer, post office and any other contract. Discover more information on handling administrative tasks associated with moving by clicking here.
What Does a Removal Quote Typically Include?
A removal quote typically includes:
– Service Description and Breakdown
– Costs
– Schedule
– Insurance
– Terms and Conditions
– Contact Information
The specifics vary from company to company so you need to carefully review and understand the details of each quote you receive. For more information, visit our advice page.
How to Manage Waste During the Move?
There are several ways to manage waste during a move, the first of which is to sort your items and discard those no longer needed before the move. This will reduce the amount of waste to be transported. You can also choose to donate, recycle or drop them off at approved waste disposal sites (recycling centres). It is also useful to find out about local waste management rules to avoid committing violations.
How to Compare Quotes from Different Movers?
When comparing quotes from various moving companies, take into account the total cost, included services, insurance coverage, and payment terms. These factors are crucial in determining the company that best fits your needs. In addition to the quote, also review ratings, reviews, and feedback left by previous customers for each company.
Where Can I Purchase Moving Boxes and Packing Materials From?
When you are requesting a quote through our platform, you are able to request moving boxes as well as packing materials that you may require for your move. Once requested, the removal companies will consider this when tailoring their quote for you. The details surrounding the delivery of your moving boxes and packing materials will then be communicated directly with the removal company. To learn more about moving boxes and packing materials, read more here.
About Our Services
Why Move with Getamover?
Getamover is a platform that helps you find and compare many professional removal companies that are available in our national and international network. This aims to offer you the best professionals available in your region that have been verified by us. We offer transparency on the platform, allowing you to see previous user experiences and reviews to get an idea of the service, quality and price.
Does Getamover Have Reviews from Previous Customers on Each Company?
We have recently launched our directory page of moving partners. On this page, you are able to view the profiles and details of each company as well as the ratings and feedback left by previous customers. Only customers who have used our platform are allowed to leave reviews, so our feedback system is 100% reliable.
Can I Change My Quote Request Details After They Have Been Submitted?
Once your quote request has been submitted, it can no longer be edited since the details are sent automatically to moving specialists. However, you can mention any changes to the moving specialist once you get in contact with them.
How Long Will It Take for a Removal Company to Contact Me after Submitting a Quote Request?
Once your request has been submitted and forwarded to the moving specialist, they will contact you within two days.
How Do I Communicate with the Removal Companies?
Once you have submitted a quote request, the removal company will contact you as soon as possible via email or telephone. You are also able to communicate with the removal companies matched to your move by contacting them using the contact information supplied on the thank you page and in the email, you received after submitting a quote request.
How Many Quotes Can I Usually Expect to Receive?
When you request a quote, you are eligible to receive up to 6 quotes from professional removal companies on our platform. If a quote is withdrawn from a company, it may be possible for another removal company to quote on your move. In some cases, it is possible to not receive a quote as there are unfortunately no professional removal companies in your requested area on our platform at that time. 
After Submitting My Quote Request, I Received Either Very Few Quotes or No Removal Companies Were Available to Take Care of My Move. Why Is That?
These are the removal companies that we found based on your quote request details. This may be due to companies being unavailable because they are either too busy or simply because our removal companies aren't working in your area.
Is My Personal Information Secure?
Yes, your personal information is secure. We only use your personal information for the quote request. Visit our privacy page for more information on how we process your data and what steps we take to protect it.
Do You Have a Clear Payment Policy?
No transaction is made directly with our service. Our platform is exclusively responsible for offering you an adequate list of the best movers in your area according to your needs. However, when you think you have found the perfect company, we recommend that you:
– Read terms and conditions and payment information on the website.
– Request details of accepted payment methods.
– Check the price including VAT.
– Check if there are any comments or online reviews from previous customers about the transparency and security of payment methods.
– Contact customer service to ask about payment methods and transaction security.
How Do We Recommend the Moving Companies for You?
Our system is based on a clear and reliable verification process. In addition to this, we have a scale that takes into account distance, relevance, services, value for money and customer reviews in order to offer you professionals capable of carrying out your move. View our mover's page to see all our partners and their profiles.
How Can I Find Information and Reviews on Moving Companies?
Go to our domestic category on the top menu and click on "removal companies by areas". You will discover the profiles of our partners, their information and the comments left by previous customers. In addition, profiles are sorted using our new recommended filter which takes into account distance, relevance, services, value for money and customer reviews to ensure the recommendation of top-quality professionals.
What Is the Cost to Use Your Removal Company Comparison Service?
Our service is entirely free! We do not charge any fees to our customers wishing to compare the different companies in our portfolio.
Other Questions
What Do Removal Companies Do?
Aside from loading and transporting your belongings, removal companies offer many other services to cater to your moving needs. With these added services you usually incur additional costs on top of the rates charged by the movers. Such services include storage, cleaning, packing, piano removals, and dismantling/assembly.
What Is a Pre-move Survey, and Do I Really Need One?
Depending on the number of things you plan on moving, you may want to consider a pre-move survey as a service add-on. During a pre-move survey, movers come to your house to go over the logistics of the move and determine an accurate cost for your move. A pre-move survey will cover things like the amount of space your belongings will occupy in the vehicle, any access issues, such as elevators and parking permits, and whether you need additional assistance with specialty items. This is a great opportunity for you to ask questions on how your items will be transported and how the moving crew will protect your belongings.
How Does the Quote Request Process Work?
To request a quote on our platform, nothing could be simpler! Fill out our form indicating precisely the address of departure and arrival and the desired date. We will then offer you a list of movers available in your area, they can contact you to find out more and estimate the final cost of your move. When receiving your personal quote, be sure to check your information, the services included and the price including VAT.
What Do the Ratings and Reviews for the Removal Company Mean?
After every move that is completed by one of our removal companies, we ask the customer to review their experience. Customers are encouraged to honestly rate and review the removal company with regard to:
– Quality
– Customer service 
– Value for money
Their review can be positive, neutral or negative. All of the reviews that meet our content guidelines will be published. Reviews about our removal companies can be read here.
Can You Accommodate My Specific Moving Times?
After completing our form, we offer you a concise list of companies available and in the possibility of making your moving plans a reality. We offer up to 6 company profiles so that you can make your choice taking into account dates, services and price. Be aware that moving during holidays and public holidays generally costs more.
Compare Removal Company Costs
Save up to 40% on your move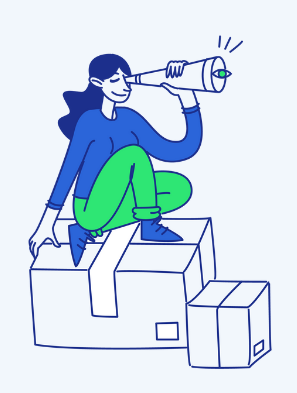 No Answer to Your Question?
Explore our various articles to learn more about prices, services and steps to follow for your move: