Moving to France never sounded so good. The elegant vibe, rich culture, and slower pace of life make the perfect mix of incentives to move there. Finding the perfect removal company to ship your belongings at the most reasonable price may be your current challenge, but we have just the right information and tools to make it all happen!

Cost of moving to France
When relocating to a new country, it can be easier to ship light, but there are many things that you just can't leave behind. Most likely you're considering taking some furniture with you. In the midst of preparing for the big move, requesting a quote is one of the first and most important steps in your planning process. There are, of course, several factors to consider that affect the overall cost, as shown below:
Transport Method: sea, air, land
The weight of your cargo
The distance of the move
The timing of your move
Extra services that you request
| House Size | 20ft Shipping Container | 40ft Shipping Container |
| --- | --- | --- |
| 1-2 Bedroom apartment | £388 - £661 | £1,136 - £1,256 |
| 3-5 Bedroom apartment | £793- £1,550 | £1,750 - £2,230 |
Request your free quotes today!
Finding that perfect removal company has never been easier. With our personally-vetted platform, you can rest assured knowing your belongings are in good hands. By filling out a short form free of cost, you will receive up to 6 personal quotes which you can then compare to save on your international removal costs.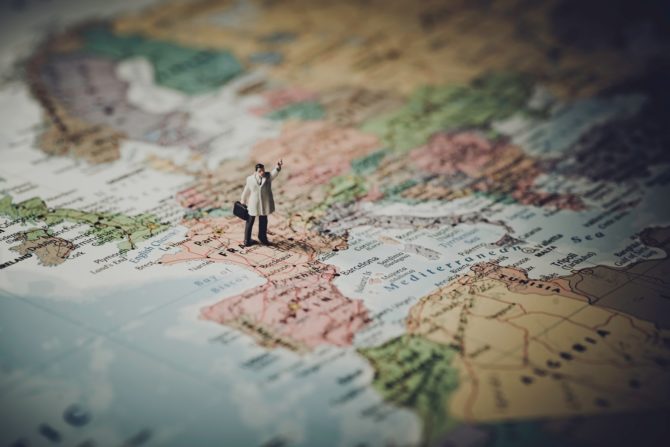 Transport Methods when moving to France
Out of the three transport methods, sea, land, and air, shipping via sea freight is the most cost-effective way to go. It may take longer than via air and land, but it is worth it if you're looking for a cheaper price tag. Luckily, because the UK and France are relatively close to one another, your belongings should arrive at their destination within 3 days. Make sure you plan a few months in advance so that you have enough time to arrange whether you need a Full Container Load (FCL) or a Less than Full Container Load (LCL), which is based on available space and weight.
Major French Ports
No matter where your new city in France is, the country has numerous ports alongside its coastlines that allow for fast and streamlined shipping routes. The largest port is located in Marseille-Fos, which handles shipments going into the southern region. Le Havre is the second biggest port and is conveniently located in the north.
Living the French life
France ranks as Brits' third most popular relocation destination within Europe. According to Full Fact, there are 190,000+ UK born people currently living in France. The country offers a great array of diversity among its cities and municipalities. The city vibe and lifestyle vary significantly from city to city. Living in the main urban metropolis will be quite different than the rest of the country. However, what France does offer that's uniform across the country, is a devotion to the dining experience. Throughout every corner of the country, everyone enjoys cheese, meats, and home-grown wine and champagne.
A few facts and figures about France
Check out these important facts and figures about your soon to be country. New experiences are waiting to be uncovered in your new home. Below is a table with the essential information you want to be aware of before moving to France.
| Topic | Information |
| --- | --- |
| Currency | Euro |
| Population | 67.12 million people (2017) |
| Capital | Paris |
| Language | French |
| Government Type | Semi-presidential republic |
| Unemployment Rate | 9.3% (as of August 2018) |
| Country Code | +33 |
| Religions | Christian (overwhelmingly Roman Catholic) 63-66%, Muslim 7-9%, Buddhist 0.5-0.75%, Jewish 0.5-0.75%, other 0.5-1.0%, none 23-28% |
Finding a place in France
Getting a place in France is much easier said than done. There are numerous laws in place to protect tenants, so you may find that landlords are very picky and that the competition to be the most desirable tenant is fierce. The best way to get ahead is to put together a thorough dossier in French that explains your trustworthiness as a tenant via bank documents, job contracts, payslips, and perhaps most importantly, a guarantor. You could also look into buying a home, which comes with its own set of unique challenges, including a lengthy process laden with paperwork. Once you've overcome those challenges, however, you'll be enjoying an enviable existence in one of Europe's most coveted destinations.
Brexit's implementation period
With just a few months away from the final Brexit deal, there's still overall uncertainty as to what the final agreement will look like. However, according to the UK Government's website, there are some agreements in place for UK nationals already living or planning to move to the mainland countries of the European Union.
The Citizens Rights Agreement is said to allow British citizens and their family members who are already lawfully residing in the European Union to continue living in the EU before the end of the implementation period (29 March 2019 – 31 December 2020).
Prior to the end of the implementation period, UK nationals who hold a valid residence document will be able to request a new residence document free of charge.
If you are legally living in the EU by the end of the implementation period, you will be covered by the Withdrawal Agreement and will be able to continue residing in your country of residence as well as enjoying the same rights to benefits, healthcare, and pension.
Compare and save on your international removal costs
Moving house does not come cheap, so finding ways to save on your international removal costs is definitely worth your time. By comparing quotes from a number of already vetted, trusted professionals, you'll be able to select that perfect removal company and save on your move to France.Fill out the free quote request form by letting us know how we can best take care of your needs.