France is one of the most popular destinations for the British moving abroad. Finding the perfect removal company to ship your belongings at the most reasonable price may be your current challenge. We have just the right information and tools to make it all happen!
How Much Does a Move from the UK to France Cost?
The average cost for a move from the UK to France is estimated between £400 and £3000. The prices for an international or European move take into account the distance, the mode of transport and the services. You can also consider the solution of a group move. Indeed, that helps you save up to 50% thanks to the efficiency of transport routes.
How to Move to France From the UK?
A move from the UK to France has a high cost which varies according to your destination. Moving from the UK to Paris is more expensive than moving to a neighbouring municipality in the countryside. It is, therefore, better to prepare in advance your move from the UK to take into account all the constraints of a move to France.
Find the Best Removal Company for Moving to France!
It is important to compare the services offered and the rates for a move abroad. Request several quotes from reliable professional movers familiar with removal to France. Free and without obligation, receive several quotes from moving companies corresponding to your situation by filling out this form.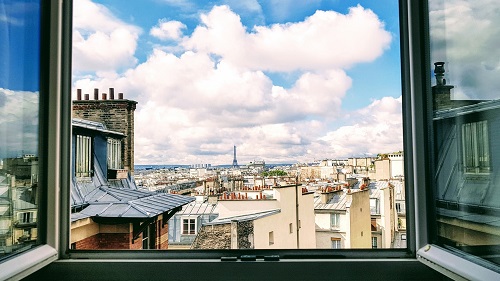 Cost of moving to France
It can be easier to ship light when relocating to a new country. However, there are many things that you just can't leave behind. Most likely you're considering taking some furniture with you. In the midst of preparing for the big move, requesting a quote is one of the first and most important steps in your planning process.
How to Calculate the Cost of Moving to France?
There are several factors to consider that affect the overall cost:
Transport Method: sea, air, land
The weight of your cargo
The distance of the move
The timing of your move
Extra services that you request
| House Size | 20ft Shipping Container | 40ft Shipping Container |
| --- | --- | --- |
| 1-2 Bedroom apartment | £388 - £661 | £1,136 - £1,256 |
| 3-5 Bedroom apartment | £793- £1,550 | £1,750 - £2,230 |
Moving to France Advice
Relocation to France requires you to comply with certain administrative obligations. The earlier you look for a moving company, the easier it will be. Compare international removal companies cost to find the service you need and save money.
Moving to France After Brexit
With just a few months away from the final Brexit deal, there's still overall uncertainty as to what the final agreement will look like. However, according to the UK Government's website, there are some agreements in place for UK nationals already living or planning to move to the mainland countries of the European Union and with the French government. Read more about the Citizens Rights Agreement here.
Do You Need a Visa for France?
British citizens do not need a visa or residence permit to live in France in the framework of the Withdrawal Agreement until the 31st December 2020. A simple valid identity document is enough. However, if you are living in France for 1 year or for any stay longer than 3 months, you must be covered by health insurance to be able to stay on French territory.
Customs Formalities for the UK to France Move
British citizens wishing to move to France must declare their personal effects and household goods at French customs and at British customs. You are exempt from customs taxes on the transport of your personal property if it has been in your possession for more than 6 months.
You must have resided at least 12 months in the UK before your move. Furthermore, you cannot sell your personal property in the 12 months following your move to France. Your personal vehicle is also included in this regulation.
Customs Formalities Documents
For your international move, you must present an inventory of your goods to British and French customs. This document should mention your address in the UK and in France. The documents to present during your move are:
proof of a change of domicile (employment contract or rental lease)
customs exemption request form duly completed CERFA n ° 10070
inventory, in duplicate, detailed and cost of all your goods (including vehicles)
an identity document, valid
Moving to France Checklist
Here is an overview of the main administrative procedures that British residents must carry out when they move to France; taxes, work, vehicle, social security, etc. Take a look before leaving!
1. Administrative declaration
The declaration to the town hall of your new place of residence in France is not compulsory, except in the municipalities of Alsace-Moselle.
2. Health insurance 
Anyone residing or working in France must be affiliated to the French health insurance. You must register no later than three months from the date of arrival. French social security is free for everyone and includes health insurance, old-age insurance and unemployment insurance.
3. Open a bank account
It's easy to open a bank account with a French bank. You simply need to have a valid identity document and proof of address less than 3 months old (electricity bill, tax notice, a rental contract, etc.). All banking establishments are obliged to declare the existence of foreign bank accounts as part of the fight against tax fraud.
4. The tax system in France
You must determine what your tax residence. You can choose it to be either in the UK or in France. In France, the taxes are directly deducted from your salary (income tax).
This is a compulsory tax on accommodation occupied starting on January 1st. The tax rate is determined by communities and varies from city to city. This tax concerns the tenants and owners. Since 2020, the housing tax has been abolished for around 80% of the population depending on your tax status.
It only concerns property owners (collection of household waste, etc.). This tax on accommodation starts on January 1st.
You are subject to the tax on public TV if your accommodation is equipped with one or more televisions. The payment of this contribution is automatically included in your housing tax.
5. Diploma and work permit
British citizens might need to require a work visa after the post Brexit period. If you are moving to France for work, it may also be necessary to have your diplomas recognized in order to exercise a regulated profession or in the context of continuing your studies.
ENIC-NARIC is the official body authorized to issue certificates of diplomas obtained abroad. Indeed, a recognition procedure may be mandatory to have the right to practice on French territory.
6. Driver's license and registration
For living in France, you do not have to exchange your British license for a French license. This is only mandatory in the following cases:
a request for a new license category
you commit a traffic violation in France (resulting in loss of points or suspension of your license).
Vehicle declaration in France
When you move from the UK to France, you must declare your vehicle to French customs in order to obtain a copy of the declaration and a certificate necessary for the registration of your car in France. This certificate must be presented to the prefecture within 4 months of your move.
Can you take pets when moving to France from the UK?
Moving to France with pets is possible. However, you must suit the legal requirements before entering the territory with your dog or your cat. Your pet must be at least 12 months old and identified with a microchip or a tattoo. Your pet must be vaccinated against rabies and get a health certificate from your veterinarian.
How Many British Citizens Live in France?
France is one of the first destinations chosen by the British who move abroad. The attractiveness has regular growth each year. Indeed, France is home to one of the largest British communities abroad, estimated at 150,000 people.
Where to Move in France?
If you are moving to France from England, you might choose to move to Southern France or to Paris. These are indeed the municipalities that attract the newest British residents. The regions and cities of South of France such as the areas of Nouvelle-Aquitaine, Occitanie or Auvergne-Rhônes-Alpes account for nearly 1/3 of the British residents established in France.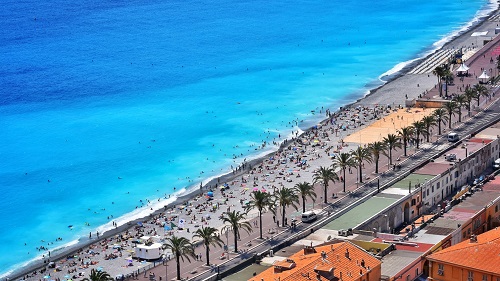 What you Should Know Before Moving to France
Check out these important facts and figures about your soon to be country. New experiences are waiting to be uncovered in your new home. Below is a table with the essential information you want to be aware of before setting your life in France.
| Topic | Information |
| --- | --- |
| Currency | Euro |
| Population | 67.12 million people |
| Capital | Paris |
| Language | French |
| Government Type | Semi-presidential republic |
| Unemployment Rate | 9.3% |
| Country Code | +33 |
| Religions | Christian (overwhelmingly Roman Catholic) 63-66%, Muslim 7-9%, Buddhist 0.5-0.75%, Jewish 0.5-0.75%, other 0.5-1.0%, none 23-28% |
How Much Does It Cost to Live in France?
If you are relocating to France, it is important to know what the cost of living is. Income is higher in the UK, but the cost of living is more attractive in France. For example, many British retirees also choose to move abroad or buy a second home in France. Indeed, real estate prices are more affordable, especially in certain regions.
Cost of Living in France
| Item | France | UK |
| --- | --- | --- |
| Milk | €0.80 | £0.91 |
| Cinema | €12 | £10 |
| Restaurant | €25 menu | £26 menu |
| Gym | €35 | € 29 |
| Bus | €1,60 | £2.50 |
Accommodation in France
The differences in rental prices are significant according to regions and cities in France. However, rental prices are much more affordable than in the UK.
| Cities | Studio | 2 rooms apartment | 3 rooms apartment |
| --- | --- | --- | --- |
| Paris | 900 - 1300 € | 1100 - 2500 € | 1500 - 3000 € |
| Lyon | 400 - 700€ | 700 -1200€ | 900 - 1400€ |
| Montpellier | 300 - 500€ | 600- 800€ | 700 - 1200€ |
| Nice | 400 - 700€ | 700 - 1400€ | 900 - 1700€ |
How to Rent an Apartment in France?
To rent an apartment in France, you must submit an application to the owner or the real estate agent with the following supporting documents:
your last 3 payslips,
a copy of your employment contract,
your last 3 rent contract,
a security deposit (1 or 2 months rent),
as well as your last tax notice.
Home insurance is compulsory in France and it is up to the tenant to take out their own insurance for their accommodation. You can benefit from Personalized Housing Assistance (APL) for the most modest incomes, to request from CAF.
How to Easily Organize your Move From the UK to France?
Do not neglect the formalities to be carried out upon your departure and the procedures on your arrival for a move from the UK to France. Besides your moving procedures, you must organize your move and submit to customs regulations. [/text_cta position="top"]Receive up to 6 quotes from movers specializing in removal from the UK to France, by simply filling this free and non-binding form![/text_cta]
Why Prefer a Professional Mover?
A professional mover is a real advantage in taking charge of the relocation procedures. The mover is also the point of contact with the various administrations, to better focus on your new relocation. Compare several quotes from international moving companies before making your choice.