Buying a new home, packing your belongings, and moving into your new home is highly stressful. Why cause unnecessary strain on your family and friends by asking them to help when there are professional movers?
If you're searching for a reputable removal company to handle your move, look no further. At Getamover.co.uk, we compare over 400 moving companies, ensuring you access the best local professionals in your city and surrounding areas. Our platform also features top international removal companies, providing a seamless long-distance move. On this page, you'll discover essential information about using moving services, covering costs, and responsibilities.
29 November 2023                          Estimated reading time 6 minutes
Table of contents
How can moving companies help you?
While a moving company's main job is to help transport your belongings to your new home safely, they will also take control of different aspects of your move upon demand. Other moving services may include packing and materials, removal of large items, Technical help and storage options.
Transport
Removal companies have the right vehicles to transport your items, either in a van or large lorry. Fully equipped, professional movers will transfer your valuables properly and quickly to ensure that any damage is prevented. This involves loading and unloading boxes and furniture to make your move hassle-free.
Packing and material
Moving can be overwhelming, especially when it comes to packing up your entire home. Professional movers can handle all your packing needs and load the boxes onto their vans efficiently. These experts come prepared with the essential packing materials, ensuring a swift and smooth process.
Packing and unpacking services are standard offerings from removal firms. If you prefer to avoid the time-consuming task of packing, movers can take care of it for you. Depending on the company, the cost may not cover packing materials such as boxes, wrapping, and tape.
Removal of large items
When it comes to delicate or valuable items like antique furniture, ceramics, or belongings with sentimental value, moving companies excel in providing extra care during transportation. They utilise specialised protective materials and handling techniques to ensure the safety of these precious possessions.
Moreover, for exceptionally large items like pianos or wardrobes, professional movers possess the necessary expertise and equipment to handle the job efficiently.
In situations where items are too large for doorways or stairs, movers can utilise creative solutions such as moving your possessions through windows or employing specialist lifting equipment to navigate these challenges smoothly.
Technical help
Companies also offer furniture disassembly and assembly services to make moving quick and easy. Need to install kitchen appliances and electronics but need more time or understanding of the equipment? Then moving companies have the solution for you. A handyman will assist you in all technical aspects of your move, allowing you to settle in much more quickly.
Storage options
In certain situations, you might need storage solutions if an immediate move to your new home isn't feasible. Many removal companies offer storage options, either within their own facilities or by partnering with third-party storage providers. These storage facilities provide a safe and secure environment for your belongings, ensuring they are well-protected during the transition period
The cost of hiring a moving company is based on many components. The total amount of items, access to your properties, and the distance travelled are some of these factors. The price also changes depending on added services offered by companies. The table below shows the average price for moving companies in a long-distance move greater than 50 miles.
Ready to find a moving company?
Receive up to 6 quotes with one request
Domestic or International House Removal
Are you moving to a completely new city or even a new country? There are household removal possibilities for both domestic and international moves, meaning that relocating to new surroundings will go smoothly with no problems for you. This is especially important when relocating abroad, as adjusting to your new home is incredibly stressful.
Sea Freight or Air Freight?
For international moves, you need a house mover with the ability and experience in sea freight or air freight. Check out the international removals page for more details on international relocations.
The biggest upsides of hiring a moving company
Alright, let's get to the nitty gritty of it all. What are the upsides of hiring a Removal company?
Your move will be quick and efficient
Professional movers will handle everything to make your move as simple as possible. Rather than asking your friends and family to assist, which will inevitably take much more time, a moving company lets you focus on other important tasks.
Prevent stress
According to an article written by the NHS moving houses is one of the most stressful events in peoples lifes.
A different post by the New York Post stated that 45% of the respondents said it was as stressful as a divorce or a breakup. Hiring a removal company can take a big part of that stress away.
"Life changing events like Moving house or housing issues can cause a lot of stress"
Moving companies are trained and properly equipped
Compared to DIY removals, movers significantly reduce total transport time since their vehicles and labour will only take one trip. The quicker you move into your house, the sooner you can begin to make it your own home and enjoy this significant life moment.
Movers improve safety and prevent you from getting injuries
Probably the most important thing on your mind about the move is whether or not your belongings will arrive at your new home safely. Your items are covered by the extensive insurance plan that many companies offer, as they incur the risks.
Additionally, the chances of injury are greatly reduced since the movers possess the knowledge and awareness that only years of experience can bring. With all preventive measures taken care of, moving companies give you peace of mind.
Cost of removal companies
The average cost of a removal company is between £600 and £2,000, according to our statistics. However, the final cost of your removal depends on several factors, including:
the volume of items to be moved
the accessibility of your original and destination house
The distance between these two properties
Additional cost (not for every company)
The timing of the move
Long Distance Removal Cost (greater than 50 miles)
| Number of Bedrooms | Fixed Price Range | Additional Costs (i.e. Packing Costs) |
| --- | --- | --- |
| 1 | £400 - £500 | £150 - £200 |
| 2 | £450 - £600 | £200 - £250 |
| 3 | £800 - £900 | £250 - £300 |
| 4 | £900 - £1,000 | £300 - £400 |
Ready to find a moving company?
Receive up to 6 quotes with one request
Additional  Moving Companies Costs
| Option | Benefits | Price |
| --- | --- | --- |
| Packing Materials | Boxes for a 4-bedroom house | £120 - £150 |
| Dismantling and Assembly | Help with assembly / disassembly of furniture | £125 |
| Storage | Space if you cannot move immediately | £30 per week |
| Cleaning | Cleaning of old and new house | £15 per hour |
Since multiple factors determine the cost of moving companies, the total price changes are calculated on a case-by-case basis. As more services are included and the number of bedrooms increases, so too does the price. As such, you should consider all components of the removal cost estimation.
When is the Best Time to Hire a Removal Company?
Your moving date will affect the cost of the removal service. For example, from July to September, during the peak moving season, the cost turn out to be higher.
When is the best month to move house in the UK?
Our data showcases the most popular month to move house in the UK is July, with 11% of those moving houses opting to do it in this month. August closely follows, with 10% of UK movers opting to move during this time. We can say that the warmer and drier weather and longer daylight hour make moving during this period much easier!
We see that December is one of the least popular months for those living in the UK to move houses, with only 6.30% opting to move during this period. This results from colder weather conditions and it being too close to the festive season. However, the second least popular month to move in is May, with only 7.11% choosing to move house this month.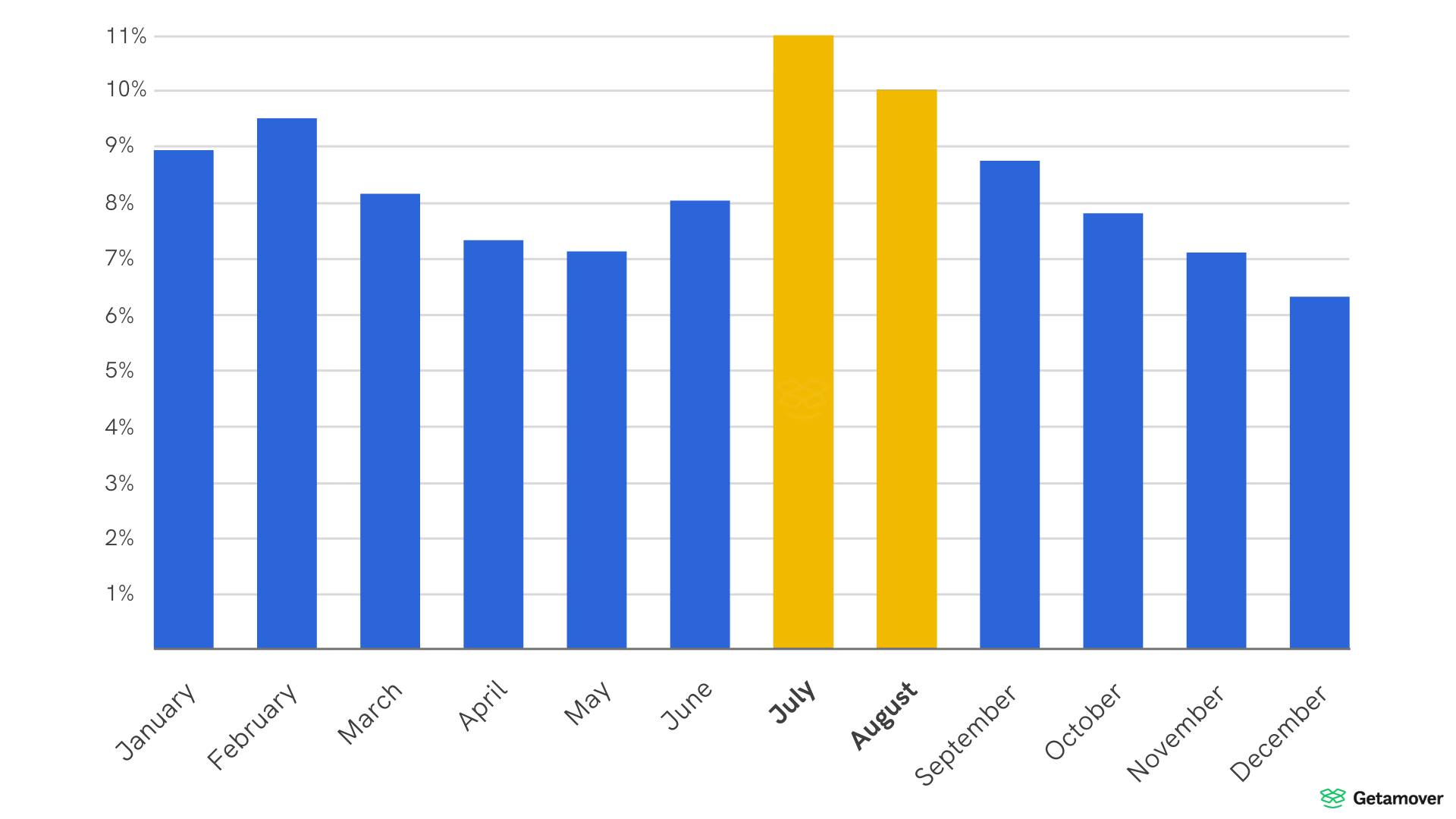 Which day of the week is the best to schedule your house move in the UK?
Our data showcases that Friday is the most popular day of the week for house moves in the UK with close to 19% of those selecting this day. Saturday is the second most chosen day to move house in the UK with 17.86% of users choosing to move then.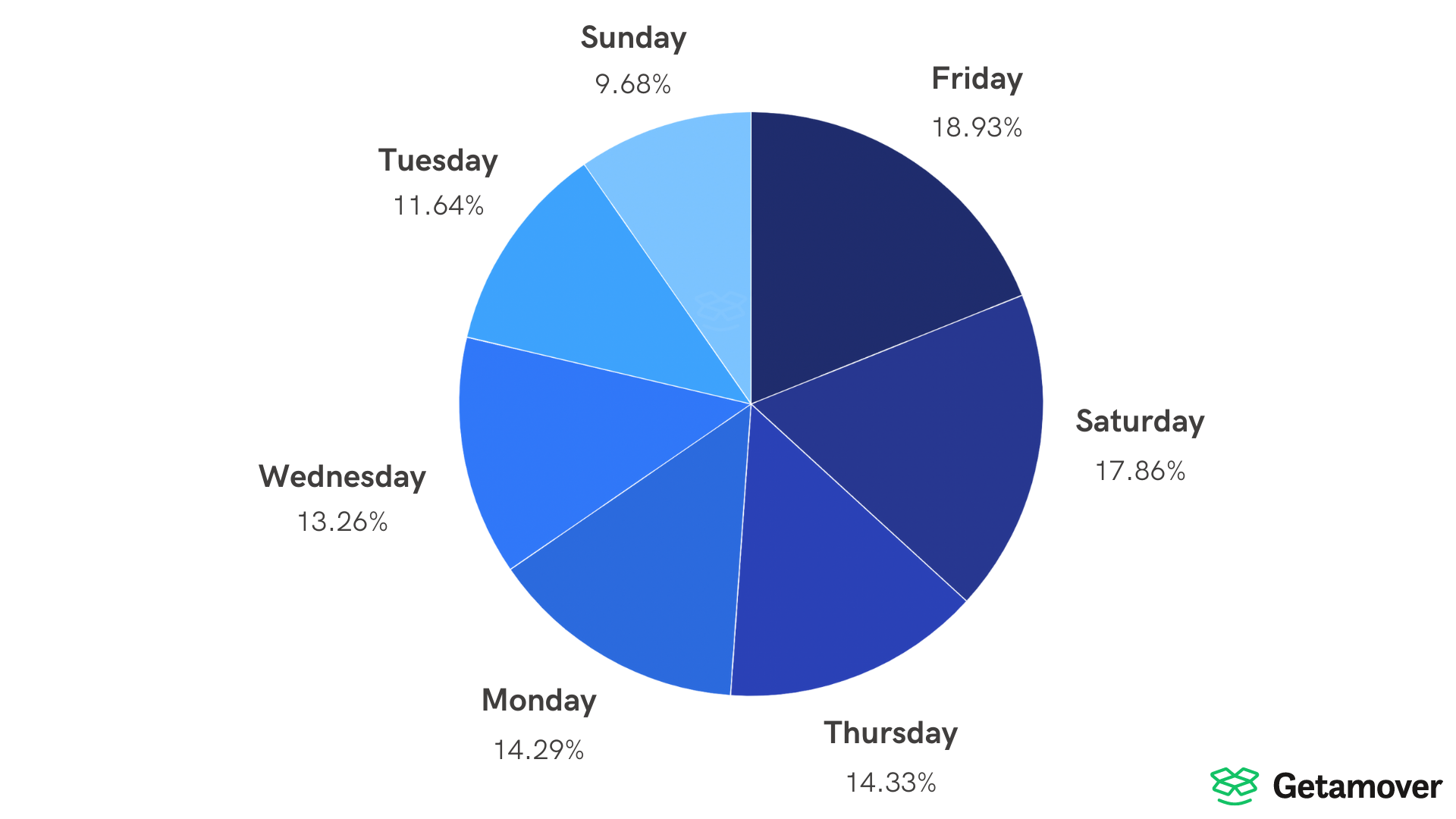 Save up to 40% when you compare quotations
Are you searching for a detailed breakdown of prices for your move? Every removal project is different. This means each company will calculate costs in its own way. Compare these prices for free by filling out our quote request form. Within 1 minute, you will be matched with companies operating in your area and receive up to 6 quotes. This free, no-obligation quote request lets you quickly see the best offer for you.