The world has surely become a small place as more individuals are finding reasons to relocate to foreign countries temporarily or permanently. Whether it's to study, work, or you simply need a new adventure, moving to a new country is one of the most rewarding risks one can take in life. However, this comes with the daunting task of moving home and dealing with complex border situations. Use this guide to achieve a smooth and stress-free international move.

Cost of International Shipping
International shipping can be quite costly, but with some planning and preparation, you can minimise some expenses. Furthermore, shipping companies provide customised services, meaning rates will differ from one customer to the other depending on their needs. Having said that, the overall cost of moving is subject to a number of general factors, including:
Transport method: There are three major ways to move your belongings internationally: sea freight, which is the cheapest but slowest; air freight, which is costly but fast; and transportation by land, which has moderate costs. Transporting by land is recommended when shipping within the same continent, sea freight is ideal for moving between continents, while air freight can transport within the same continent or to another continent.
The weight of the cargo: Prices are partly determined by the weight and volume of a shipment. Naturally, the more items you transport, the more expensive it will be. If you don't have enough goods to fill a container, consider using groupage services to cut down moving costs.
The distance of the move: The longer the journey, the higher the costs and vice-versa.
The timing of your move: There are two main peak seasons when demand increases dramatically, affecting prices, global supply chain, and even vessel capacity. One is from August-November and the other is during Chinese New Year in January and February. Also, the rates of shipments requiring controlled temperature environments will be affected by the weather conditions at various times of the year.
To help you get started, check out the table below for a few estimations for international shipping costs from the UK to some selected countries:
| Destination Country | 20ft Shipping Container | 40ft Shipping Container | Container Airfreight |
| --- | --- | --- | --- |
| Australia | £1,137 - £1,454 | £1,984 - £2,171 | £6,890 - £7,200 |
| USA | £988 - £2,400 | £1,475 - £3,115 | £3,400 -£5,700 |
| Spain | £434 - £737 | £649 - £2,155 | £2,669 - £2,948 |
| Canada | £1,066 - £2,269 | £1,915 - £3,507 | £6,500 -£7,900 |
| Ireland | £378 - £418 | £718 - £794 | £983 - £1,087 |
| New Zealand | £2,547 - £2,815 | £4,839 - £5,349 | £6,622 - £7,319 |
| France | £424 - £661 | £633 - £1,256 | £1,555 - £1,719 |
| Germany | £979 - £1,082 | £1,860 - £2,056 | £2,545 - £2,813 |
Compare Quotes And Save
There are several factors affecting the cost of international shipping, which makes it a bit difficult to determine the exact cost of moving. To ensure you are getting the cheapest international shipping costs, it's important to compare quotes from up to 6 of our trusted and reputable movers. The process is simple and takes about a minute to complete.
Moving House Service Costs
In addition to transporting your belongings, removal companies offer a wide variety of services to ensure a smooth transition. The exact cost of moving house services will depend on the size of the move and the number of services required. Some of the common moving services and their prices include:
Packing services: Removal specialists will offer expert packing and unpacking services. Costs range from £75 – £400. You'll also need packing materials, which can cost about £350 for a 2 bed-roomed house
Storage: If you won't be moving to your property right away, you'll need a safe and secure place to store your possessions. Most removal companies have their own temporary storage in transit facilities, but they can also take your belongings to a storage company of your choice. This costs from £75 per month.
Cleaning: Moving companies also have expert cleaners at their disposal. Depending on the size of the property, the average cost of cleaning is £90 – £250 per hour.
Handyman: There are several handyman services needed to help complete the relocation faster, including furniture disassembly and reassembly, installation of electrical fixtures, TV mounting, and much more. Be ready to spend around £50 or more per hour.
Delicate removals: An extra handling charge might be required if you have delicate items such as fine art, antiques, a piano, etc. These services will cost anywhere from £120 – £480.
Tips for Preparing a Move
An international move can be an unpleasant one if you are not adequately prepared. To avoid that, the first step is to conduct a home survey. This helps to remove uncertainties in cost estimates and gives a clearer picture of every cost associated with moving abroad. Your removal company can help conduct a home survey on your behalf.
There are several factors to consider when choosing a removal company. First, they must be certified members of trade organisations such as BAR (the British Association of Removers), the National Guild of Removers and Storers, and the Road Haulage Association. This is the simplest way to determine how trustworthy your prospective removal company is.
Now that you are ready to move, the next step is to pack your belongings. When packing your house it's important to stay organised, document, and label all your possessions for an easy moving process. While you can do some packing to save on costs, it's important to leave the high-value possessions and breakables to the experts, especially since some companies will not cover items that you've packed.
The cost of moving will vary from one removal company to the next. Be sure to compare as many quotes as possible from reputable companies to ensure you are getting the cheapest international shipping cost.
Stages of an International Move
International shipping consists of three main stages: collection, transport, and delivery. Each stage requires specific steps to ensure the moving process goes on without a hitch.
Collection
Proper packing is vital when it comes to international shipping. Removal companies use the finest crafting and packing materials to offer a variety of packing services, which include full packing, fragile packing, self-packing, part packing, and special requirements. Your belongings will be handled with the utmost care and consideration, especially the precious ones. Items are then loaded onto a truck for preliminary transit to airfreight or sea freight or directly transported by land to the destination.
Transport
As we've seen, there are three ways to ship goods internationally. Your choice will depend on your destination, budget, urgency, and the size of the move.
Airfreight is the fastest mode of transport but quite costly, especially when transporting large volumes of items.
Sea freight is the cheapest, but depending on a number of factors, it might take the longest amount of time. There are three ways to ship by sea: Full Container Load (FCL), Less than Container Load (LCL), and Groupage. Transporting your belongings by land is probably the ideal option but it's only limited to destinations within the continent. You can choose between Part Load and Full Load, depending on the size of your move.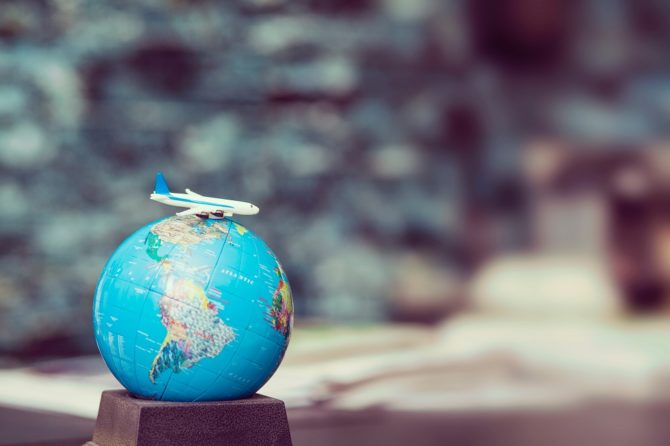 Delivery
Delivery involves services offered at the destination. First, items will be transported to your new address by road. Upon arrival, your belongings will be unloaded, moved to the new house, and unpacked in their respective rooms. Be sure to use your inventory to mark off the items and their conditions as they are brought into the house. Your removal company will then address any concerns that you may have. This includes guiding you through the process of filing an insurance claim for any damaged goods.
Compare Moving Costs
If you are looking to save on international shipping, then consider comparing quotes from multiple reputable moving companies. Seeing their services and prices side by side will help determine the cheapest international shipping company that's appropriate for you. ake a minute to fill out our request form to receive up to 6 removal quotes from trusted international movers.