Moving to Scotland can seem like a daunting endeavour, but if you can find the right removal company to transport all your possessions safely and at a reasonable price, it makes the process a lot easier. This article will explain exactly what you need to look for in a removal company, and how to find the right one for you.
How Much Does Moving to Scotland Cost?
The cost of moving to Scotland from the UK depends on a few different criteria:
How many items you want to transport.
Whether you choose to send your possessions by air or road.
The distance you are moving.
The route your removals will take.
Moving to Scotland Costs
This table, however, gives you an idea of the average cost to move from London to Edinburgh by road.
| House size | Time in transit | Estimated Cost |
| --- | --- | --- |
| 1-bedroom apartment | 2 - 3 days | £1000 - £1500 |
| 3-bedroom house | 2 - 4 days | £1600 - £2300 |
| 5-bedroom house | 3 - 5 days | £2600 - £3750 |
Get Free Quotes for Your Move
In order for your house move to Scotland to go smoothly, you shouldn't just pick the first removal firm you hear about. Ideally, you should get quotes from a few companies but this can be time-consuming. A simple way to quickly get reputable firms to give you a quote is to fill in our request form. We will send you six excellent-value quotes so that you can research the companies and choose the best one for you.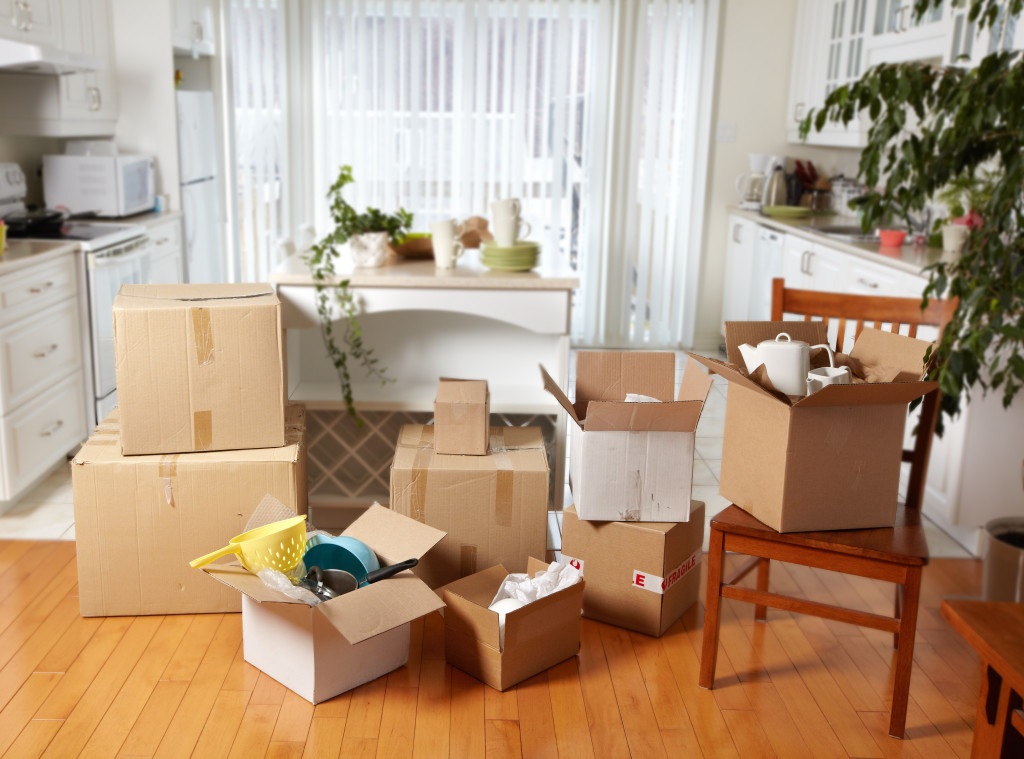 Moving Route from the UK to Scotland
More popular routes will have more competition and therefore may be cheaper, for example, London to Edinburgh may result in a more reasonable quote than travelling from The Lake District to a village in the Cairngorms, even though it is a shorter distance.
Means Transportation
Of course, it is possible to hire a removal van and drive yourself, but you have to consider the inconvenience of driving such a long distance, paying for the petrol as well as having to load and unload your whole house yourself at the other end. When you can find reasonable prices for experienced companies that take all that worry away, it makes any move, particularly a long-distance one, much easier and more stress-free.
The distance of your Move
Obviously, all the above criteria will vary the cost of moving all your belongings north of the border, and if you are moving to the very north of the country or even one of the islands it will be more expensive.
Planning Your Move to Scotland
Scotland is a stunningly beautiful country with the friendliest of locals; wherever you have decided to move, you can be sure of a good welcome. The weather may be challenging sometimes, but with layers and good waterproofs, you can be ready for anything the worst winter can throw at you. And don't forget there is always the local whisky to warm you up!
No Formalities When Moving to Scotland
When you plan your move to Scotland you don't need to worry about any specific documentation as there are no special considerations that make Scotland different to anywhere else in the UK. Depending on the area you are moving to, you may get to hear some locals speaking their own Scottish languages, particularly in the Highlands and Islands, and Doric is also widely spoken in the northeast of the country.
The roads can be small and windy outside the major cities, so choosing a removal company that is experienced in helping people move house in this beautiful country can help hugely with logistics.

A few Facts and Figures about Scotland
The population of Scotland is around 5.4 million, just over a million of whom live in and around Glasgow and Edinburgh, with Aberdeen and Dundee as the next largest cities. There are almost 800 islands around the coast, 130 of which are inhabited, and they are some of the most pristine areas of natural beauty with eye-catching beaches.
In 2009, Thailand accidentally used one of the incredibly beautiful Hebridean beaches in an advertising campaign to promote Thai holidays. The golden sand and clear seas are easily confused, however, the sea temperature is probably a little different.
Cosmopolitan Life
Nearly 10% of people living and working in Scotland are from elsewhere in the UK, and there are also many other nationalities here particularly in the cosmopolitan centres of Glasgow and Edinburgh. Scotland is world-famous for its whisky, lochs and striking mountain ranges, but the best fact about this wonderful country with its deep history and folklore is that its national animal has been the unicorn since the 12th century.
Packing Tips When Moving to Scotland
Try and start packing as early as you can once you know you will be moving. Eight weeks before is the suggested timescale to start boxing up items that you rarely use or think you can do without until after you arrive in your new home. It is also the perfect time to pare down your possessions and declutter if you can. Your removal firm will be able to supply packing boxes and materials that you might need during this process, like bubble wrap or specialised wardrobe boxes.
Label & Packing
Don't forget to label the boxes well so that the removal firm knows which room to leave the boxes in, as this will make it easier on you if they are already in the room you need them to be in. To make it even more stress-free, you may prefer to let your removal firm pack for you as well and many provide this as an additional service, including unpacking when you arrive in your new home.
Storage Units
Occasionally, you may find that it is not possible to move straight in and there is a delay between leaving your old home and arriving in your new one. If this happens, removal firms can also arrange storage for your possessions for the duration of the delay, arriving at your new home with everything exactly when you want it.
Prepare a First-Day Box
When you are packing your boxes, remember to leave out the things you think you will need as soon as you get into your new home. The sort of items that can be useful are scissors to get into the boxes, snacks and drinks. These could be bottles of water and soft drinks, or a kettle, mugs, tea bags and coffee if you prefer hot drinks. Most importantly, if you have a cordless kettle, don't forget to pack the base in with the jug!
Keeping Down the Costs of Moving to Scotland
Moving house can get very expensive very quickly, but with our online request form, we can help you keep costs down.If you fill it in with your details and send it to us, we can quickly furnish you with six, no-obligation quotes from excellent, local companies. Why spend more than you need to when the cheapest quotes from reputable companies are simply a click away.