Save up to 40% in 1 minute
Free and no obligation Trusted movers
Moving to America
Are you planning on relocating to America and don't know where to begin? This is where a removal company experienced in moving to the US comes in. With their knowledge and expertise, they will help with all the arrangements to ensure that your removal goes smoothly, getting all your possessions safely to your new home in the States.

The cost of moving to the US
When moving to the United States, house removal expenses are likely to take up a large proportion of your budget. There are so many variables involved that it can be hard to estimate how much moving to the US will cost but the table below gives you a rough idea of the sort of figures to expect.
| Type of Move | Costs of moving to America |
| --- | --- |
| 20-foot shipping container | £975 - £2750 |
| 40-foot shipping container | £1450 - £3725 |
| Airfreight | £3500 - £6000 |
As well as transporting your belongings, a removal firm specialising in removals to the US can also help you with a wide range of other services to assist you with relocation. A rough guide to some of these additional expenses can be seen below:
Service
Details
Price
Packing and unpacking
Expert packing and unpacking of your belongings
£100 - £425
Insurance
Varies widely depending on the
value of your household goods
Starting at £80
Because of the long distances and the specialist services involved, relocating to the United States is expensive. However, one way you can be sure that you are not paying more than necessary is to shop around for the best prices from international removal firms experienced in house removals to the US. Fill in the form below with your requirements to receive 6 completely free, no-obligation quotes from reliable removal firms, tailored to the services you need – saving you up to 40% on house removal to the US.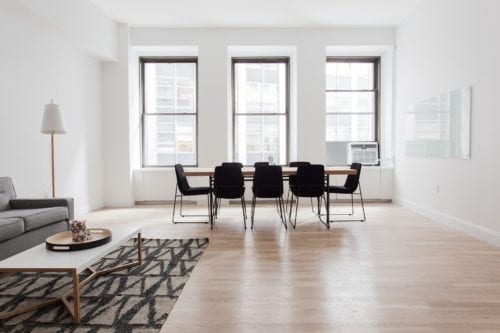 Why choose a removal company to help with your move to the US?
More than a million people a year choose to make the US their new home but moving across the pond can be a daunting prospect. An international removal company that specialises in removals to the US will be worth its weight in gold to you, helping to smooth the process and take the stress out of your move. As well as helping with wrapping, packing and unpacking, they offer services such as helping you apply for the necessary documentation, insuring your household effects, customs clearance, international shipping inventory and finding temporary accommodation.
What documents are required for moving to the United States?
A removal to the US is more complicated than most because of the visa requirements. If you are a British citizen, you should be able to enter the US for up to 90 days on the ESTA Visa Waiver Program (VWP) but to become a permanent resident you will need to apply for a because you will need to apply for a residential visa, commonly referred to as a Green Card.
There are two main ways of getting a Green Card for UK citizens:
• For family reasons
If your spouse or an immediate relative ( for example, a parent or an unmarried child under the age of 21) is a US citizen, you may be eligible to apply for a Green Card. You may also be able to apply if you have a relative who is a Green Card holder, although the process can be lengthy so you should be prepared for a waiting period.
• For a job
One of the most common reasons for relocation in the States is because of work opportunities. If you have an offer of permanent employment in the US, you will need labour certification and then apply for a Green Card with an Immigrant Petition for Alien Worker,( Form 1-140).
What services are offered by a removal company?
When choosing a house removal company, it pays to ask the right questions so that you know exactly what services are provided. A reputable firm will be able to offer a complete door to door service, from advising on the size of shipping container you need, wrapping your effects to the standards required for insurance and packing and unpacking on arrival. Your chosen removals firm can advise on your visa requirements and will arrange deep sea insurance cover; they can take care of all the paperwork for customs clearance and if required, should also be able to arrange temporary furnished accommodation for while you are waiting for your belongings to arrive in your new home.
Tips and suggestions when moving to the US
• Before beginning your packing, it's worth taking stock of your household effects and deciding whether it's worth the cost of shipping them Stateside. For example, it is advisable to get rid of your TV and buy new after your arrival as not only are TVs liable to damage in transit but SCART leads and sockets are different in the US.
• As US electrical appliances run on 110v rather than 220v, your hair dryer, iron and kettle are not going to be usable in your new home and will need to be replaced. Be ruthless when decluttering to save costs on shipping and remember that bed sizes are also different in the US so it will not be easy to replace UK sized bed linen.
• Precious possessions such as jewellery should travel with you rather than with the removal firm and you should also carry all your personal documentation such as your visa, (this must be carried with you at all times in the US ) birth and marriage certificates, school, dental and medical records and driver's licence.
• Prior to your move, set up a US bank account. The easiest way to do this is if you already bank with UK from who have branches in the US, such as HSBC or Barclays.
Make sure you understand the different state driving laws.
• Your household effects are unlikely to arrive in the US at the same time as you do, so it's a good tip to take an "open me first" case with everything needed for your first days in your new home, with essentials such as night things, a change of clothes, medication and toiletries.
Get your quote and save money when moving to America
Moving to another country is always expensive and one of the most effective ways to save money is on removal costs. To compare prices and services offered, just fill in the simple online form to receive up to 6 quotes, completely free of charge and with no obligation, from reputable house removal companies and benefit from their wealth of expertise in moving to America.