Are you considering moving to Denmark? Our comprehensive guide offers advice on the costs of relocations, how to prepare for the move and other aspects of this Scandinavian country that'll help make your move easier and cost-efficient.
What is the Cost of Moving to Denmark?
The average cost for moving to Denmark from the UK is estimated between £1200 and £2500. The prices for an international or European move take into account the distance and the mode of transport, but also the services chosen.
Shipping Container Price the UK Denmark
Below is a table to give you an idea of the average cost of moving goods to Denmark by sea.
| House size | 20ft Shipping Container | 40ft Shipping Container |
| --- | --- | --- |
| 1-2 Bedroom Flat | £879 - £1,282 | £1,660 - £2,256 |
| 3-5 Bedroom House | £1,450 - £2,080 | £2,420 - £3,239 |
Compare quotes and save on your move to Denmark!
Having a hard time finding a moving company that will make your move to Denmark less costly and less stressful? Don't fret. Just fill out our quote request form and we will send you up to  6 personalised quotes. Afterwards, you can choose a company that suits your needs.

How to Move from the UK to Denmark?
The cost of moving to Denmark can range widely and it depends on a number of factors. Some of these factors include:
Freight transportation mode
The mode of transport you choose will determine the cost of your relocation. Moving goods by air is faster than ocean freight depending on the distance. Sea freight takes more time, but it is around five times cheaper than air freight. This makes sea freight a perfect option if you're looking for a low-cost mode of transport.
The volume or weight of the goods 
The volume or weight of the goods will depend on the type of freight mode you are using. Sea freight cares more about the dimensions of the goods while with air freight the weight of the goods is the most important. Whatever type of shipping you choose, expect to pay more if you have a lot of goods.
The distance of the move 
Shipping goods halfway across the world will definitely cost more than a short trip across the North Sea or Baltic Sea. Door-to-door and port-to-port services will also affect transport costs.
The time of the year 
The international shipping industry has peak seasons, just like any other industry. The peak season in the shipping industry typically takes place during the summer (from mid-August through mid-October) and just after the Chinese New Year (January and February).
During peak season, demand is high, prices go up and container capacity can be scarce. It's, therefore, best to avoid shipping at these times if you're looking to reduce your cost of moving to Denmark.

The Cost of Moving Services
Removal companies offer a diverse set of services meaning you are able to find a package that suits your needs and preferences. Whether you need assistance with disassembling your furniture, packaging your stuff, storage services and cleaning services, moving companies can help with this.
The cost of moving services will vary depending on the services you need.
| Service | Description | Cost estimates |
| --- | --- | --- |
| Cleaning services | If you need someone to clean your old and new house, removal specialists can help. | £15 - £25 per hour |
| Packing services | Removal specialists will provide professional packing services for all your belongings | £150 - £400 |
| Storage services | If you need a place to store your items before moving into your new house, storage services are available. | £20 - £30 per week |
| Handyman services | Expert dismantles and installation of lighting and electrical fixtures, appliances, etc. | £40 - £55 per hour |
| Piano removal | Provides safe removal with specialist equipment and special care. | £120 - £480 |
Tips for Preparing A Move to Denmark
Moving to a foreign country is stressful and can be a bit of a logistical nightmare. As with any endeavour, preparation is key to a successful international removal and relocation. Here are some tips to help make your move easier.
• Use technology to get started
Start off by downloading the "Move to DK app" from the App Store or Google Play Store. The app simplifies the relocation process by providing a checklist of things to take care of before and after moving. These include permits and registration, the Danish tax system and health care system and the county's working culture.
• Find accommodation
Finding a home before you move can be a challenge especially in the large Danish cities. However, you can make your house hunting a lot easier by going through real estate listing sites and Danish newspaper ads.
• Hire a real estate agent
Another great way to make your long-distance house-hunting success is to work with a real estate agent or relocation partner. Have your agent set you up to receive automated emails for open houses. When a house that fits your criteria is sent to you, ask the agent to check the house on your behalf and Skype/FaceTime the property with you while they check it out.
• Find professional movers
Your choice of movers will make the difference between a successful move and a stressful one. Moving companies serve a similar goal, but their services vary greatly in delivery and quality. It is therefore important that you choose a reliable and reputable mover.
How to Choose an International Mover?
To make sure you hire a reputable moving company, get at least three written in-home estimates, confirm that the company is qualified, licenced and insured, and read about any complaints, reviews, and government actions. Also, avoid companies with large deposit requirements – the mover shouldn't ask a deposit of more than 20% of the estimated moving cost.
• Pack like a pro
An important part of knowing how to prepare for relocation is knowing how to pack. What do you do with the glasses, plates, lamps and picture frames? How do you keep necklaces and electric cables organized? To pack like a pro, buy the right packaging supplies, know how to pack fragile items, get rid of what you do not need and pack in the right order like start with off-season clothes then finish with important documents and your "open first" box.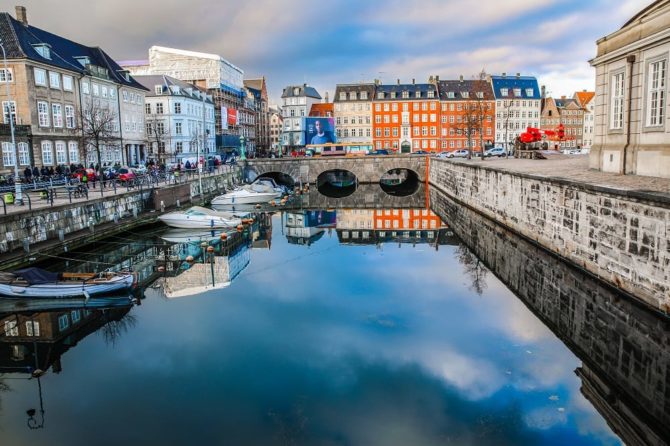 Facts and Figures About Denmark
| Topic | Information |
| --- | --- |
| Total population | 5,767,482 |
| Capital | Copenhagen |
| Official language | Danish |
| Currency | Krone |
| Weather | The country has a brisk climate, characterised by mild winters and cool summers. |
| Average salary | 20,272 kr per month |
| Landscape | Denmark comprises a Jutland, peninsula and an archipelago of more than 400 islands. |
About the Danish Culture
Denmark is popularly known as the country on two wheels and for a good reason. Bicycling is one of the primary forms of transportation in this Nordic country and people bike to work, to school, to run errands and for pleasure.
Cycling in Denmark
Statistics show that nine out of 10 people in Denmark own a bike and Danes cycle an average of 1.6km a day. Since cycling is ingrained in the Danish culture, expats who don't know how to cycle are encouraged to learn as soon as they settle.
Activities & Sport in Denmark
Despite its small size, Denmark has a lot to offer expats in terms of outdoor life and sports. Being a group of islands, the country has over 7,000 miles of coastline and water-based activities are very popular. The country is also ideal for regional travel as it has sea and land links to countries such as the UK, Germany, Poland, Norway, and Sweden.
Expat Network in Denmark
The country also has a vast number of clubs and associations that cater to different interests from hunting clubs and religious societies to sports clubs and hobby societies. There are also a number of events, clubs, and associations for expats living in Denmark. Some of these initiatives are run by companies with foreign employees or municipalities. These associations give expat families the opportunity to meet and network as well as get introduced to the Danish culture and working life.
Quality of Life in Denmark
Denmark is a popular destination for expats as the Danish industry, government and higher education institutions are looking to increase their internationalisation. This egalitarian country offers expats high standards of living, breathtaking scenery and an open, friendly, and cosmopolitan society.
Keep Your Moving Costs Down
Moving to Denmark can be costly, but with our platform of more than 230 reputable moving specialists, you can compare quotes and save on your international removal costs. Fill out our request form and we will send you up to 6 no-obligation quotes from reputable movers.