There's so much to look forward to when planning a move to Germany. Not only is the country continuously growing in cultural, social, and economic areas, but it also has just the right variety of sausages and beers to keep your belly happy! Before you start savouring your new life, read on to learn about the logistics of your move to Germany.
How Much Would it Cost to Move to Germany?
The average cost of a move from the UK to Germany is estimated at £1,500 on average. The price is calculated mainly according to the distance to be travelled and your departure city. Do not forget to also take installation costs into account in your budget and to find out about the procedures and expenses to expect when you move to Germany.
Cost of Moving to Germany from the UK
Here is an indication of the rates of professional movers for house removals from the UK to Germany:
| House Size | 20ft Shipping Container | 40ft Shipping Container |
| --- | --- | --- |
| 1-2 Bedroom Flat | £879 - £1,282 | £1,660 - £2,256 |
| 3-5 Bedroom House | £1,450 - £2,080 | £2,420 - £3,239 |
Move to Germany and Save by Comparing Quotes
Daily expenses in Germany are cheaper but some services are not. This is the case with housing, which can weigh up to half the income. The costs of moving is therefore very high. To prepare your plan to move to Germany, do not hesitate to ask for several quotes from international removals companies from the UK to Germany and compare offers. Our online form allows you to compare prices before deciding and save on the cost of your move. This request is free and without obligation, if the offers received do not suit you, you are completely free to decline them.

How To Organize Your Move to Germany?
When it comes to deciding how to get your belongings to Germany, you'll probably come across two main transport options: sea and air freight. Shipping your belongings to Germany via sea freight is, without a doubt, your most budget-friendly option. It will take longer than by air, but it is so worth waiting an additional day or two of transit for a substantially lower cost. Your wallet will thank you!
Road transport
You might also save money by choosing a road transport. It is possible, for example, to opt for piggyback transport, i.e. the combined transport of your personal goods by truck and train. In addition, the road network is very well served between the UK and Germany and it is recommended to choose van sharing to reduce the price of your move.
Combined Moving
Combining your removal means that you can transport your belongings in a container or truck together with other clients. In this case, plan for slightly longer transport times, but be aware that you can save up to 50% on the price of your international move.
Moving to Germany using professional movers also guarantees you in the event of breakage or damage to your goods during transport. The moving company also takes care of the administrative aspects and takes charge of your move, depending on the service and services chosen.
Moving to Germany: the Services
To get the best experience out of your move, find out about the types of services offered in the three main packages by moving companies for moving to Germany:
Economic
The movers only take care of the transport of your belongings and provide you with packaging and moving boxes.
Standard
The removal company disassemble your furniture and pack the "fragile" items, ie. objects and dishes considered fragile and packaged in specific boxes. The company also offers support for the unpacking of your belongings and your furniture.
Complete
Go for the best experience and let professional movers take care of everything, including cleaning your home, storage, assembling furniture, etc.
A quick guide to German Visas and Permits
If you're a citizen of the European Union (EU), European Economic Area (EEA, EU plus Iceland, Liechtenstein and Norway) or Switzerland, you don't need a German visa or residence permit.
– Tourist Visa
Citizens from outside Europe typically need to apply for a Visa or permit to visit, live, work or study in Germany for longer than 90 days.
– Brexit implementation period
As for UK nationals, according to The Citizens Rights Agreement, British citizens and their family members who are already lawfully residing in the European Union will be able to continue living in the EU before the end of the Brexit implementation period (December 31, 2020).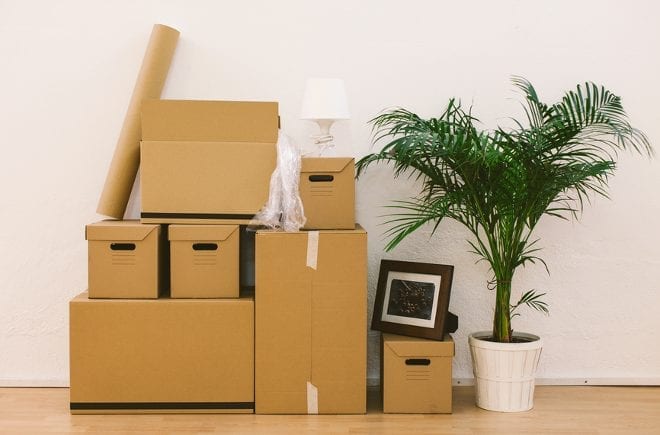 What to Consider When Moving to Germany
Before moving to Germany, be sure to apply for a parking permit from the municipality of your destination city. This is indeed required and mandatory to be able to park the moving truck in the cities.
Let Your Move be Carried by Professionals!
If your move is carried out by a moving company, this company takes care of these administrative formalities for you. Before your move, contact the telephone network to request the connection of your new residence: sometimes the waiting times could be longer than expected.
Moving to Germany Checklist
What to do before moving to Germany? As part of your move to Germany, you must register with the local authorities within 8 days of your installation. This declaration of domicile (Wohnanmeldung) is compulsory and can be made at the local declaration office (Einwhonermeldeamt). On this form, do not forget to indicate if you are affiliated with a religion or not ("ohne religion") which relates to the payment of the tax on worship.
Documents to Move to Germany
The documents required to register are:
valid passport or identity card
rental contract
visa (depending on your situation)
proof of residence
marriage certificate and birth certificate of your children for accompanying persons
completed declaration form
Moving to Germany: Health Insurance
German social security covers the whole population and is made up of five pillars:
health coverage
work accident insurance
unemployment insurance
retirement
long-term medical coverage
How is the contribution rate calculated in Germany?
Contributions are calculated based on your income and shared between the employer and the employee (generally up to 40%). These are deducted directly from your gross salary. You are not subject to the levy of these contributions if your income is less than €450 monthly or if you work less than two months in the year. Like the British system, German social security is supplemented by private health insurance.
Moving to Germany with a child
Emigrate to Germany is relatively easy. However, if you are moving to Germany with your family, here are a few facts you need to know about the German education system for your child:
Public schools are often considered to be of a high standard and prefered than private school
Education is mandatory for all children from the age of six to eighteen
The pre-school education is not compulsory and parents need to pay some cost either for the Kinderkrippe (nurseries up to 3 years old) or the Kindergarten (preschool from 3 to 6 years old)
The education system in Germany is often highlighted for the difficulty for women to balance between their professional and personal life, as the pre-school fees can be expensive.
Moving to Germany with Your Vehicle
Do you need to register your car if you are moving to Germany? Anyone who moves to Germany is required to register their vehicle within one month of moving in. The administration responsible for making this change is the Landratsamt of your place of residence and will also inform you about the procedures for your driving license. After this time, you expose yourself to financial sanctions.
Moving to Germany with a Dog
If you are relocating to Germany from the Uk with your pets, you must follow some strict rules. You must vaccinate your dog or cat against rabies before moving to Germany and show a vaccination signed by a veterinarian at least 21 days before entering Germany. You cannot bring a dog or cat less than 15 weeks old in Germany as ruled by the EU conditions.

Why Moving to Germany?
There are more than 116,000 British citizens living in Germany. An attractiveness which is explained by the ease of movement and also the relations, notably economic, between the two countries. If you wish to move to Germany for work, the easy way is to apply for a visa. Your company will take care of the procedures for you.
Where to Move in Germany?
Many British citizens decide each year to come and settle in Germany, in the cities in particular Berlin, Munich, Frankfurt and Hamburg.
Working in Germany
Is it possible to move to Germany without a job? It's no secret that Germany is the engine of Europe and rightly so since it is the leading European economic power. Germany has also been the world's 4th economic power for ten years. This thriving and hyper-competitive economy is one of the main attractions of the country, which, moreover, faces a shortage of skilled labour.
How to Settle in Germany and Find Accommodation?
Housing costs in Germany are higher and the regulations are more stringent. The tenant is, for example, required to comply with the lease and co-ownership rules under penalty of being evicted.
The agency fees correspond to 2 months rent excluding charges and the security deposit can represent up to 3 months rent (excluding charges). Note, however, that the owner will have to pay you back the deposit with the interest received during the rental period.
What are the Prices of Accommodation in Germany?
For your accommodation search, be aware that rental prices in Germany are a little cheaper than in the UK (Berlin is not the most expensive city), but the charges are high. Housing is the most important item in personal expenses in Germany and can represent almost half of the income. Here is an indication of the rental market in Germany:
| Cities | Studio | 2 rooms apartment | 3 rooms apartment |
| --- | --- | --- | --- |
| Berlin | 300-800€ | 600-1200€ | 1200-2000€ |
| Munich | 500-900€ | 900-2000€ | 1800-3000€ |
| Frakfurt | 600-1100€ | 700-1800€ | 1500-2500€ |
What Cost of Living in Germany
Below you can find some price indication for good in Germany:
| Item | Germany | UK |
| --- | --- | --- |
| Milk | 0.90€ | £0.91 |
| Cinema | 10 € | £10 |
| Restaurant | 22€ menu | £26 menu |
| Gym | 28€ | € 30 |
| Bus | 2,70€ | £2.50 |
Living in Germany
In terms of culture and local life, Germany is a very modern country with a strong artistic and cultural scene, mainly in big cities. The country is also very ecological-oriented, with many parks, and resolutely open to alternative lifestyles. Germany is also a country with its traditions and festivities including the Oktoberfest beer festival, which is celebrated throughout the country during the month of October, or the Christmas markets.
Berlin, Cologne, Hamburg or Munich, Germany is indeed a very attractive destination and the country displays both economic and cultural dynamism!
Get Ready to Move to Germany!
Germany opens its arms wide to highly qualified expatriates with very competitive salaries and good quality of life. To move to Germany, call on a moving company for a better experience with taking charge of your move from your current home to your new home. Compare the offers and services of professional movers by filling out this online form and receive several quotes from companies specializing in international removals. This form is free and without obligation and allows you to save up to 40% on your moving budget!