Moving to Portugal is exciting for those looking to experience its natural landscapes, world-renowned cuisines, historical sites and its beautiful beaches. The country has a complex history showcased by the dramatic geographic landscape and rich gastronomy scene. Continue reading to learn about the practical information you should know about shipping your belongings from the UK to Portugal.
What is the Cost of Moving to Portugal?
Moving to a new city, state or country is exciting but can also be costly hence, the need to make a moving budget. While the cost of hiring a mover makes up the highest cost, other factors add to the overall cost.
| Size Of The House | 20ft Shipping Container | 40ft Shipping Container |
| --- | --- | --- |
| 1-2 Bedroom Flat | £879 - £1282 | £1,660 - £2,256 |
| 3-5 Bedroom House | £1,450 - £2,080 | £2,420 - £3,239 |
Get a Free Quote for Your Move
Compare at least six moving companies before hiring one. The quotes enable you to compare their rates, the services offered and look at what other people say about their services. Adequate research and background checks ensure you hire a reputable company to avoid disappointment. If looking to hire us for your move, fill out the request form and we will send you up to 6 quotes to help you choose the best company.

How to Estimate the Cost for Moving to Portugal from the UK?
Most movers provide a standard rate, which increases based on the following factors:
Distance:
The longer the distance between your current residence and new home, the higher the relocation cost. Movers have little control over this factor, so the need to focus on other variables that may reduce the total cost of moving.
The time of the move:
Most people organise their move during holidays, weekends and the beginning of the month to avoid borrowing leave from work. As a result, moving companies charge high rates during this period.
The weight of the cargo:
The movers will estimate the weight of the items to determine the cost of moving them and identify the most suitable truck size for carrying them. There are two types of shipping containers, the 20 and 40-feet sizes.
The cost may fluctuate if you have fewer items than what fits each container. In this case, the removal company provides a quote that will reflect the real cost of moving the load.
What is the Service Cost of Moving to Portugal?
Moving companies provide diverse moving services to allow clients to customise a package that suits their needs. Some homeowners have items that need to be disassembled while others need to leave the old residence clean to get their deposits back. Homeowners also need to factor in the cost of other moving services like the provision of moving supplies, packing and storage if needed, among others. The table shows a brief overview of such services and their price range:
| Options | What You Enjoy | Cost |
| --- | --- | --- |
| Packing Supplies | Customised supplies for packing | £120-£150 |
| Packing | Professional packing of your household items | £150-£400 |
| Disassembling and reassembling | Professional disassembly and assembly of furniture | £120-£125 |
| Storage | Store household items if you can't move to the new home immediately | £30 per week |
| Piano Removal | Safe disassembly and reassembly | £120-£480 |
| Cleaning | Cleaning old and new home | £15 per hour |
| Parking Permit | Rate depends on the area | £30-£75 |
Tips for Preparing for a Move
Moving to Portugal is no easy task. It's easy to get overwhelmed by the myriads of responsibilities you need to take care of. To avoid this, prepare for the move adequately. Apart from hiring a mover in time, here are other tips to help you get ready for the move:
Prepare a List
You can use a notebook, to create a moving house checklist. It helps keep your move on track and relieve stress. Take advantage of coloured post-it-notes or dividers for easy access to must-read sections. A file with a binder also comes in handy as it allows you to file receipts and other essential document required for the move.
Look for leaflet pockets or leaflet holders to slide in the papers for easy use and removal. Make mental reminders about where specific items have been packed or need to be packed for the move.
Create a Schedule and a Timeline for the Move
Moving to Portugal is not a one-day event especially if you are moving from a three-bedroom or two-bedroom house with kids. As such, it is essential to create a moving schedule and timeline that outlines the tasks that should be completed every week to ensure you are ready when the moving truck arrives.
Create a Budget
Whether you are hiring a professional mover or making a DIY move, there are a lot of expenses to factor in during the move. A budget will help you save money and ensure the move doesn't exceed what you are willing to spend. You also need to find out if your employer will offset some costs and the amount he is willing to allot. Be sure to keep the receipts to claim an income tax reduction or government grant.
Change the Address
If it's your first time moving to Portugal, you need to give essential utility companies your new address. You can set up the changes via the postal services early on to ensure you don't miss out any important letters in the mail when you have settled in your new residence. Be sure to set up the new address with the Department of Motor Vehicles too and the insurance company.
Organise your New Settle In
Also, if you are setting up telephone lines and electricity lines in your new home, ask the providers to come a day after the move. It rids of the stress of having utility professionals and movers step on each other's toes while organising your new home.
Get Moving Supplies for Free
If working on a tight budget, you can reduce the costs by getting free moving supplies from the local retail store or supermarket. Such stores will give you varying sizes of boxes without charging a penny.
Hire a Reliable Moving Company
Hiring a professional moving company saves you a lot of time and stress that comes with the move. Price should not be the only determinant when hiring a moving company; you also need to look at the type of services offered and whether it is a certified member of a Movers' Association. Online reviews come in handy as they help certify the company's credibility.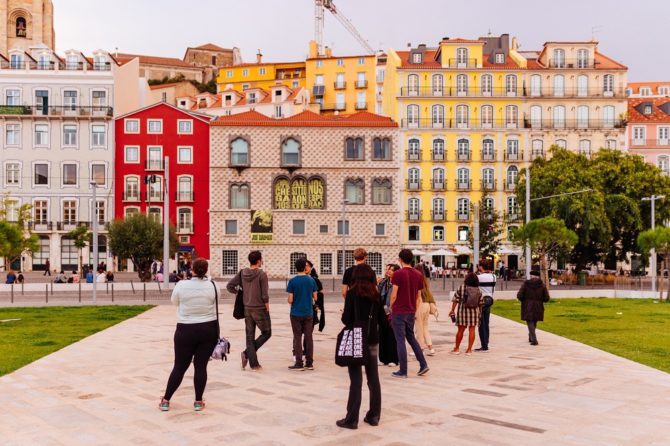 The Culture in Portugal
The country is predominantly Roman Catholic and values family ethic. Its rich culture is a result of many influences- the Germanic, Viking, Celtic, Phoenician and Visigoth, among others. Over the last few years, the country has gone through a renaissance in its arts and has designated Lisbon, Guimaraes and Porto cities as the capitals of culture.
Food in Portugal
Its climate is generally maritime with wet winters and hot summers thanks to the Atlantic and Mediterranean influences. Portugal is also known for its rich fish cuisines. The salted cod has been the main focus of the country's diet for years. Eggs are also a staple along with cheese from goats, cows and sheep.
Save Now by Hiring the Best Movers in the City
Remember to shop around for the best removal companies in town before hire. You need to fill out the request form to get personalised quotes from reliable removal companies. It only takes less than a minute to fill out the form and is free of charge.