Are you planning to move to Edinburgh soon? Maybe you just love the area, or you recently got a job here. Prior to moving, it is important to know a bit more about how to move to the city. This simple guide will give you details about Edinburgh removals.
Moving Costs for a Man With a Van Edinburgh
As with any city, the pricing of removal services to Edinburgh is dependent on various factors. The cost of a man with a van Edinburgh also includes these factors:
• The distance of travel
• The accessibility of the homes
• The volume of the items to be moved
• Other services required
How Estimate the Cost of Moving to Edinburgh?
The cost of removal could also rise due to huge amounts of traffic. It is especially so in Edinburgh's narrow cobbled streets. Consider all these factors when deciding on a move to Edinburgh.
In this table, you will see the average cost of a move to the city based on the number of rooms in a home and the distance to be travelled.
| Number of Rooms | Local Distance | Long DIstance |
| --- | --- | --- |
| 1 | £140 - £360 | £450 - £550 |
| 2 | £270 - £400 | £500 - £650 |
| 3 | £380 - £700 | £750 - £900 |
| 4 | £670 - £890 | £900 - £1,050 |
Get a Removal Quote
If you are planning on moving to Edinburgh or simply relocating within the city, a removal company is paramount. With professionals handling your staff, you can be sure that everything will be safe at all times. If you wish to find the best removal company, fill in the form and get up to 6 quotes. The form takes about a minute to fill in, and you will get quotations only from trusted removal companies.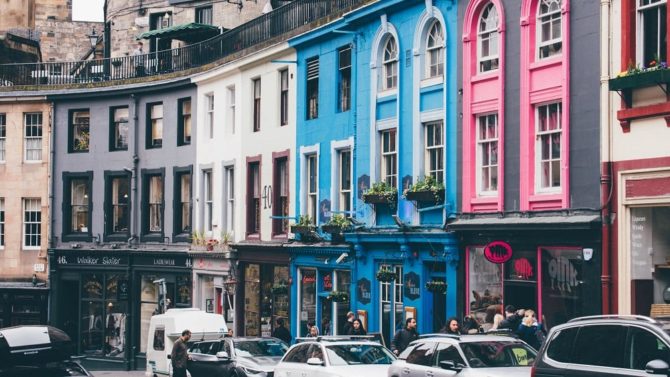 Services Offered by Man with a van Edinburgh
If you need an affordable way to move your stuff within Edinburgh or to Edinburgh, you have come to the right company. All that you require is to make a call to arrange when the stuff will be collected. Pack all the items, and the professional movers will arrive at your agreed destination. All the staff will be moved to a new location. If you wish, you can hitch a ride. Once at the destination, you will be helped to unload all your stuff. Here are some of the services you can get:
Special Handling for Delicate Items
If you have pieces of art that require extra care, you can trust the professionals. They have special packing form and other ways to ensure items get to the destination in one piece.
You will also get to benefit from insurance cover during the move. The last thing you want to happen is for you to end up with broken items and no way to have them replaced. Thus, in the unfortunate case that something goes wrong, you will be compensated for your loss.
If you are preparing to move to a new location, this survey will prove quite important. It will help you get an accurate quotation for removal services. It ensures that you do not pay more than you need to.
Whether you need short term or long terms storage, you can be assured that items will be safe at all times. When you are finally ready to move, you can have them moved to the right destination.

Reasons You Might Need a Man With a Van Edinburgh for Moving
If you are coming to Edinburgh, you will be helped to move from any location to the city. When you are done with school, you will be helped to move back home or wherever your life takes you. You will also get a lot of help moving your stuff around Edinburgh as you change accommodation during your time as a student.
If you buy heavy items such as a new refrigerator, the moving part of it to your home will not be a problem. Professionals can help get it to your home at a much lower cost than the store will charge. Besides that, the item can be delivered to your home earlier than the store does it.
In most cases, these stores usually have a waiting period before they start the process of moving your items. You will even get help moving it inside your home. Just call the experts, and they will pick you up on your way to pick the items from the shop.
The professionals are especially good at house moves. During a house move, you will need to move things such as washing machines, sofas, wardrobes, fridges, and many others. These items usually need an extra pair of hands and special equipment to move them.
To ensure things move along faster, having two extra people around can help to cut down the time it takes to clear a house. The services also apply to items you buy online. If you purchase a new sofa on eBay, avoid paying the extra costs by calling the removal company.
If you are shifting to a new office in Edinburgh, whether expanding or simply downsizing, you could save a lot of money with a professional removal company. A medium-sized removal company is more effective than going for one of those large removal companies that charge an arm and a leg.

How to Save Money when you hire a Man with a Van Edinburgh
Before the removal, clear out any items that you do not need. You do not have to move with broken items or old items that will need to be replaced soon. Hold a yard sale or give them away to charity. This will reduce the amount of money you eventually have to pay the removal company. The more volume you have, the more you will pay.
Plan to Move in the Off-Season
The off-season is any time in between the month. Most people move during the end month when removal companies will charge a premium. Talk to the Man with a van Edinburgh and see if you can get a discount for moving during the off-season.
The sooner you book your move, the less you will pay. However, if you try to book in the last minute, the removal company might charge you a bit more for the inconvenience. As soon as you plan to move, get in touch with the movers.
Ask the movers when they can be at your house. Work with their timelines instead of yours. The more leeway they have, the more likely it is they will give you a discount. First, you need to know the deadline for your move out date to ensure that you have time to spare before you book the move.
Understand the Costs of a Man With a Van Edinburgh
The removal company will usually have charges for the various services they offer. You can opt-out of some of the services to help you cut costs. However, the company might assume you need all their services. Thus, it is paramount to know which services you will not require before you decide to move. Some charges are expedited charges, shuttle service, and many others. You can avoid most of them if you go through the ones Man with a van Edinburgh offers.
Fill Out a Quote Request to Find Easily a Man With a Van Edinburgh
If you want to get the best rate for your removal, simply fill out the free quotation form. You will receive up to 6 quotations from which you can make your choice. The entire process is quite simple, and it will take a minute or less. All the removal companies included are trusted and reputable names in the removal industry.