Thinking through the logistics of a move can be a bit stressful and challenging, especially when you need to store your belongings temporarily. Depending on your needs, a professional removal and storage company can handle everything, from neatly packing your possessions to keeping them in safe storage. Continue reading to learn more.
Professional Storage Companies Costs
There are many benefits to hiring a professional moving and storage services.  The biggest benefit is that you can save a lot of time and energy. Depending on your needs, you can hire moving or storage companies to store your belongings while you organize your move.
Safe Transport
Another great benefit of using professional storage services is that it is safe and secure. The companies not only have formidable security measures but also offer insurance at affordable rates. Storage service providers may also go an extra step and offer complementary services for those seeking to relocate to other countries.
Insurance
Removal and storage companies have you covered. They offer a range of storage services and all sorts of storage spaces, from simple lockers to complex warehouses.
Flexibility
Storage services include student and self-storage whereby you have unrestricted access to your storage compartment. You can have your possessions stored for as short or as long as you want.
Storage Companies Costs
| Size of Unit | Suited to | Cost estimate per month |
| --- | --- | --- |
| 25 sq ft. | Boxes / bags / small furniture | £25 - £30 |
| 50 sq ft. | Extra furniture / wardrobe | £50 - £60 |
| 80 sq ft. | 1 - 2 bedroom house | £80 - £85 |
| 100 sq ft. | 3 bedroom house | £90 - £110 |
| 160 sq ft. | 4 bedroom house | £125 - £135 |
| 320 sq ft. | 5 - 6 bedroom house | £150 - £165 |
| 640 sq ft. | Large house + attic + garage | £180 - £230 |
Get in Touch with Removal and Storage Companies
Are you looking to move and need temporary storage services? You will find many options to choose from. We can help! Fill out our quote form to get up to 6 free, non-obligatory quotes from some of the leading removal and storage companies in the UK. The form takes minutes to fill, and we will respond promptly.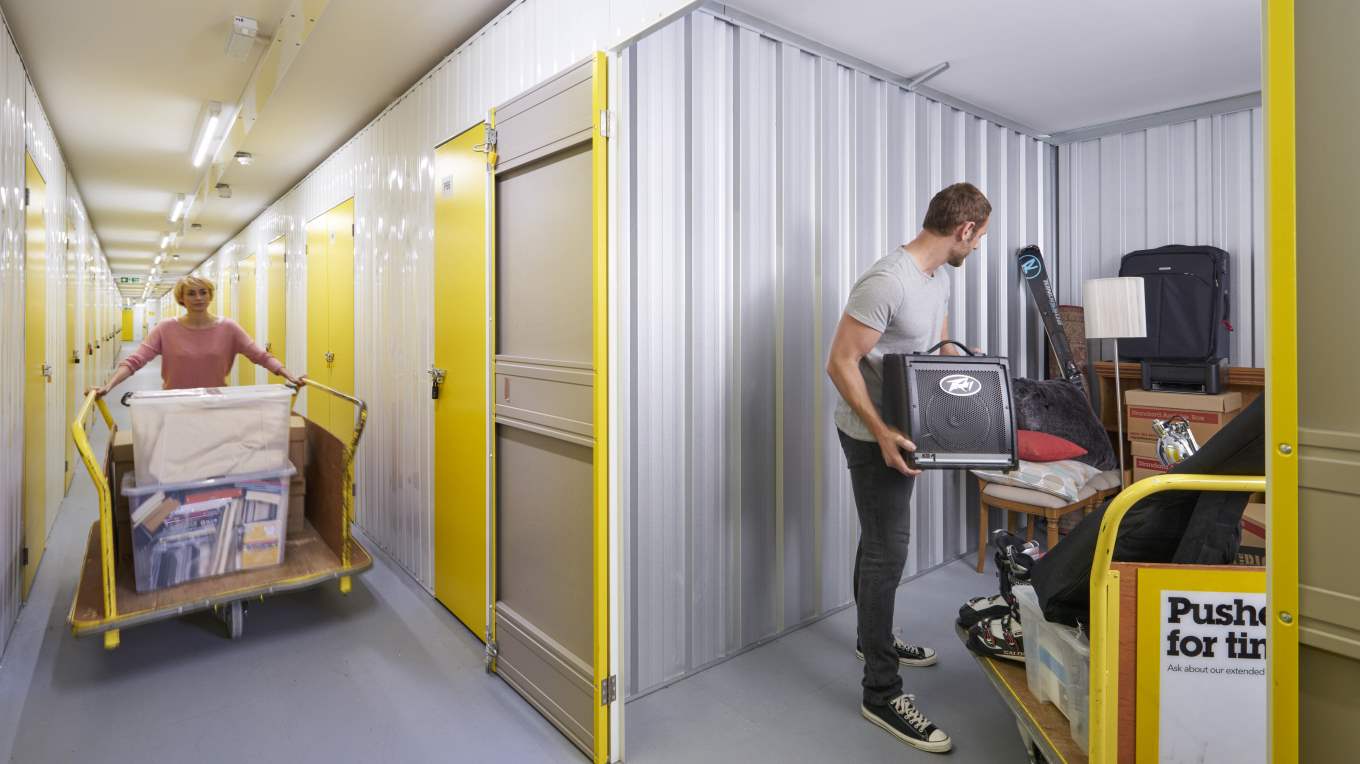 Types of services offered by storage companies
• Self Storage
If you are like most people, you will likely want to have unrestricted access to your possessions while in storage. If this is the case, then you will appreciate self-storage services. You will get a range of storage options for self-storage ranging from locker rooms to containers and warehouses, depending on the size and nature of your possessions. The size of storage rooms ranges from 25 square feet to as much as 600 square feet.
Access 24/7
Self-storage comes with a range of conveniences. For starters, you will get unrestricted access to your storage rooms for 6 days of the week: from 8 AM to 6 PM Monday to Friday and from 9 AM to 3:30 PM on Saturdays. Additionally, your possessions are guaranteed for the entire time they're stored. These companies employ a range of security measures to prevent against accidents such as fire and to keep thieves out. Security measures include CCTV cameras and guards.
Storage Conditions
These companies also offer additional measures to ensure that valuable possessions stay safe. These include specialized rooms with controlled environments for valuables such as delicate art. You can also opt for insurance for the period of storage.
• Storage for Students
Students moving abroad for school may also benefit from temporary storage services. Services for students also include self-storage. Some removal and storage companies may offer discounts to students with NUS cards.
• Furniture Storage
Furniture can be sensitive and require special storage to keep it in good shape. Storage and moving companies offer specialized storage services with controlled environments and other support services for storage furniture and other fragile items.
• Short and Long Term Storage
Whether you want to store your possessions for a day or a few months, your company of choice can make the necessary accommodations. As long as you make the necessary payments and meet the set requirements, your possessions will be safe for as long as you want.
Your preferred storage company may also offer moving services both locally and internationally. This will prove convenient especially if you are relocating outside the UK and need assistance with your international removals.
• Packaging
As mentioned earlier, removals and storage companies also offer complementary packaging services. They will bring their own boxes and wrapping materials to pack your things neatly and safely for transport to the storage facilities. Some self-storage services also include on-site packing and wrapping materials for those seeking to do the parking themselves.

Moving Services – What to Expect from Removal and Storage Companies?
Removal and storage companies offer a wide range of services.
Pre-Move Survey
Any good job takes proper planning. Your removal and storage company will schedule a pre-move survey to get a firm idea of the task at hand. The surveyors will take into account factors such as the number, size, and nature of your possessions. These factors are crucial to coming up with an accurate cost of how much it will cost you.
The surveyors may also have a one-on-one consultation with you to clarify everything regarding the services offered as well as to get a deeper understanding of your needs and preferences.
Packing
On the day of the removal, the removal and storage company will send movers to take care of everything. This includes packing, whereby the movers will provide the necessary wrapping and other packing supplies.
Everything will be packed neatly to ensure that it is safe throughout the moving and storage period. All your possessions will be handled with caution to guarantee safety as well as privacy.
Special care for delicate items
Moving companies also have set guidelines for handling valuable, sensitive possessions both during packing and storage. They provide special wrapping and packaging materials for delicate valuables such as art, exotic wood, fine leather, and piano removals. The companies will also provide special transportation and storage services depending on the nature of the value.
Insurance
Removal and storage-companies strive to offer perfection, mostly in terms of the safety of your possessions. However, should accidents occur you are always guaranteed compensation; that is if you opt for the inclusion of insurance. Insurance covers all your possessions, including the valuables. It protects against several setbacks including damages and theft.
Storage
Storage is the most sought-after service by most movers. Some are students going on long holidays and cannot afford to move with everything. Others are employees involved in long international travels and have to vacate for a while. In other cases it involves a family selling their house to buy a new one and have to find storage space in the meantime.
Tips to Save Money on Storage Services
Storage companies have varying rates for their services. You can enjoy the best services and still save big by following these simple tips:
Select several viable local storages and moving companies and perform a comprehensive analysis of their services and charges.
Consult your chosen company for consultation and try to see whether you can forego on some services to reduce unnecessary costs.
Handle some of the work yourself; for instance, you may save some money by doing the packing yourself.
Conclusion
Now that you know everything there is to know about removal and storage services in the UK you can go ahead and finalize your plans. Whether you are travelling overseas for a while, going for the summer holiday, or just looking for storage space, you are guaranteed to find the ideal moving and storage company for it.
Let Us Help You Move and Compare Several Moving or Storage Companies!
Are you looking for the ideal moving and storage company? We have several options for You to pick from. Fill out our quote form below and we will get back to you with 6 quotes suited just for you!