We all know how crazy things can get when you're moving house. There is a whirlwind of different emotions—excitement, happiness, stress, and anxiety are just a few. And although these emotions might have a huge effect on you, have you stopped to consider how your dog is during the whole process? In this guide, we'll map out how you can make moving house with a dog a bit easier for everyone.
Stay Calm and You'll Help Your Dog
The first thing to remember when preparing for moving house with a dog is to keep calm. After all, dogs are intuitive creatures and they can tell when you're stressed and unhappy. If you're worrying too much and panicking, then soon enough that stress will pass onto your dog, who'll show their own signs of anxiety.
How to Move House With a Dog?
Do your best to remain calm and happy during the moving process. It helps to focus on the positives of the move, such as a chance to explore a new city or more space for you and your children. If it's impossible to keep your emotions in check, then it might be worth it to let your furry friend stay at a friend's house until your move is complete.
Get Help From Professional Mover for an Easier Move
Moving companies can be a great help for a stress-free move. Especially if you are moving with a family or with your pets. Discover the services they offer and the benefit of hiring a mover to help you. Fill in our free form and receive quickly up to 6 quotes to compare. In that way, you are sure to find the best solution at the best price for your move!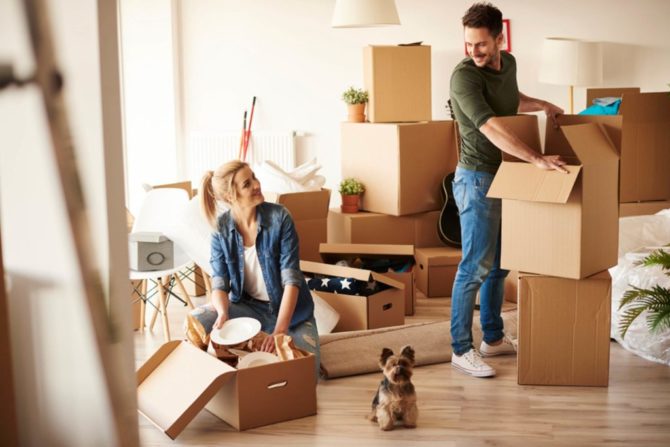 4 Tips to Prepare your Moving House With a Dog
Moving is not just about loading everything into the removal van and setting off to your new home. A lot of planning and preparation goes on before your designated moving day. During this time, it's easy for your dog to get uncomfortable with the disruptions and changes. To avoid this, here are a few tips.
1. Plan ahead your moving house with a dog
Just as it is with all moves, you'll need a game plan. You can't successfully move house without any form of planning, and the same goes when moving with a dog. For example, if you haven't locked down a house yet and are still searching, make sure to consider your dog when making your decision.
After moving house
When planning how you'll set up your home, also think about where your dog's new living quarters will be. Where will you put the dog bed, as well as food, water, and toys? Also, look for dog-friendly cafes, shops, and parks nearby so you know ahead of your move.
2. Maintain your dog's routine
During the build-up to your move, there's a lot of things to get done. With all of these tasks, it can be difficult to allocate time for your dog. However, it's crucial that you don't neglect your dog's needs, especially during this period of upheaval.
Why is it important to keep your dog's routine when moving house?
Make sure that you take your dogs out for a walk like you normally would, and feed them during regular times. Whatever your dog's routine, whether that is simply taking a nap in the afternoon or playing with your kids in the evening, let them keep it. This will lower their anxiety and show that the soon-to-be changes aren't as big as one would expect.
3. Close off certain areas
While you're packing and getting everything ready for the big moving day, it can be difficult to do so if there's a dog running around. Worse yet, if that dog is making a mess, it can slow down your moving prep significantly.
Keep clean space for unpacking
That's why you should restrict your dog's access. Designate some areas as off-limits—these should be the places where you're in the middle of packing or cleaning. Simply shut the door or use a dog gate.
4. Leave your dog's items for last
Save your dog's room and items for last when you're packing. If you take your dog's favourite items away too early, it is much easier for them to feel stressed about it. While you get everything else ready, let your dog play with things they recognise. Then, you can pack their items up a day or two before the big day.
Keep a familiar item for his new environment
And as tempting it is to throw away that old, ragged blanket, it is your dog's favourite for a reason. These old, smelly items are very comforting to your dog since they have familiar scents. This is just what you need when introducing your dog to a completely new environment.
Moving and Settling In
Moving house with a dog doesn't have to be stressful for you or your canine buddy. Just as long as you put in the effort, really consider your dog's needs, and be patient, then everything will be just fine. To make moving and settling in easy for your dog, take a look at the following tips.
Have Someone Take Care of Your Dog
On your moving day, things can get pretty hectic. For example, there are people moving in, out, and around the house. House movers will be lifting boxes, furniture, and other heavy items so they need all pathways to be clear. This means no children or pets running around. Also, with all the chaos in your house, there are so many chances for your dog to run and escape—something you definitely don't want to happen.
Instead, try to get your dog out of the house for the day. If possible, you can spend time in a dog park or dog-friendly restaurant. Ask friends or family members if they are able to take care of your dog for the day. Alternatively, ask your vet if they have boarding options. If worst comes to worst, you might need a dog crate.
Update Dog Tags
Don't forget to change the tags on your dog's collar. The tags should reflect the fact that you've moved and should include your new address and contact details. The new and unfamiliar environment can be incredibly stressful for your dog, inducing them to try to run away. With updated dog tags, you know that if that does happen, they can be found and returned safely and quickly.
Keep familiar scents
Once you move into your new home and begin to set up your dog's new living space, try to introduce familiar scents. For example, put bedding and toys that have scents your dog recognizes. These smells could be from your old house or you and your family.
You might think that moving house is the best time to clean all items and buy new things. However, don't go so far as to change up your dog's items—at least, not yet. By letting your dog play with things with familiar scents, you'll help calm them down and ease their transition to their new home.
Establish routines ASAP
After you arrive at your new place, it could be difficult for you and your dog to settle in quickly. This is especially true for dogs since they are creatures of habit—the new surroundings might make your dog feel uneasy and could even cause negative reactions. To avoid this, you'll need to ease their anxiety.
Start up your family's routines as soon as possible after you move in. Having a sense of regularity is incredibly helpful not only to your dog but to your kids and even yourself. Continue going for that Saturday morning walk, feed your dog at a particular time, or let your dog play with its favourite toys.
Be patient
After all of this, it's important to be patient. Each dog has their own personality and therefore will react differently to moving house. Depending on your dog, settling into your new place could take a few days or even a few weeks. Understand that the change won't be immediate and that you need to let them go through the transition at their own pace.
Give Your Dog Time to Adapt to His New House
Let them wander the house, sniff around, and get used to everything. Give them enough freedom to slowly explore outside, but also accompany them so that they won't run off. Additionally, be prepared for some behavioural changes in your dog, such as more barking, forgetting their potty training, and less energy. Give lots of love and affection and ease your pup to your new home.
It's Time to Get Ready for Moving House With a Dog!
Armed with these important tips, you'll be able to have a move that is not stressful for you or your puppy pal. Dogs are a part of your family so their needs must be taken into account when prepping for a move. Professional moving companies understand this. Find the right company to help you move house with a dog by using our quote request form. They could even provide additional advice since they are experienced and have dealt with moving house with dogs before!