There is more to Sheffield's reputation as an industrial powerhouse in the 19th and 20th centuries. Now, it is a vibrant centre full of culture and diversity. If you are tempted to move to this great city at the edge of the Peak district, this page will give you information on life as well as removals in Sheffield.
What would it cost to move to Sheffield?
Similar to moving to other British cities, numerous elements determine your removal costs.
The total volume of items
The distance of the journey
Accessibility of your properties
Additional requested services
Average cost of local and long-distance moves
Here are the average costs of removals in Sheffield, for either short or long-distance moves. We have included the prices for extra services as well.
| Number of Rooms | Local | Long-Distance |
| --- | --- | --- |
| 1 | £150 - £350 | £400 - £500 |
| 2 | £265 - £400 | £450 - £600 |
| 3 | £400 - £650 | £800 - £900 |
| 4 | £650 - £850 | £900 - £1,000 |
Removals Sheffield: Manage your move properly
Researching removals for Sheffield is a difficult task. How do you know if the company you come across is reliable and able to transport your valuables? By comparing removers and their price offers, you'll find the best option for you and with savings of up to 40%. Save now with our free form and get quotes from up to 6 companies.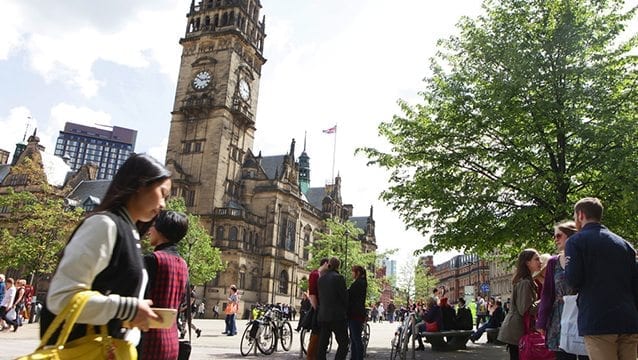 Removal Sheffield services
Option
Benefits

Price

Parking Permit
- Ability to park in front of property
- Price depends on your area

£15 - £35

Disassembly and Assembly
- Help with assembly/disassembly of furniture

£125

Storage
- Space if you cannot move immediately

£30 per week

Cleaning
- Cleaning of old and new house

£15 per hour

Piano Removal
- Proper care and specialist equipment for safe removal
- Remove and replace doors or windows for access

£120 - £480
Removals Sheffield Extra Cost
You will also need to take into account the cost of applying for a parking permit. Your local city council in your new area will provide information on their parking permits or suspensions.
Sheffield is considered one of the UK's most congested cities, which will undoubtedly affect your moving process. If caught in traffic, expect 30 minutes to an hour of extra travel time. For a removal company, this means increased prices so it is in your best interests to avoid congested areas as much as possible.
Life in Sheffield
640,000 people live in the Sheffield urban area, making it one of the most lively city centres in all of the UK. Sheffield sits at the mouths of 5 rivers and is built on 7 hills, which is why it is affectionately known as Rome of the North. With its close proximity to the Peak District National Park, Sheffield is fantastic for those who enjoy the outdoors.
A stunning city for all
In Sheffield itself, there are numerous parks and greenspaces, making it one of the UK's greenest cities. Sheffield combines a friendly village vibe with the busyness of a bustling city. With one of the largest theatre districts outside of London—think the famous Lyceum and Crucible—and Meadowhall, a large shopping centre, along with the quirky shops in the city centre, Sheffield has something for everyone.
Cost of living
Compared to London, as in many other cities, prices in Sheffield are much lower. Due to lower costs and a strong economy, Sheffield is a great place to live. A few numbers on the cost of living are shown below:
Average house rent: £723
Average flat rent: £547
Average cost of a meal: £12
Average cost of a pint: £3.15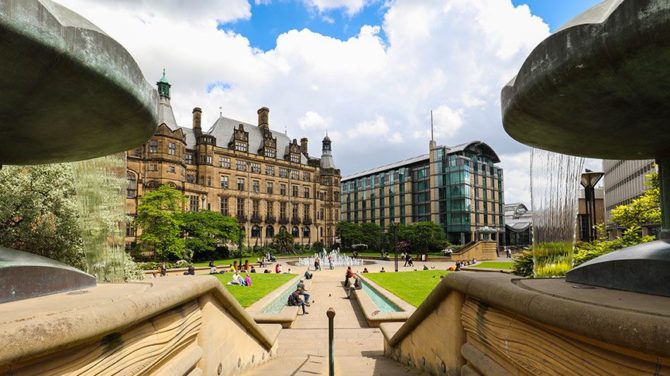 Sheffield weather
While the climate in Sheffield is temperate, British weather is quite unpredictable so be prepared for quick changes. Temperatures usually reach around 20℃ during the warmer months, while they fall to single digits in the winter. Expect frequent rain so be ready with waterproof clothing, footwear, and an umbrella. The weather changes often so pack plenty of warm clothing to layer in times of cold, and cool, breathable clothes for the hot days.
Moving around the city
Sheffield is well connected to outer areas, with extensive road networks and train links. There is the main train station, acting as the main hub to other major cities. The public transport system of Sheffield relies on buses and trams, providing an easy, convenient way to travel to the suburbs quickly. The average price of a monthly transport pass is £49, and with high congestion, is probably the best way of getting around Sheffield.
Prepare for your move to Sheffield
As with any move, you will need to register for council tax at your new area and inform your old council about your new address. Visit each city council's website for details on registering for council tax, such as the Sheffield council page. You will need to provide:
Your name
The address you are moving from
Your council tax number
Your new address and moving day
The details of your house sale and purchase/lease agreement
Set into your new house in Sheffield
There is also the issue of settling into your new area. One way to ensure this is to know the rubbish collection schedule for your neighbourhood even before you move in. Your collection days can be found on the local city council website as well.
Waste Collection Services
During this time, we recommend researching about the bulky and hazardous waste collection services that your local government provides. This is important because after a move, you might find that some of your furniture is actually not necessary at your new place. Also, alternatives to this include donating to a charity or consulting your removals company in Sheffield about disposal. Some movers offer a disposal service that might come in handy after your moving day.
Save 40% on your Sheffield removals company by shopping around
Finding the right removal company in Sheffield is helpful to any move, whether you are moving to or within Sheffield. Ask professional movers to examine your belongings, give advice, and plan the logistics of your move. But with many companies available, your best bet is to compare their prices. Fill in our form with your details and receive up to 6 quotes the next day—with no hassle, you will be able to identify the right mover at the right price.