Relocation doesn't have to be stressful. With some expert know-how you can rest assured that your moving experience is in safe hands and everything is taken care of. On these pages you can find out about moving costs and how to hire a removal firm. Take a look at our tips from professionals and let them guide you in your relocation decisions. A little help that means you have one less thing to worry about.
Relocation costs breakdown
The costs of moving can vary, depending on the size of the property and other factors. Costs will include legal and transaction fees, taxes and removal company fees. The overview below gives an indication of typical relocation costs.
Relocation Prices
| Type of Cost | Cost Details | Cost |
| --- | --- | --- |
| Conveyance | - Solicitor facilitates property transfer | £500 - £1,500 |
| Estate Agent Fees | - Usually between 1% and 3% | £4,226 |
| Stamp Duty Land Tax | - Depends on price of your home | £1,726 |
| Valuation Fee | - Required by your mortgage provider | £150 - £600 |
| Surveyor's Fee | - Property checked for structural issues | £250 - £600 |
| Removal Costs | - House removal with packing and disassembly / reassembly | £1,200 |
| Total | - Using an average property price of £211,301 in the UK | £9,002 |
Compare Removal Companies to have an Easy Relocation
As the table indicates, removal costs can vary and it is always good practice to obtain several quotes. Fill in our form and receive free quotes from up to 6 local removal companies. Comparing prices helps you to save up to 40% on your relocations costs.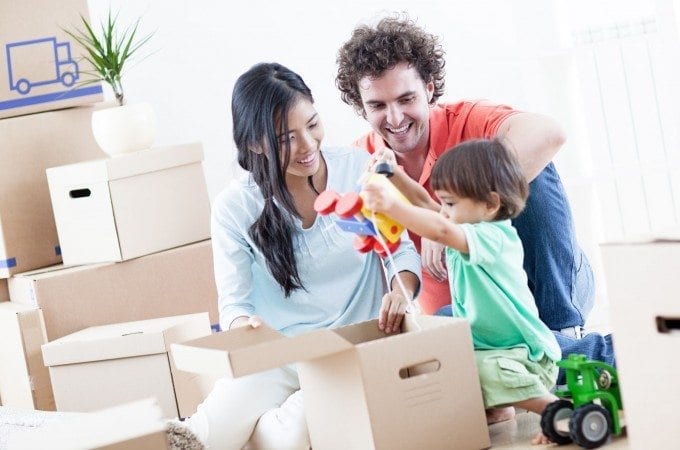 Reasons for relocation
People relocate for different reasons. Work is a major one, and by its nature this tends to mean moving to a different city or region. Lifestyle reasons are another top reason for moving, along with proximity to shops and amenities, closeness to friends and family, financial reasons and needing a larger property. Relocating abroad is typically but not always for work, and this may be for short, long-term or permanent assignments.
Before, during and after relocation
Relocating is up there with other big life changes when it comes to stress. There is a lot to think about, from the legal aspects and dealing with solicitors, obtaining a mortgage, valuation and surveyor's reports, and all the physical considerations of packing and moving an entire household. Fortunately there is a lot you can do to reduce the anxiety that comes with trying to remember so many things.
Get organised
Making a thorough list is one of the first things you can do. This can include everything you need to do in the period between making the decision to move and the big day itself. It can help to put this into a timeline format so you can be sure of not forgetting anything.
Get a removal company
Relocating an average sized household is not for the faint-hearted, or even the average-hearted. A removal company can not only move your precious items, they can also package and wrap them carefully to avoid any damage. Remember that prices vary, so always obtain at least three quotes.
Allow time for packing
Many people underestimate how many possessions they own and it can take a long time to carefully pack all the rooms in your house. Start with items that you don't use on a regular basis and gradually work towards the items you use more often.
A removal company can take some of the stress out of this process and complete the task in a much shorter timeframe so it's always worth checking to see how much this service costs. This way you also won't have to pay for all the boxes and packing material and be left with it to dispose of at the end of the move. Remember to label boxes if you do the packing yourself and state which room you want them deposited in.
Keep important items to hand
Keep all documents to do with the move in a folder, and keep this and other important documents such as passports in an obvious and easily accessible place.
After you have relocated there will be a lot of unpacking and organising to do
Remember to inspect all delivery boxes carefully – it can help to have an inventoried list of boxes to check off as you go. Unpack your essentials, inspect your new house thoroughly, connect appliances and get your utilities up and running if this hasn't already been taken care of. Remember to change your address with all necessary organisations.

International Relocation
Relocating abroad brings with it a whole new set of complications compared to domestic house moves. Dedicated international removal companies can help with all aspects of relocating from one country to another, including legal aspects, physical removals and even helping you to get settled into your new home.
International Moving Services
Specialist services can include personalised briefings, flight booking, orientation, local registration, cultural and language training and school searches. Orientation days can prepare you for your relocation and help you become familiar with your new city and country in advance, and these are typically carried out by specialists with local knowledge. Having some insider know-how can make all the difference to how quickly and confidently you can acclimatise to your new surroundings.
Accommodation Services
In addition, a whole suite of accommodation services means you can rest assured of finding an appropriate property to suit your needs. Accommodation services include a bespoke property search and tailored viewings itinerary, as well as all aspects to do with renting a property, such as a lease negotiation, tenancy management and tenancy deposit return. If necessary, companies can also find temporary accommodation.
Means Transportation
Specialist relocation companies will also take care of the physical aspects of your removal, whether that is by sea or air transport. They will work with companies at your destination and deal with all legal aspects and customs. As with domestic removals, international removal companies can take care of the packing and unpacking of items for you, so the whole process is as streamlined and stress-free as possible.
Keep relocation costs down
Get help with relocation and help to keep removal costs down by searching companies, obtaining quotes and comparing services. Always get at least three quotes and more if possible. By filling in our form, you receive up to 6 quotes from local removal companies. Comparing these quotes can save you up to 40% on your total relocation costs. Find the best removal company near you and let the experts take over so you can enjoy your new home!