Relocation doesn't have to be stressful. With the help of relocation companies, you can rest assured that your moving experience is in safe hands and everything is taken care of. On this page, you can find out about moving costs and what relocation services firms offer. Take a look at our tips from professionals and let them guide you in your relocation decisions. A little help that means you have one less thing to worry about.
How Expensive Is Hiring Relocation Companies?
There are so many things to pay for when you move. You can easily spend £1,500 on conveyancing fees alone depending on the size of the property you are buying. This is the fee you pay to your solicitor to make sure the sale of your current home and the purchase of the new one is fully legal.
Valuation of the Property Costs
There again, you will probably need to pay around £500 for a survey of the property you are buying as a stipulation of your mortgage agreement. Even if you are a cash buyer without the need to take out a mortgage, you will likely want an independent valuation of the property which can cost anything from £150 to £600.
Estate agent's fees
Estate agent's fees when selling your home can cost you about 3% of the sales price of your current home and you may also need to pay stamp duty if you live in England or Northern Ireland (in Wales an equivalent fee for Land Transaction Tax is levied).
Relocation Costs Breakdown
The costs of moving can vary, depending on the size of the property and other factors. Costs will include legal and transaction fees, taxes and removal company fees. The overview below indicates typical relocation costs.
Relocation Prices
| Type of Cost | Cost Details | Cost |
| --- | --- | --- |
| Conveyance | - Solicitor facilitates property transfer | £500 - £1,500 |
| Estate Agent Fees | - Usually between 1% and 3% | £4,226 |
| Stamp Duty Land Tax | - Depends on price of your home | £1,726 |
| Valuation Fee | - Required by your mortgage provider | £150 - £600 |
| Surveyor's Fee | - Property checked for structural issues | £250 - £600 |
| Removal Costs | - House removal with packing and disassembly / reassembly | £1,200 |
| Total | - Using an average property price of £211,301 in the UK | £9,002 |
Compare Relocation Companies to have an Easy Removal
As the table indicates, removal costs can vary based on the relocation services you need and it is always good practice to obtain several quotes. Fill in our form and receive free quotes from up to 6 local relocation companies. Comparing prices helps you to save up to 40% on your relocations costs.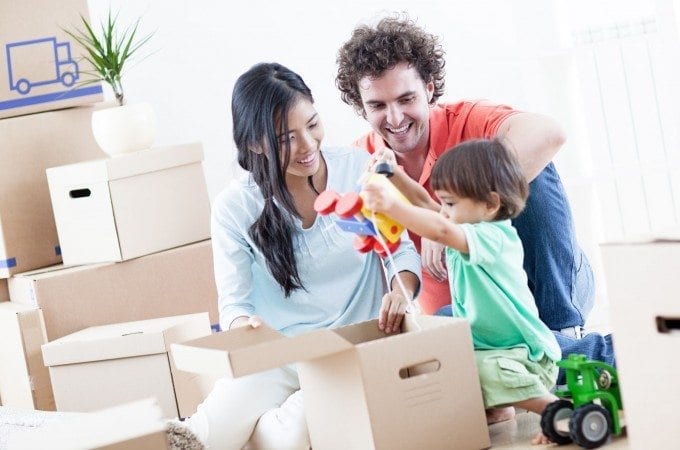 Reasons for Relocation
People relocate for different reasons. Work is a major one, and by its nature, this tends to mean moving to a different city or region. Lifestyle reasons are another top reason for moving, along with proximity to shops and amenities, closeness to friends and family, financial reasons and needed of a larger property. Relocating abroad is typically but not always for work, and this may be for short, long-term or permanent assignments.
Why Use Relocation Companies When Moving?
Professional relocation companies can be worth their weight in gold during a move. Firstly, a relocation company will have fully trained operatives who are used to moving and handling. Of course, you could pick up your bulky wardrobes, mattresses, sofas and other items yourself and load them into a self-drive hire vehicle but this is fraught with problems. Why drive an overstuffed transit van when you could have your belongings loaded with greater care and space and then delivered to your new home for you?
Below you can find some of the many advantages of hiring a relocation company for your removal.
1. Security
It generates less stress as well as sheer physical work. Even if you are physically fit, dropping bulky items or struggling to get them through passages and doorways takes its toll.
2. Relocation Company Insurance
Secondly, removal companies should offer you a good level of insurance when your items are in transit. Nearly all domestic contents insurance policies in the UK are unsuited to items that you lose or break when they are in transit between properties.
Professional removals companies, on the other hand, should be fully covered for accidents as well as affording the move a high level of public liability insurance – this covers the relocation job should a member of the public be injured, for example, when you are moving belongings in and out of your home.
3. Personalized support
Finally, experts in relocation can guide you on how and when to pack as well as offering advice on what to do if you are moving overseas and need your possessions to be shipped to another part of the world.
No Stress With a Personalised Relocation Service
Relocation companies will be able to throw the necessary human resources at the job so that you leave on time and so that you are not exhausted before a long drive. They will have planned the route and worked out the best way to arrive such that unloading at your new home is as hassle-free as possible, too.
What's more, all of the leading removals businesses in your area will have years of experience in dealing with all of the common problems that arise on moving day, like last-minute alterations to the house moving chain or dealing with inclement weather when loading up a lifetime of possessions.
The Main Relocation Services Costs
The table below gives you an idea of the average cost of many of the services associated with relocation. It is based on average house prices in the UK. Bear in mind that larger properties will understandably attract higher fees while smaller ones or those in less expensive property areas will be that bit cheaper.
| Service | Levied By | Typical Charge |
| --- | --- | --- |
| Conveyancing | Solicitors | £1,100 |
| Selling Your Home | Estate Agents | £4,000 |
| Stamp Duty | The Government | £2,000 |
| Valuations | Mortgage Lenders | £500 |
| Surveying | Property Surveyors | £500 |
| Surveying | Removals Firms | £1,000 |
Relocation Services When Renting a Property
If you are renting a property rather than buying one, then you obviously won't need to pay mortgage fees for surveys or valuations. However, having a solicitor look over any non-standard clauses in your tenancy agreement may be worthwhile.
When moving between rented properties, hiring a removals firm is just as important as it is for owner-occupiers. This is especially the case if you are renting unfurnished accommodation and need to relocate your bulkier items of furniture, such as beds, three-piece suites and wardrobes.
Tips for Before, During and After Relocation
Relocating is up there with other big life changes when it comes to stress. There is a lot to think about, from the legal aspects and dealing with solicitors, obtaining a mortgage, valuation and surveyor's reports, and all the physical considerations of packing and moving an entire household. Fortunately, there is a lot you can do to reduce the anxiety that comes with trying to remember so many things.
1. Get organised
Making a thorough list is one of the first things you can do. This can include everything you need to do in the period between making the decision to move and the big day itself. It can help to put this into a timeline format so you can be sure of not forgetting anything.
2. Get a removal company
Relocating an average-sized household is not for the faint-hearted or even the average-hearted. A removal company can not only move your precious items, but they can also package and wrap them carefully to avoid any damage. Remember that prices vary, so always obtain at least three quotes.
3. Allow time for packing
Many people underestimate how many possessions they own and it can take a long time to carefully pack all the rooms in your house. Start with items that you don't use regularly and gradually work towards the items you use more often.
A removal company can take some of the stress out of this process and complete the task in a much shorter time frame so it's always worth checking to see how much this service costs. This way you also won't have to pay for all the boxes and packing material and be left with it to dispose of at the end of the move. Remember to label boxes if you do the packing yourself and state which room you want them deposited in.
4. Keep important items to hand
Keep all documents to do with the move in a folder, and keep this and other important documents such as passports in an obvious and easily accessible place.
5. Consider the unpacking and organising to do
Remember to inspect all delivery boxes carefully – it can help to have an inventoried list of boxes to check off as you go. Unpack your essentials, inspect your new house thoroughly, connect appliances and get your utilities up and running if this hasn't already been taken care of. Remember to change your address with all necessary organisations.

International Relocation Services
Relocating abroad brings with it a whole new set of complications compared to domestic house moves. Dedicated international removal companies can help with all aspects of relocating from one country to another, including legal aspects, physical removals and even helping you to get settled into your new home.
1. International Relocation Companies
Specialist services can include personalised briefings, flight booking, orientation, local registration, cultural and language training and school searches. Orientation days can prepare you for your relocation and help you become familiar with your new city and country in advance, and these are typically carried out by specialists with local knowledge. Having some insider know-how can make all the difference to how quickly and confidently you can acclimatise to your new surroundings.
2. Accommodation Services
In addition, a whole suite of accommodation services means you can rest assured of finding an appropriate property to suit your needs. Accommodation services include a bespoke property search and tailored viewings itinerary, as well as all aspects to do with renting a property, such as lease negotiation, tenancy management and tenancy deposit return. If necessary, companies can also find temporary accommodation.
3. Means of Transportation
Specialist relocation companies will also take care of the physical aspects of your removal, whether that is by sea or air transport. They will work with companies at your destination and deal with all legal aspects and customs. As with domestic removals, international removal companies can take care of the packing and unpacking of items for you, so the whole process is as streamlined and stress-free as possible.
Keep Your Relocation Company Cost Down
Get help with relocation and help to keep removal costs down by searching companies, obtaining quotes and comparing relocation services. Always get at least three quotes and more if possible. By filling in our form, you receive up to 6 quotes from local removal companies. Comparing these quotes can save you up to 40% on your total relocation costs. Find the best removal company near you and let the experts take over so you can enjoy your new home!