Many people use shipping containers to meet the demands of an international move, whether they are emigrating or setting up a new office in an overseas location. In fact, the shipping container cost associated with such moves may be cheaper than any other means of getting your professional and personal items out of the country and transported to your new destination. What are your main options and how much will you need to plan on spending?
Shipping Container Cost – The Main Charges Explained
The shipping container cost you will pay is usually handled in the form of a rental agreement. In other words, you hire a shipping container for the duration of the shipment rather than own it. For one-off transportation jobs, a single rental fee is much more likely. International shippers will charge you more for longer and less common routes.
Prices Indication Shipping Container
Fees for the most frequently crossed seaways will be less. Expect to pay a premium if your container will be placed on a freight aircraft rather than an ocean-going container vessel.
| Port | Country | 33 Cubic Metres Capacity | 66 Cubic Metres Capacity |
| --- | --- | --- | --- |
| Dun Laoghaire | Ireland | £225 | £340 |
| Marseilles | France | £425 | £635 |
| Hamburg | Germany | £215 | £320 |
| New York | USA | £1,000 | £1,475 |
| Los Angeles | USA | £1,250 | £1,850 |
| Vancouver | Canada | £1,410 | £2,100 |
| Cape Town | South Africa | £1,700 | £2,550 |
| Sydney | Australia | £1,450 | £2,170 |
| Auckland | New Zealand | £1,475 | £2,210 |
Compare Quotes And Save On Your Removal Costs
When the demand for certain shipping routes is lower, it is possible to obtain better pricing than these figures indicate. A good shipper can find a non-standard route which may be cheaper for you overall, even if it may take longer to transport your goods from the UK to their destination port. That's why it is important to shop around removals companies and international shipment firms. Obtain several quotations into your inbox by completing our free, no-obligation and easy-to-use request form which will help you to make an informed decision.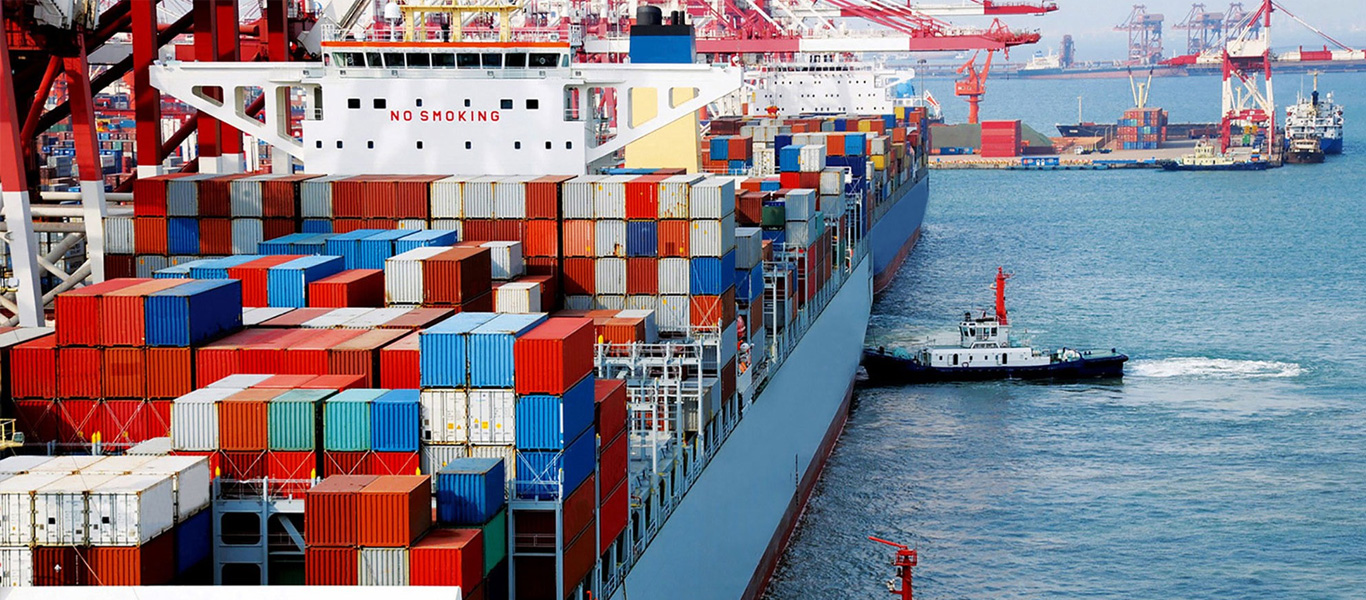 Additional Costs
Like other forms of shipment, there are certain costs to take into account when planning an overseas service. Firstly, anything that will be sold or traded on arrival or that is being shipped in order to meet a customer order will probably be subject to some form of customs duty when it arrives at its destination.
Customs Declaration
Even if your shipping container is being loaded entirely for personal use – for a home removal job, for example – then you will need to make a customs declaration to explain why the shipment is being made. If you have your removal company or a customs agent do this work for you, then expect to pay a variable fee depending on the complexity of the shipment.
Customs Duty
Where items are subject to an import tax, otherwise known as customs duty, fees will depend on the nature of the items you are sending and where in the world they are going to. Anywhere that is subject to a free trade agreement with the UK – including EU countries while the UK remains a member – these should be zero-rated, of course.
Import Levy
However, if you ship a car or an item of furniture, for instance, to a territory like India, Australia or Mexico which the tax authorities might think will be sold on, then an import levy is likely.
What Modes of Transportation Are Covered Under Your Shipping Container Cost?
Containerisation of freight started to take off globally from the middle of the twentieth century despite having been used in parts of America from the 1910s. The reason for its success was that it lowered costs. This is because shipping containers are known as an intermodal form of shipment.
Mean Transportation for Shipping Container
In effect, what this means is that shipping containers can be conveyed at sea, by air, on the rail and by road. Since little or no packing and unpacking is required at ports, the speed at which unloading and redistribution can be conducted is faster than older methods. Therefore, cost savings can be passed onto the end customer.
Shipping Container with Door-to-Door Service
In some cases, you may want your container to make it all the way from your current address to your new one. If so, then your removals firm or international removals company may rent a container to you and have it delivered to you by lorry. Once you have loaded it with your belongings, then it will be picked up and driven to a seaport for you.
Combi-Transport
It can then be picked up by a crane and loaded onto an ocean-going vessel where it will be unloaded upon arrival at its destination seaport. From there, it could be loaded onto a train to a nearby city and then put onto the back of a truck for the final leg of the journey.
Container Shipping Services Included in the Price
Crucially all of these modes of transportation and the intermodal processes that connect them – the loading and unloading, usually by crane – are covered in the price you agree at the start. Bear in mind that moving services and handling of shipping containers at airports is, generally speaking, more expensive than at seaports.
You must, therefore, expect to pay a premium. The advantage is, however, that your container will arrive in a much quicker time if it is conveyed by air freight.

What Loading and Delivery Options Do You Have With Shipping Containers?
Port-to-Port container shipment
If you opt for a port-to-port container shipment, then you are responsible for getting your container to the air or seaport from where it will be transported. You can either do this yourself or arrange for your own contractor to take this work on. The same applies to the destination port. In other words, only the air or sea mode of the shipment which will take the delivery over an international border is catered for.
Door-to-Door container shipment
On the other hand, a door-to-door service will provide you with all of the modes of transport needed to get your container from A to B. When relocating home, this is the sort of service to opt for because it means that you should have everything delivered to your new house soon after – or even before – you arrive in person.
3 Tips for Making Your Shipping Container Cost as Little as Possible
1 – Size and volume
Work out the size of the shipping container you will need. The bigger versions obviously cost more but a smaller one is no good if you cannot fit everything you need in and you end up shipping a couple of items separately. Remember that high cube containers exist which offer a greater cubic capacity but which still conform to standard container lengths. These may not be able to be transported by rail freight, however, depending on the route, because access to tunnels may not be possible.
2 – Group container
Another good tip is to look into sharing your container with another removal firm client. This is called less than container load, or LCL, shipping. By loading your items in with someone else's you can make considerable savings. All that is needed is a similar shipment that is going to the same port around the same date you want your consignment to be dispatched.
3 – Compare Quotes
To find a shipper who can arrange your container and potentially hook it up with another consignment that will save you lots of money, fill out our request form with a few details. Soon you will be receiving competitive pricing that may well exceed your expectations.