If you are looking for ways to provide storage of furniture and other bulkier items when you relocate, then there is no need to worry. Plenty of options are available to you which mean that you won't fill up your entire house on day one. Read on to discover more.
How Expensive Is the Temporary Storage of Furniture?
Using a self-storage facility for storage furniture usually means hiring a single unit which you can lock up behind you when you leave to make sure that only you have access to its contents. Most operators in the industry charge monthly rolling fees for each unit they let. Every unit is sized under a certain category and priced accordingly. The larger the unit, the more you will expect to pay.
What is the Most Cost-Effective Storage of Furniture Solution?
Having said that, larger units tend to become more cost-effective than multiple smaller ones due to the economy of scale involved. If you intend accessing your storage unit regularly whilst your belongings are in there, then it is better to go for something slightly larger so that you can gain access to everything you might need without having to push it around inside.
Storage Furniture Prices
The chart below will offer you a fair indication of what you might need to pay although prices do tend to be a bit higher in the south-east of England. Operators with service desks that are open 24/7 also tend to charge a bit more for the level of access they afford.
| Size of Unit | Suited to | Price Per Month |
| --- | --- | --- |
| 2.5 sq m | Small furniture, a few storage crates | £30 - 50 |
| 5 sq m | Wardrobes, bedding, large TV | £60 - 80 |
| 7.5 sq m | Two bedroom flat or cottage | £70 - 90 |
| 10 sq m | Three bedroom house | £80 - 120 |
| 15 sq m | Four bedroom house | £100 - 150 |
| 30 sq m | Five and six bedroom houses | £150 - 200 |
| 60 sq m | Stock rooms, larger homes with garages | £220 - 250 |
Compare Quotes and Save on your Storage Furniture
When shopping for a storage solution for your furniture, it pays to keep going and not stop with the first indication of pricing that you receive. That is why it is so advantageous to fill in the online form which means you make contact with up to 6 different moving companies that provide storage services in your chosen locality. Once completed, the same form is sent to them all meaning you save effort as well as obtaining a true picture about the storage facility market in your area. By doing so, you can make some superb savings from what you might have otherwise paid.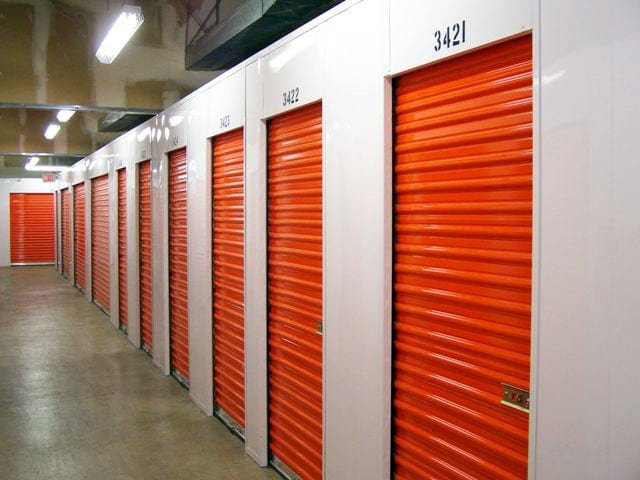 Why Use Furniture Storage When Moving House?
One of the main reasons people give for not wanting their furniture to be transported directly to their new address when relocating is that they plan to have work carried out. If sofas, dining tables and chairs, as well as large items such as dressers, are moved into a room, then it becomes much more of a hassle to carry out any repair or refurbishment work.
Home Improvement
Perhaps you want to paint the walls or the ceiling of your new lounge and don't want soft furnishings in the room for fear of them getting dripped on? Maybe you want to lay new carpets or laminate flooring in your home? In this case, beds and wardrobes might need to be shifted out of the way before you can get going. Either way, putting your furniture into temporary storage can be the ideal solution to the problem of what to do when you have to carry out works before you can truly settle in.
When Moving to a Smaller Flat
Another reason people choose to place furniture into storage temporarily is that they are downsizing. If you are moving from a three-bedroom house to a one-bedroom flat, for example, then creating room for all of your stuff might be tricky. If you don't want to sell your furniture or give it away, then it is better to place it in storage until you are settled. If you choose to upsize to a larger property in the future, then you will have the necessary furnishings to do so without having to go out and buy new ones.
When Moving in a Furnished Flat
There again, some people want to place there furniture into a storage unit because they are moving into furnished accommodation. In some cases, this might be a new, long-term living arrangement. In others, it could be temporary until the house sale completion date is finally set.
When you are moving into a new build property, it may be necessary to rent for a while before the home is completed meaning you have a requirement to store your furniture for a time, too. It all depends on your circumstances but remember that temporary storage facilities are there to help you get through such difficult times.
What Services for Furniture Storage Do Removals Companies Offer?
One of the primary things that a removal company offers you in terms of furniture storage is the ability to stow away things like sofas and beds properly. Not only do such bulky items need to be carried correctly to help protect them but they must also be covered in the proper manner to ensure they don't go mouldy or become infested whilst they are being stored.
Flexibility Period
Removal companies have operatives who are properly trained in moving and handling large and often heavy belongings like household furniture. They also know how to store such items for the long-term. This is helpful even if you think you only need a month or two of storage because you never know – your circumstances might change and a short-term solution may need to become a longer one.
Cost-Effective Price
In a good many cases, removals firms have their own temporary storage facilities that you can take advantage of if you have enlisted said firm to handle your removal for yours. Many charge a modest fee for accessing such a facility but it is always confirming the likely cost on your initial quotation from them.
In addition, professional removal companies tend to have pre-existing relationships with self-storage businesses in the local area. It can often be more cost-effective to go through your removal company to secure self-storage than by going directly. Even if this does not work out for you, then there is no harm in asking!
Useful Tips for Long-Term Storage of Furniture
Soft furnishings are liable to damp environments. Ensure any storage facility you use is dry and free from things like mildew.
Disassemble items like bedsteads before storing them. It makes them easier to carry and they take up less space when stored.
Check the notice period you need to give the storage company before you bring your agreement to an end so you don't face unwanted last-minute costs.
Wrap everything up in old curtains or linen so that it is protected and free from exposure to UV rays.
Save Up to 40% By Comparing Quotes
If you want to get the best pricing around for the storage of your furniture and other large items when you move, then it is a great idea to do so in one fell swoop. By filling in the online form, you will have lots of different storage providers and removals firms offer you quotations for storing your bulkier items. This way, you save time compared to telephoning multiple firms for prices and you get the best quotations because all of the potential suppliers know that you are shopping around.