Storage units are often handy when moving house. You might need a place to store furniture or extra items while preparing your new home. Or you might even have to delay the move. If you need to rent a (self) storage facility for your furniture or other belongs, this page will guide you on the prices, benefits, and other details!
How Much Does it Cost to Rent Storage Units?
The prices for storage units mainly depends on the type and size of the unit you would like. The cost is usually in the form of a monthly rate, excluding additional add-ons such as 24-hour access, packing materials, or item delivery.
Take a look at the following table for an idea of the average costs of variously sized storage units.
Storage Facilities Prices for Furniture and Boxes
| Storage Unit Size | Appropriate For | Monthly Price (excl. VAT) |
| --- | --- | --- |
| 25 sq. ft. | Boxes / bags / small furniture | £30 |
| 50 sq. ft. | Extra furniture / wardrobe | £60 |
| 80 sq. ft. | 1 - 2 bedroom house | £85 |
| 100 sq. ft. | 3 bedroom house | £100 |
| 160 sq. ft. | 4 bedroom house | £130 |
| 320 sq. ft. | 5 - 6 bedroom house | £160 |
| 640 sq. ft. | Large house + attic + garage / large business | £265 |
Find Now Moving Companies that Offer Storage Near You
Renting a few storage facilities or lockers for your furniture will help! Our form will gather 6 moving companies with storage facilities in your area. Just send a quote request and soon you'll be able to compare their prices, saving up to 40% off your storage rental costs. Find a cheap storage solution easily!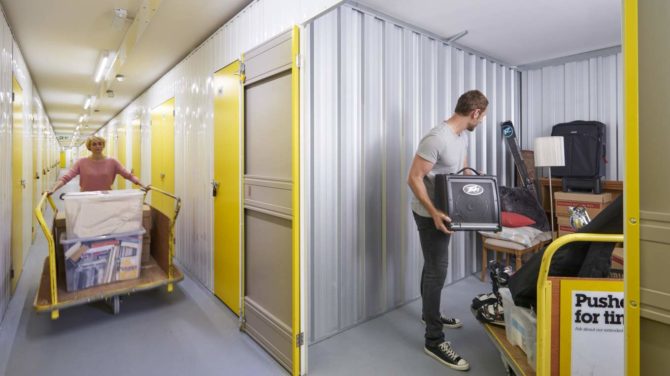 Why Use a Storage Facility?
As previously mentioned, on of the main reasons that people use a storage facility when they move is so that they don't have to deal with all of their belongings in their new home just at the time they need to reorganise everything they own for a new place. Storing seldom-used items or things that you only use on a seasonal basis can really help you in the first few weeks following a move. However, this is not the only reason to make use of storage facilities when you move. Why else might you want one?
1. Moving on Several Days
Although you might think that the lowest cost option when you move is to shift all of your belongings to your new address on moving day, this can be a false economy. Of course, if you are moving from a two-bedroom flat, for example, into something much more palatial, such as a six-bedroom villa, then you are likely to have enough room for all of your possessions from day one of the relocation.
2. Moving in a Smaller Apartment
On the other hand, when you are downsizing, finding room for everything can be a major hassle just when you need to set up your new home. Even when you are moving up the property ladder or switching from renting an apartment to a house, there may not be enough room in the first few weeks to find a suitable location for all of your belongings.
All too often, garages and spare bedrooms become nothing more than dumping grounds for moving crates and storage boxes which means they get in the way whenever you try to do something in the given space.
3. Using Storage Facilities during Home Improvement
To give you more room to work in, not to mention provide you with the much-needed headspace that you require when sorting out everything you own in a new property, placing items into temporary storage makes a great deal of sense. What you spend on a storage facility can even make financial sense if it allows you to get on with jobs in your new home without constantly having to shift things around, for example, to make way for new flooring to be laid.
Furniture Storage Services When Moving
When people move, there are a huge number of reasons for doing so. Perhaps you are moving out of your old home due to the death of a loved one or because of a relationship breakdown? If so, then you might want to put certain items into a storage facility rather than take them with you to your new home.
Rather than throwing away certain possessions that you don't want to deal with immediately, self-storage units allow you to keep hold of them, continue to access them and sort them out but to do so without the hassle of having them with you at your new address. Essentially, a self-storage unit provides you with a bit of breathing space in such situations.
How do Storage Units Work?
Storage units are either lockers, containers, or rooms that you rent out to hold your items. You might have seen other names such as storage rental and self-storage, but these are the same as storage facilities. If you need a space to keep a few items, start your search with removal companies with their own storage or dedicated self-storage companies.
What is the Most Cost-Effective Storage of Furniture Solution?
Having said that, larger facilities tend to become more cost-effective than multiple smaller ones due to the economy of scale involved. If you intend accessing your storage unit regularly whilst your belongings are in there, then it is better to go for something slightly larger so that you can gain access to everything you might need without having to push it around inside.
What Size of Storage Units Do you Need?
Whether the storage rental unit is suitable for you depends on the amount and type of items you have. Lockers are ideal for smaller items such as boxes, files, collectables, seasonal decorations or luggage. Smaller storages, similar in size to a closet, are great for storing furniture, bulky seasonal items like skis, golf clubs, bikes, or extra clothing.
Storage Furniture for a Full House
Storage units larger than 70 square feet are best for holding the contents of your rooms, such as furniture, appliances, mattresses, exercise equipment, and other items typically found in your house.
Storage Facilities Restrictions
When examining the storage company's units and services, it's important to ask about their restrictions. You aren't allowed to store animals, perishable items, flammable or explosive items, and noxious or hazardous materials. Make sure to ask your company if you're unsure about your items.
Storage FacilitiesServices
One of the primary things that a removal company offers you in terms of furniture storage is the ability to stow away things like sofas and beds properly. Not only do such bulky items need to be carried correctly to help protect them but they must also be covered in the proper manner to ensure they don't go mouldy or become infested whilst they are being stored.
– Climate Controls
Some companies that offer storage services offer units with climate control. This means that the storage unit will stay within a certain temperature range that you set. In some cases, it is also possible to control the humidity in the storage.
When Do You Need to Control the Temperature in a Storage Unit?
You might need to manage temperature and humidity levels if you have sensitive items. Wine, artwork, and antique, wood, or leather furniture need to stay in a certain temperature range or else they might be damaged.
– Truck rentals
When you have items you would like to store, you'll need to find a way to transport them to the storage company's facilities. With most self-storage companies, it is your responsibility to arrange for this transport. However, some companies provide vehicles for rental or for free, to help move your items.
Storage Unit Rental With a Moving Company
If you are working with a moving company, you should ask them about their transport options to their storage facilities. In most cases, they'll be able to load up their removal van with your items and move them for you.
– Locks
With dedicated storage rental companies, sometimes you'll have to provide your own locks to keep the unit secure. If so, opt for more secure models, such as cylinder, disc, or closed-shackle locks, rather than standard or combination padlocks. Check with your storage company whether the locks are your responsibility or whether the company is responsible.
– Security Conditions
Security is an important factor when it comes to storage units. State-of-the-art facilities will have electronic security systems to keep track of all the storage rental units. Some security features are CCTV, individual alarms, lighting, gated access, and 24/7 surveillance. Ask about the security protocols in place at your storage company to help make your decision.
The Benefits of Using Storage Units
1. Help With Moving House
If you are moving to a new house, you might need a space to store your stuff during this chaotic time. For example, you can use storage to keep some items out of the way while you are busy getting your new home ready.
Additionally, you might not be able to move into your new house right away because of a key exchange issue.
2. Free Up Space in Your Home
Feel like you don't have enough space in your house? Perhaps you have too much stuff and feel overwhelmed? Then storage units are the right solution. Store items that are taking up valuable space and that you don't use often.
If you are in the process of decluttering, store the items that you aren't quite ready to discard or sell. If you find that you don't miss these items when they're in storage, then you are probably ready to throw them out! With storage services, you'll increase the amount of space you have in your home, and hopefully, clear up the clutter as well.
3. Renovating Using Storage Facilities
If you are undertaking a home improvement project, you'll probably need to clear a room of two of their contents. Get these items out of the way by storing them in a rental unit—it will make completing your renovation project much easier. Keep your furniture and other belongings safe, secure, and away from dust, dirt, and paint.
4. Student Storage Unit
For students, storage units are incredibly handy. You won't have to encroach on your living space with your items. You are also able to store your things at the end of every semester, instead of having to bring your belongings home with you.
Useful Tips for Long-Term Storage of Furniture
Soft furnishings are liable to damp environments. Ensure any storage facility you use is dry and free from things like mildew.
Disassemble items like bedsteads before storing them. It makes them easier to carry and they take up less space when stored.
Check the notice period you need to give the storage company before you bring your agreement to an end so you don't face unwanted last-minute costs.
Wrap everything up in old curtains or linen so that it is protected and free from exposure to UV rays.
How Does Self-Storage Work?
It really is simple to operate a storage facility yourself. All you need to do is to select the size of the unit that you require from the facility and move your items inside. When you move, this may be a little too much to organise on the same day, so it is advisable to secure your unit prior to the move.
Self-Storage Security Conditions
Once you have your storage facility chosen, simply turn up and unload your belongings into the storage unit. Most will be completely sealed off from prying eyes and fully secure when you lock the door behind you. This means that you can rest assured that your items will be held safely until you return for them.
Some facilities allow for 24-hour access so that you can retrieve anything that you might need until the end of the rental agreement at any time. Others will provide you with access during office hours only or at the weekend.
Tips for Using Self-Storage Facilities
Get help lifting heavy or bulky items. Storing things yourself does not need to mean having to do everything alone!
If you are worried about security, then choose a facility which has CCTV and other similar measures to prevent theft.
Sharing a larger unit with someone else you trust can be cheaper than going it alone but only if you rent the space for the same length of time.
Cover your items to protect them when you take them into the storage unit but also stop people from seeing exactly what it is you are leaving there.
Ready to Find Storage Units to House Your Items?
Then the next step is to reach out to multiple removal companies about their storage options. You'll obtain up to 6 quotes from businesses in your area, so you can compare their services, prices, and profiles. By comparing, you'll get savings of up to 40% and make your whole search much easier.