There's no wonder people plan their move to Japan. With a vibrant and unique society and culture, Japan plays a strong role in the global economy and offers a high quality of life for families. Whatever your reasons for relocating to Japan, read on to discover how best to make the move. Our guide makes it easy by providing the best advice for those seeking to relocate.
The Cost of Moving to Japan
The cost of moving to Japan from the UK depends principally of the volume of items you need to transport. The shipping method by sea freight is the best way. The average cost for a removal To Japan is £2000.
Shipping Container Cost for Moving to Japan
In general, a shipment of goods from London to Tokyo will take between 8 to 9 weeks by sea, including customs clearances. Of course, all situations are different but the following table gives a rough understanding of average costs to move from London to Tokyo via the most economical sea freight, not including local removal costs to and from the destination.
| City Destination | 20 Foot Shipping Container | 40 Foot Shipping Container |
| --- | --- | --- |
| Tokyo | £1,400 - £1,700 | £2,200 - £3,000 |
| Yokohama | £1,500 - £1,700 | £2,100 - £2,650 |
| Kobe | £1,350 - £1,630 | £1,950 - £2,350 |
Save on your move to Japan
Moving abroad doesn't have to be stressful. If you choose the right removal firm, you will be given peace of mind, allowing you to get off to a bright start in your new life in Japan. By filling out our quick and easy quote request form, you will have access to personalised, free and no-obligation quotes. We provide trusted and reputable movers to help you make the right choice. It only takes 1 minute to complete in order to receive the best advice in the business.

How to Move to Japan from the UK?
The majority of the cost of moving to Japan depends on the transport method you choose and the route you plan to take to relocate your household possessions. In general, large shipments of household goods are made via 20 and 40 foot containers by air and sea-freight.
Air freight is a more expensive option but it is also faster, while sea freight is by far the most economical and budget-friendly option. The price will be universally calculated on volume; the more you want to ship, the more it will cost to do so.
Where to Move in Japan?
For those living closer to the region — in Hong Kong or Singapore, for instance — costs can be much more accommodating as travel times are shorter. The route is also important, with popular centres like Tokyo and Osaka being far easier and potentially cheaper to relocate to than a village in Niigata.
Services Made Easy
Oftentimes, removal services are necessary when packing and moving your goods, helping with specialist removals and the itemization of objects. From packing through professional dismantling, storage and cleaning services, there are a whole variety of services out there designed to make your move easier.
Removal Services Costs
Don't let these costs creep up on you by looking at our general price guide:
| Service | About the service | Cost estimate |
| --- | --- | --- |
| Packing | There is no fixed fee. The cost mainly depends on the number of rooms and if there is anything special or oversized. | £180 - £350 |
| Packing Materials | Be prepared to invest a bit of money on: cardboard boxes, plastic containers, wrapping materials, labels, etc. | £75 - £150 |
| Handyman | A handyman can dismantle and install electrical and lighting fixtures, appliances, etc. | £50 p/h |
| Storage | Depending on your situation, you may need some storage space for meanwhile you finalise the details of the move. | £30 p/w |
| Cleaning | The prices greatly differ from company to company, so it's best to ask for a personalised quote. You may need cleaning services for end of tenancy cleaning, regular cleaning, deep cleaning, carpet cleaning, etc. | Approximately £15 p/h |
Need-to-know tips before relocating to Japan
Japan is a beautiful country with world-renowned services in both transportation and household removal. In fact, you'll find that removal services in Japan are extremely friendly, efficient and comprehensive, with removal firms priding themselves on convenience and care.
However, before setting out on your new life in Japan, you'll need to take good care of your household items to make sure you have everything necessary for settling in.
How to Choose an International Mover to Japan?
For the best possible international removals service, look out for firms with certified membership to trade organisations in the UK, such as the British Association of Removers, and remember to compare quotes to find the best deal on the market. At the end of the day, it is your move and you want it to be both as hassle-free, safe and easy on your wallet as possible.
Take care of your affairs in the UK and Japan
Before you even plan your move to Japan, you will need to make sure your affairs are in order both in the UK and in Japan. The most crucial of these will be your visa. Assuming that you have a job waiting for you in Japan or you have been provided with an intra-company transfer, a work visa is a necessity before you even step foot in the country.
Do you Need to Learn Japanese?
Although a grasp of the Japanese language is not at first necessary for all foreign workers in Japan depending on their industry, particularly those in Tokyo or Osaka, it will make life easier in the long run, allow you to adapt, assimilate and avoid being lost in translation.
Life in Japan
Most travellers to Japan often call through one of the many major cities, remarking on the cleanliness, order and efficiency of public transportation, as well as the convenience and high standard of living.
Yet there is more to Japan than the modern metropolis. Located in the Pacific Ocean, Japan is a remarkably mountainous country consisting of some 6,852 islands and featuring a temperate climate which varies throughout the country.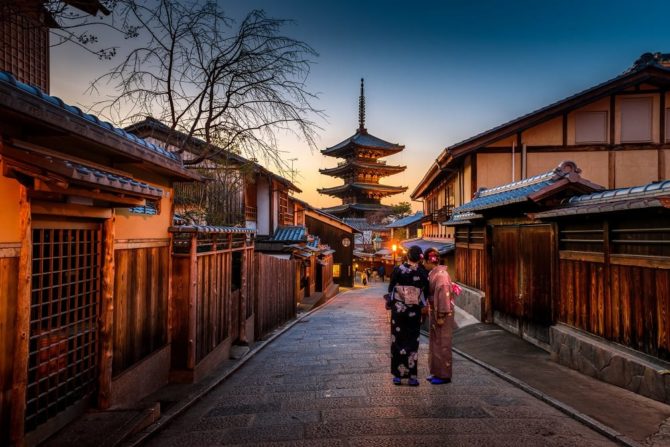 What to Do in Japan?
With many different eco-regions, 73% of the country consists of mountains and 68% of the country holds dense forest coverage. This gives Japan one of the most stunning — and diverse — natural landscapes.
There's no wonder that hiking and skiing are so popular here, and you'll find trips to the countryside are easy with Japan's network of roads with familiar left-lane orientation. Located on the Ring of Fire, earthquakes and volcanic eruptions are frequent throughout many areas and islands of Japan.
Japanese's Culture
With that said, Japan's metropolitan areas are very densely populated, with an incredible train network efficiently linking most major cities and towns. Although rooted in Shinto and Buddhist religious culture with annual festivals and traditions, many Japanese people describe themselves as non-religious.
Living in Japan
As the third-largest economy in the world, Japan is noted for its plenitude of services and shopping options, as well as for its vibrant cultural industries including art, fashion and cinema.
Be smart about your removals costs and save!
Save now when moving to Japan by filling out our quick 1-minute request form. With up to 6 available removal quotes, you will receive personalised feedback from trusted professionals to help you make the right move at the right price. No matter where you're moving in Japan or what your budget is, we have the right tools to help make your journey hassle-free with one simple click.