Moving house soon? If you're searching for removal companies in Hastings, you've come to the right place. Check out our handy tips for hiring a moving company and making your move a success.
Find moving companies in Hastings
Below you find removal companies active in Hastings.

Cost of Removal Companies in Hastings
Here, you'll find the main determinants of your move's price. Make sure to keep them in mind when requesting quotes for moving companies in Hastings.
Total distance to be travelled: Distance is a huge factor in the cost of removal and it's fixed.
Additional services: Services like furniture dismantling, cleaning, packing, or storage should also factor in.
Time of the move: If you're planning on moving during peak season (May through September), federal holidays, or during weekends, moving costs will be higher.
Ease of access: How easy is it to access your home? Can vehicles access your building and park outside? If there are any complications, you'll most likely have to pay an extra cost.
Total volume of goods to be transported: Total number of goods you plan to transport
There are many things that can affect the price of removal companies in Hastings. Knowing what they are ahead of time will help you figure out how to save money. In the table below you will find some price average based on extra services.
| Number of bedrooms | Removal Costs | Additional Costs (i.e. Packing Costs] | Cleaning Services |
| --- | --- | --- | --- |
| 1 | £200 - £350 | £50 - £70 | £15 - £20 per hour |
| 2 | £300 - £400 | £100 - £150 | £15 - £20 per hour |
| 3 | £400 - £600 | £200 - £300 | £15 - £20 per hour |
| 4 | £500 - £800 | £300 - £400 | £15 - £20 per hour |
Get Custom-Tailored Quotes to Save Money on Removal Companies in Hastings
You're only a few steps away from receiving custom quotes from removal companies in Hastings. Fill out our quote request form to get up to 6 quotes and save big on your move. It is free, and there are no strings attached.Compare prices from several movers in Hastings and choose the one that you like best! We have a large selection of skilled and professional movers who are able to meet the toughest of needs. Arm yourself with as much information and move the smart way.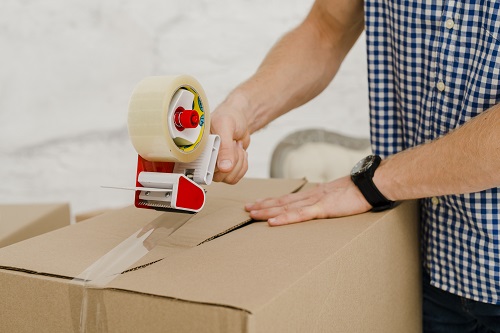 What is Included in The Cost of a Removal Company in Hastings?
When you ask removal quotes to company in Hastings they will ask you some questions related to your house move in order to fill out the expected cost of the job. Usually, a removal company offer a complete house removal service, including loading, transport and unloading of your belongings at destination. If you are moving to a close by city such as Crawley the company will not charge you extra for the amount miles travelled. For further cities, instead, you might need to pay a surcharge. Other services such as packing, disassemble or assemble of furniture, removal of large items, storage unit and other are not included in the house removal price. Therefore, when you ask extra services you can expect higher costs. However, many companies offer competitive prices and by comparing quotes you'll be able to find the price and the service that better suits you. To save money on your move think about what are the things you can do yourself, such as packing and loading.
Moving to Hastings and the surrounding area
If you are looking for a moving company in Hastings, check out also our partern in the surrounding cities. Finding a local removal company, in or closeby your city or arrival or departure, will help you save on the costs of your removal price. Check our certified companies in the pages below.
Removal Companies near Hastings
Top 5 Things to Check-Off When Moving House
Above, we showed you an overview of the potential removal costs that you might incur on removal companies in Hastings. Here are some more suggestions on how to get ready for your move:
Change your address
The next important step is to change your address. This is important when it comes to paying your local taxes. Find out about the deadlines that must be met when registering in your new city.
Keep your utilities up to date
Of course, you may move at a time that does not exactly coincide with your billing cycle. If this is the case, it is highly recommended that you inform your utilities about your move as soon as possible.
Sort through your items
The main factor in the price of your move is how much stuff you'll take. If you own things that you no longer want, you might be able to sell them.
Pack with enough time in advance
If you want a speedy moving day, then packing in advance is a great idea. You can also bring costs down by packing everything yourself and having it ready for the movers in Hastings.
Compare International Removal Companies in Hastings When Moving Abroad
European removals
You're taking the plunge and moving to another country! There are quite a few options on the table, so let's jump right in. No matter what, you'll need to use some degree of road transportation for your belongings to get to your final destination. If you're short on budget and time isn't an issue, you can save big time by choosing a sea freight option. It takes longer, but your wallet will thank you. Experienced movers in Hastings are happy to guide you through the various options and recommend an option that best fits your needs.
Long-distance removals
In addition to the points above, you might also take air freight into account. Faraway moves to different continents may make sea and land options unfeasible or impossible. You'll likely also need to double up on the amount of luggage that you take along as it usually takes longer to receive your belongings. The majority of inter-continental moves are via shipping containers since it's the cheapest option and there are many removal companies in Hastings to choose from who have a long track record of experience.
Find the Best Deal Now and Save on Your House Move!
Are you ready to talk to the right moving company for you? Just send a quote request to reliable removal companies in Hastings. By comparing quotes in one place, you can easily figure out where you'll get the best value for your money. With potential savings of up to 40%, there's no reason not to compare several offers. Fill out our no strings attached inquiry form and get up to 6 removal offers. You'll be making sure your move to Hastings is a walk in the park. Our experienced movers in Hastings are happy to answer any questions.