You've come to the right place if you're moving house soon and are now looking for removal companies in Telford. We've compiled the best tips for hiring a moving company and making your move as stress-free as possible.
Find moving companies in Telford
Below you find removal companies active in Telford.

How Much Does it Cost Hiring a Professional Removal Company in Telford?
There are many things that can affect the price of removal companies in Telford. Knowing what they are ahead of time will help you figure out how to save money. The best way to know the average price of your move is contact directly the companies. Below, you'll find the main question to ask yourself to determine your move's price. Make sure to keep them in mind when requesting quotes for moving companies in Telford.
How big is your move?: The more you move, the more it costs. It's good to think of ways to consolidate your belongings as much as possible
How far away is your new home?: Distance is a significant factor in the price
When will you move?: If you move during the week, you can stand to save a lot of money. The more flexible you are, the cheaper your move can be
In the table below you find the average price for a small house removal.
| Service | Volume | Average Cost |
| --- | --- | --- |
| Removals: Loading and unloading (75 mile distance) | 600 cubic feet | £500 |
| Packing services and moving boxes | 20 boxes | £175 |
| Disassemble and reassembly | 1 beds, 1 table, 2 drawers | £125 |
| Total | | £800 |
Receive Customised Quotes to Save On Removal Companies in Telford
You're just a few clicks away from receiving personalised quotes for your upcoming move.Fill out our request form to get up to 6 quotes and save on your move. It is free and without obligation. Comparing quotes will give you a better understanding of the price differences and logistical approaches to removal companies in Telford. Arm yourself with the best information and compare prices from several movers in Telford. It is up to you to choose the one that best suits your needs!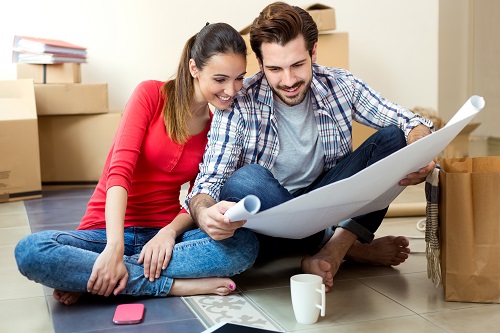 Things to Ask Your Removal Company in Telford Regarding Removals Insurance
When you're looking for removal companies in Telford, it's important that you check into all of the details of the removal insurance that you take out for your removal. Some policies cover different segments of your entire moving process, whereas others are truly from end-to-end.
Check all of the paperwork of your insurance before your move to make sure that it covers everything you need it to. This is very important when moving internationally but also for a close by removal to Stoke-on-Trent. Goods-in-transit insurance should be included in your policy so that anything that shifts and breaks along the way is covered.
Make sure that you don't fall for any insurance policies that only cover your items until they are on the truck or even at the door of your new home. It's important that the insurance covers from the time the mover picks up the item at your old home to the time they set it down in your new one. Movers in Telford should be able to walk you through all the options.
Removal expert in Telford area
Are you moving whitin the Telford area? Or you want to compare more companies? Then check out removal companies in the region or cities closeby. Below, you find information about local movers and the best way to get in contact with them.
House removals near Telford
How to Best Prepare for Your Move to Telford
Preparing your house removal in Telford can take some time. For this reason below you find some useful moving house tips on how to get ready for your removal day:
Remember to change your address
The first important step is to change your address. This is important when it comes to paying your local taxes. Find out about the deadlines that must be met when registering in your new city.
Keep your utilities up to date
Of course, you may move at a time that does not exactly coincide with your billing cycle. If this is the case, it is highly recommended that you inform your utilities about your move as soon as possible.
The main factor in the price of your move is how much stuff you'll take. If you own things that you no longer want, you might be able to sell them.
Donate or throw some old stuff 
When moving to Telford, you might want to think about the things you really don't need to bring. Even if you can't sell it, you can save money by getting rid of stuff you don't want or need anymore.
Pack with enough time in advance
If you want a speedy moving day, then packing in advance is a great idea. You can also bring costs down by packing everything yourself and having it ready for the movers in Telford.
Get Started on Your Move By Biring a Trusted Removal Company in Telford
Make your life easier and move with ease by hiring a professional mover who will handle your move from A to Z. Below are four reasons to consider when thinking of hiring a removal company.
The moving company in Telford has the know-how and experience: Removal companies are diligent about conducting regular checks around the area, alternate routes, and how to handle roadblocks.
Removal companies offer storage services: Removal companies in Telford offer short and long-term storage services. Your moving company should be able to give advice on what works best.
Your belongings will be in good hands: Many moves involve the challenge of transporting special items, such as works of art, pianos, and instruments. It is best to use the expertise of professional movers in Telford to ensure that your special items are transported to their new home undamaged.
They have the right equipment: When it comes to large or bulky items, a special solution may be required. A furniture lift can help when stairwells and doors are too narrow for these items.
Receive Quotes for Your Move for Free!
Sometimes the hardest part is just getting started, so we've made it easy. Simply fill out a quote request, and we'll get you in contact with removal companies in Telford. With potential savings of up to 40%, you can quickly make the right choice! Fill out our no-obligation quote request form and get up to 6 removal offers. Try it today to make your move to Telford a walk in the park. Our experienced movers in Telford are always happy to help with any questions.