Whether you are moving house on your own or are hiring a company to deal with the intricacies of moving, you'll need packing supplies. In any move, you'll need to pack your items, which means you're going to need the right materials. Learn about the costs, types, and alternatives on this page.
How much do packing supplies cost?
Packing supplies are available in several places so prices can vary greatly depending on where you purchase them. For example, you can easily find boxes for moving from supermarkets or office supply shops, which tend to be cheaper than those that removal companies offer.
Packing supplies cost
The following table shows the average prices for packing supplies.
| Packing Material | Price |
| --- | --- |
| Large Box (45cm x 45cm x 52cm) | £3.50 each |
| Medium Box (43cm x 43cm x 48cm) | £3.00 each |
| Small Box (30cm x 30cm x 48cm) | £2.50 each |
| Wardrobe box with hanging bar (51cm x 45cm x 122cm) | £10.00 each |
| Packing Tape (48mm x 66mm) | £1.50 per roll |
| Bubble Wrap (100m x 50cm) | £20.00 each |
| Packing Paper (500 sheets per ream) | £12.00 each |
| Moving Blanket/Cover (200cm x 150cm) | £5.00 each |
Save 40% off your moving costs by comparing
In addition to lowering your expenses for packing supplies, comparing multiple removal companies will also ensure you find the right price for your move. Shop around for the best prices on removals and packing supplies by reaching out to 6 movers in your area. It takes just 1 minute of your time and you're not pressured to accept any offers unless you're completely satisfied.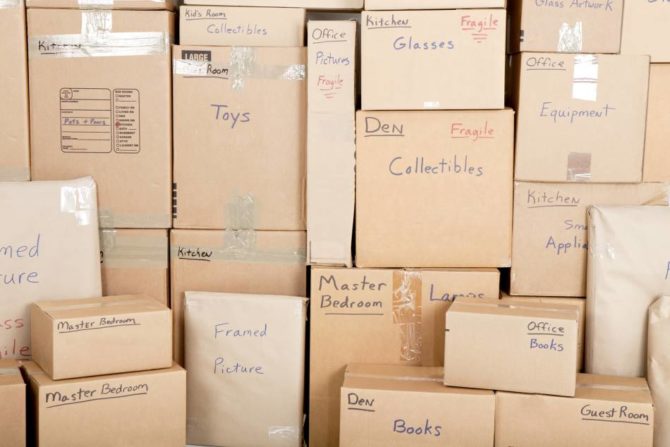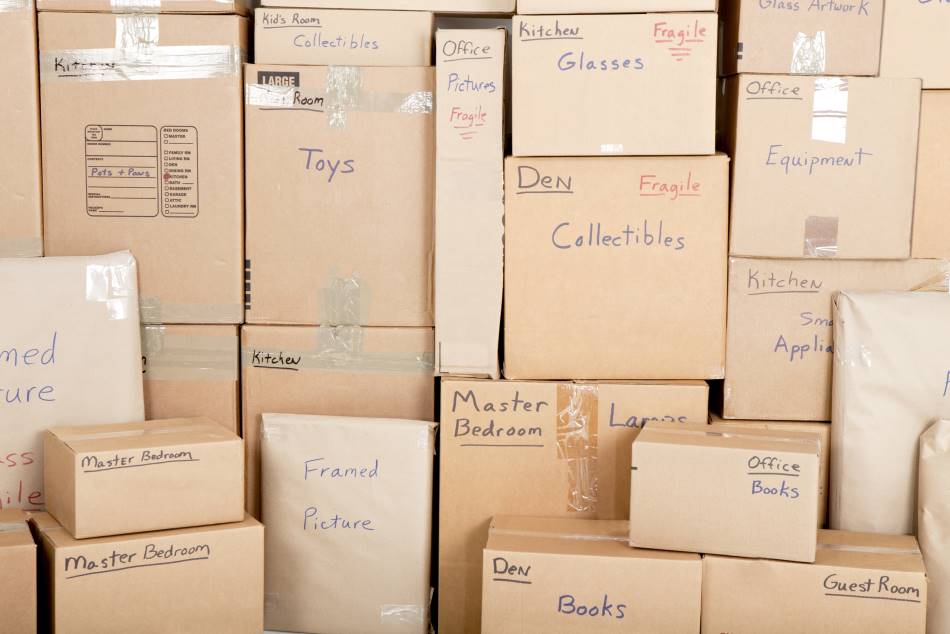 Quality of the packing
However, the quality and availability of these materials also affect the price. Buy packing supplies from a professional moving company and you know the boxes and blankets are purpose-made for moving. You'll need materials that will safely and effectively hold your prized possessions, so in some cases, the price may be worth it.
What are the most common packing materials?
When packing your belongings, the number 1 priority is that your items are packed properly so that they won't be damaged. There are several packing supplies that work great for keeping your items safe throughout the journey. We go through the types here.
1. Boxes for moving
Boxes are the most ubiquitous of moving supplies, and the most important. You can't finish packing if you don't have any containers to hold your items. In most cases, you'll probably use corrugated cardboard boxes. However, you should also consider using non-cardboard options such as plastic containers.
– Boxes assortment and boxes kit
Boxes for moving come in several shapes and sizes and are easily stackable, making them ideal when moving house. Depending on the amount and kinds of items you have, you'll need a wide assortment of different sizes, ranging from a few large moving house boxes to plenty of smaller ones.
– Designed boxes for fragile items
There are also special boxes made for specific items, such as clothes and fragile items. Wardrobe boxes are tall and have a rail inside so you can simply hang your clothes, close up the box, and easily transport them. Dish boxes are divided into sections for plates and glassware. And boxes for art or mirrors have special foam pads for extra protection.
Moving Boxes Prices
The table, below, gives a fair indication of what you should expect to pay for packing supplies for an average house move.
| Type of Packaging | Likely Cost |
| --- | --- |
| Small box | £2.50 each |
| Medium box | £3.50 each |
| Large box | £4.00 each |
| Clothes box with bar | £11.00 each |
| High-quality tape | £2.00 per roll |
| Bubble wrap | £10.00 per large roll |
| Packing paper | £12.00 per 500 sheet ream |
| Moving cover | £4.50 each |
Of course, the first thing to note is that the larger the property you are moving out of, the more of each item you will need. People who house share and only have a room full of personal possessions can probably get away with a couple of crates and a clothes box – an item in which you can hang your clothes like a kind of temporary wardrobe. On the other hand, you may find you need dozens of boxes and moving covers if you live in a four or five-bedroom property.
– Ensure the Protection of your Moving Boxes
Whatever your reason for having packing work carried out for you – whether it is for some items or for the whole lot – removal firms are experts at fulfilling this sort of role. Possessions will be treated with care and packed away in a rational manner so that, for instance, kitchenware is stored with dining sets or belongings that you'd usually find in a bedroom are stowed with clothes. This means that you will be able to find everything you need in clearly marked boxes once you arrive at your new home to unpack.
2. Wrapping materials
You might think that placing your items inside boxes is enough. However, without covering them with a protective layer, you'll quickly find that your items will be damaged or broken. This is where wrapping materials come in.
– What type of wrapping materials do you usually need?
There are several types of wrapping materials to protect your fragile belongings. Packing paper is great for wrapping small items or crumpling up as padding. They won't leave any marks so you are able to use them for even delicate items. Bubble wrap is another way of adding padding to protect your prized possessions. Plastic or shrink wrap don't really add a layer of protection but are great for preventing things from moving too much. They also keep dust and dirt away from your items.
– How to protect larger furniture?
Finally, moving blankets are the most effective way to protect larger items such as furniture and appliances. They prevent any scratches or dents, once your items are completely and properly wrapped.
3. Additional materials
Other items you'll need are packing tape, labels, scissors or packing knife, and pens and markers. Good quality tape is incredibly useful since you should tape all boxes shut. Reinforce the bottom of your boxes with tape as well to make sure nothing is broken.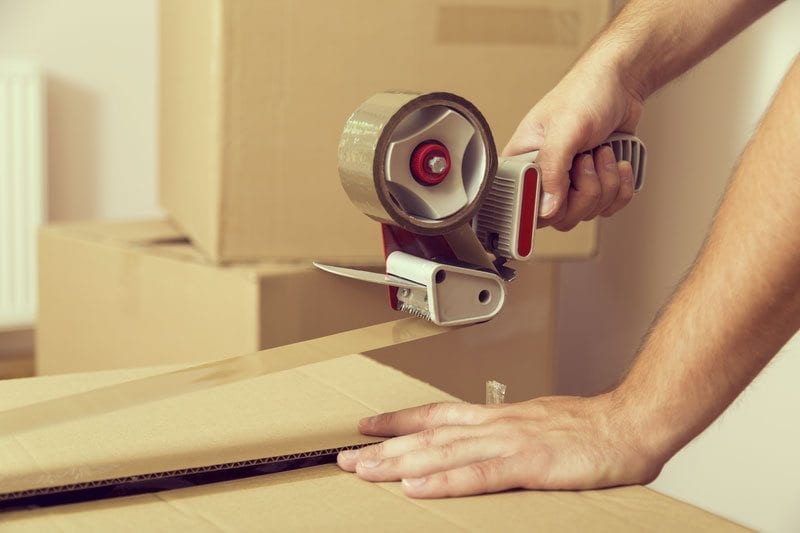 Why labelling the boxes?
Labelling your moving boxes might seem unnecessary. However, by labelling everything, it'll be much easier to keep track of your items. You'll know which room each box goes into as well as the contents of each box, helping you stay more organised and efficient during your move.
Alternatives to packing supplies
Moving house, with the price of a removals company and the actual cost of your new home, is very expensive. So much so that you're probably looking for ways to save money anywhere you can. Luckily, there are savings available if you look for packing supplies from alternative sources. Here are a few tips on alternative packing materials.
Ask friends and family
If you need extra packing supplies, ask friends, family, and neighbours. They will probably have unused boxes lying around so be sure to ask them if they have any spare. If they have recently moved, they might even have leftover moving boxes, packing paper, or packing tape.
Free packing supplies from shops
Another great source of free packing supplies is shops and businesses in your area. Instead of purchasing boxes from moving companies or office supply shops, go to local shops or supermarkets and ask for any cardboard boxes they aren't using. Usually, these just get tossed into the bin, so they should be more than happy to offload some boxes to you.
Also, try asking your workplace if you are able to take a few boxes for your move. Chances are, there are a few empty boxes lying around that you can use.
Environmentally-friendly options
The big downside to packing supplies is that they are quite wasteful. Once you have moved into your new home, you'll most likely throw away all the cardboard boxes, bubble wrap, wrapping paper, and packing tape.
Reusable boxes or containers
Because of the large amount of rubbish, it's better to choose packing supplies that you can reuse. Find plastic containers that also act as additional storage later on. If you have boxes made of recycled materials, even better.
Blankets and household linen
For wrapping materials, use blankets, bed sheets, towels, and clothing. They are just as effective as wrapping paper or bubble wrap, just without the waste. Finally, a cheaper alternative to wrapping paper is old newspaper and magazines that are recyclable.
12 Packing Tips for Moving House
Read our 12 main tips to stay organised while packing for moving your house.
1. Start early
You might think that you can pack everything 2 or 3 weeks before your moving day. However, unless you have a few items, this is probably unlikely. Instead of leaving the packing to the last minute, it's better to start early.
There is no exact time for when you should start packing since it depends on the size of your house and the volume of items you own. In general, begin packing around 2 months before your moving date. This should leave you enough time to complete the packing as well as other important tasks.
2. Make a detailed inventory
Before you actually start packing, you should go through each room one at a time and take stock of all your items. This is the time to go through each item and decide whether you'll need it at your new place. An inventory is crucial to staying organised and on track when packing.
You'll need to determine whether you will keep, sell, donate, or discard each item. Your "Keep" list will be the most important since these are the items that you'll pack up and transport to your new house. Also, group your belongings by room so that when you do pack and move, you'll know where each box goes.
In your inventory, keep track of the condition of each item. This will act as proof against your removal company if any items are damaged. Better to be safe than sorry!
3. Get rid of your clutter
As part of creating your inventory, you'll need to declutter. This involves selling, donating, or throwing away the items that you have previously identified. When going through your belongings, really think about whether you need an item. When was the last time you used it? Does it successfully serve its purpose? Is it worth it to keep that item?
Packing tips to lower the cost of your move
This is one of the most difficult tasks of packing your belongings and you need to be strict about your choices. It is always tough to get rid of your items, especially if you have kept them for a long time. However, once you do declutter, you'll be able to devote time to request moving quotes. 
Get rid of things you don't absolutely need, as well as any items that are broken. There's no point of transporting items that will just collect dust at your new place.
4. Start with rooms you don't need immediately
Since packing won't be completed in 1 day, it makes sense to start with rooms you don't use on a daily basis. You don't occupy these rooms regularly, so packing them up shouldn't be very disruptive to your daily schedule.
For example, start with packing your garden shed, garage, and storage rooms. In particular, seasonal items such as surfboards, skis, bicycles, and Christmas decorations should be packed up first. From there, move on to your living room, kitchen, bathrooms, and then leave your bedroom for last.
5. Go room-by-room
When you look at all of the items to pack, it can be easy to feel overwhelmed. The trick is to pack one room at a time. By taking your time and going through each room separately, it is easier to handle all the packing than tackling everything at once.
This helps you stay organised and will make your packing go by much more quickly. Don't rush and properly pack each room one at a time.
6. Get alternative packing supplies
Sourcing packing supplies is important for moving your items and protecting them during transit. However, buying materials can be quite expensive. Instead, you should try to use alternatives that you probably already have in your house.
Use what you already have at home
These include your linen, bedding, and clothing, which work well for wrapping, cushioning, and protecting your items. Other useful materials are old newspapers and magazines since you can crumble and use them as gap fillers in your boxes. Also, rather than buying boxes, ask friends, family, and nearby shops for any extra boxes, or use reusable plastic containers.
7. Use specialised moving boxes
If you do use conventional packing materials, don't forget about specialised boxes. These are either built to contain specific items or ensure your belongings are transported efficiently. Professional moving companies often offer special moving boxes to buy.
Some examples are wardrobe boxes or boxes with dividers. The wardrobe contains a hanger bar so you can keep your clothes on the hanger. This is an easy way to pack your clothes and keep them wrinkle-free. Boxes with dividers are ideal for carrying plates, cups, glasses, or fragile items.
8. Packing fragile items
When packing delicate items, less is more. Put breakable items such as plates, glasses, cups, and vases in smaller boxes. It is also better to avoid placing items on top of these items other than soft materials such as clothing, pillows, or linen.
For plates, wrap each one individually in paper or cloth and place them vertically, side by side. For more delicate items, place some foam or cardboard in between each plate. Place glasses or cups side by side after you have wrapped each one. Fill in the spaces with cloth or paper to prevent things from moving around.
For mirrors and glass, apply painter's tape in the shape of a star branching from the centre—this will help absorb vibrations and keep the item from shifting. Protect the frame with foam or cloth, and wrap the entire mirror with bubble wrap and a blanket. There are also boxes specifically designed to hold mirrors, so ask your movers if you need a few.
9. Don't overpack a box
On your moving day, there will be a lot of lifting and carrying. As such, it's important to pack your boxes so that they aren't too heavy. Don't pack your boxes so that they are over 15 kilos—doing so will lower your chances of hurting yourself. The last thing you want on your moving day is an injury!
10. Label everything
When it comes to packing, labels are your friends. You need to label your boxes with its contents and designated room so you can keep on top of all your things. Not only will the labels help you, they also notify your movers about what they will be carrying.
11. Pack important items together
Gather important documents and pack them somewhere that you can easily access. These documents include your passports, birth and marriage certificates, insurance papers, bank details, driving licenses, medical records, as well as lease and mortgage documents.
12. Packing tips for your first nights 
Your first few nights at your new place won't be the most comfortable. You'll need a bit of time to settle in and have everything ready. That's why you need to pack a survival kit containing items you'll immediately need at your new house.
This box can contain bedding and linen, toiletries, toilet paper, phone chargers, and tea and coffee—anything you need to survive the first few nights. Also, don't forget to include box cutters and scissors so you won't have trouble unpacking!
Sourcing the best packing supplies from the right company
Ready to start packing? Then it's time to find packing supplies for your move. Instead of just accepting the offers from the first removal company you see, take some time to look for alternative packing materials. Also, ask multiple moving companies to view and compare their prices. Our form is quick, easy, and absolutely free.