Moving internationally, from the planning to the unpacking phases, is a huge adventure. It typically involves a whirlwind of changes and a long to-do list of items to check off. It may seem like a lot, but planning things carefully before you move will certainly help throughout the process. International moving services can help you get through the experience smoothly. This guide will help you plan for your move.
The costs associated with International moving services
When moving internationally, your biggest expense will often be the transportation of your belongings. This cost will be calculated based on the weight and volume of your goods, the distance you intend to cover, and the transportation method you prefer. If your goods don't make a full load, you can opt for groupage services, which can lower the fee you have to pay.
Below are cost estimates for 20ft and 40ft shipping containers for the top 5 countries Brits tend to move to in Europe.
| | 20ft Shipping Container | 40ft Shipping Container |
| --- | --- | --- |
| Spain | £434- £737 | £649 - £2,155 |
| France | £424 - £661 | £633 - £1,256 |
| Germany | £979 - £1,082 | £1,860 - £2,056 |
| Netherlands | £582 - £995 | £1,037 - £1,238 |
| Ireland | £378 - £418 | £718 - £794 |
Moving internationally may feel overwhelming at times, so why not leave it to the hands of a reputable removal company in your area? By filling out our quote request form, you'll be able to specify how we can best serve your international removal needs. You will receive up to 6 personalised quotes which you can then compare to save on your international removal costs!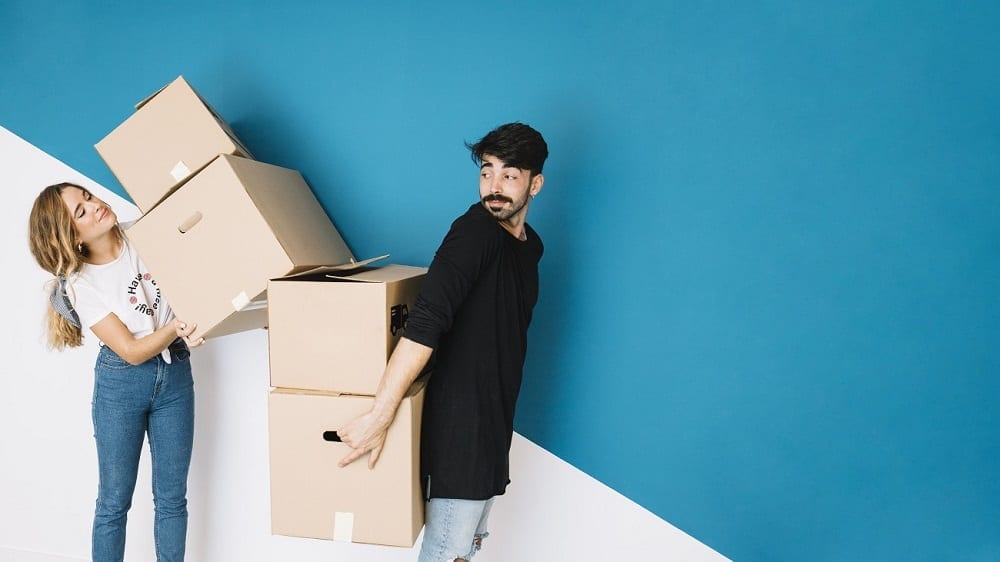 Transportation methods for your international move
For transportation methods, you will primarily have options for air freight or sea freight. The cheaper transport method for these two is sea freight, and the more expensive one is air freight. You should note that transportation by sea will take longer than air transport. The first and last legs of transportation will usually be performed by trucks.
Packing and unpacking international moving services
Many international moving companies will also charge you a fee for packing and unpacking of your goods. The moving companies are usually tasked with ensuring that nothing illegal is being imported into the country. If the country you are moving to does not have strict laws requiring moving companies to vouch for their clients, you may be able to pass on the packing and unpacking fees. Illegal items include a variety of things, such as certain plants and animals. You can pack the goods on your own but leave the boxes open for the company officials to inspect. This will help lower your overall costs.
Consider purchasing removals insurance
Another cost you need to consider is removals insurance. It is important to get an insurance plan that will cover the full cost of your goods. Accidents or thefts can easily lead to the loss of or damage to your belongings, and you will need a good policy to replace anything.
Will you need storage services?
It is not easy to coordinate your moving time and the arrival time of your goods. This means you may have to incur an extra cost in storage units. The international moving company can help you store the goods as you travel and find a place to live in your new country.
Know about customs duty fees
Depending on the country you are moving to, you may have to pay customs duty and taxes on your goods. In many cases, you will be able to move household goods into your new country duty-free. Some special items will attract custom fees.

Tips on how to ship special or fragile items
• Pack them in a medium-sized box- Relative to the size of the item. the box you use should neither be too big nor too small. International moving companies can provide boxes and packaging materials.
• Use cushioning materials- Fragile items can break if they are shaken a lot in the boxes. You should use cushioning materials to reduce the chances of breakage, such as when shipping a piano.
• Wrap individual items separately- The heavier items should be placed at the bottom of the box.
How to Plan Your Move
You should start planning your move months before the actual travelling day. Here are some things you need to do in preparation:
• Choose an international moving service- There are many international moving companies available, and they all have their pros and cons. You should choose a shipping service months before the day of the move.
• Look for a new school and transfer your children's records- If you are moving for just a few years or months, you can find an international school for your children. For permanent moves, local schools can be more suitable as they will help them integrate properly into the culture of your new country.
• Declutter the house- Sorting your items on the day of the move can be very stressful. You are even likely to get some of the goods mixed up. To avoid this inconvenience, you should declutter the house about two months before the move. When decluttering the house, make sure you put all your important documents in a special folder. Losing these documents can affect your move significantly.
• Packing- You can get some packing materials from your chosen moving company and handle the entire packing process on your own. This can help reduce packing and unpacking fees. In many cases, you will still have to pay some money for them to inspect the packed items. When packing, you should have a complete inventory of your belongings. To avoid confusion, you should move from room to room packing the important items.
• Inform your landlord- You should inform your landlord of the move as soon as possible. This way, they will be able to organise the refund of your security deposit. One month before you move, you should also finish your food supplies and cut off local services like telephone, internet, and television. To clear your fridge, you can set up a suitable meal plan.
• Besides the landlord, you should inform your bank, and utility service providers of your move. The utility service providers and banks will be able to cut off the service so that unnecessary charges are avoided. It is important to pay your outstanding bills before you move.
• Pack an essential box for the first day- When packing your items, make sure you have a marked box that contains essentials like bedroom and kitchen items.
Find your ideal moving company today!
International moving services can make your transition simple and hassle-free. Also, these services will usually reduce the cost of the entire process. Fill out our quote request form today to compare quotes and save on your international removal costs. The form only takes 1 minute to complete and it is free of cost.